Taking a Guess at Rock the Garden 2012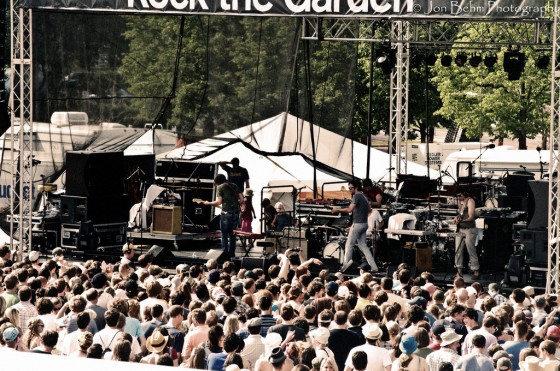 This widely-acclaimed annual feature attempts to read the minds of the programming and event planning departments at the Current and Walker Art Center and guess the top-secret lineup of Rock the Garden, their back-patting summer festival of love and overpriced Summit EPA. This year it's on June 16. This is our way of sneezing in the Current's oatmeal.

Josh Keller
Headliner
Best Guess: Bon Iver.
I know it is the easy/cop-out choice, but to the music fans who make up the core constituency of the Rock the Garden fan base, he is like a combination of Prince, John Lennon and Jesus.  Only better.  I'd half expect a pond of water in front of the stage where the local music media will expect him to walk on water for the encore.
Dream: David Byrne/Talking Heads
I would gladly swallow any 89.3 The Current bashing I have done in the past to get a chance to see Byrne playing his classic material.  Hearing "Life During Wartime," "This Must Be the Place" or "Strange Overtones" on a nice summer night as the sun is setting would be close to perfect.
Worst Case Scenario: Edward Sharpe & The Magnetic Zeros
Kind of like wondering what was up with the people who voted to re-elected W in 2004 or Nixon in 1972, I look back in awe that this band was so popular.  The crazy thing is, I think they still are just as popular and could see them being another perfect fit for the crowd that will buy tickets to this event before they even announce the lineup.
Supporting Slot 1
Best Guess: The Shins
I have no idea why, but they seem like what the doctor ordered for a mid-sized festival like this, right?  Pretty general mass appeal from these dudes, which fits in with the general aesthetic of the event.
Dream: Ty Segall/Big K.R.I.T
Adding either the thrashing garage fuzz-punk of Segall or the contemplative bangers of K.R.I.T would shake things up in a very good way.  Don't hold your breath.
Worst Case Scenario: Peter Bjorn and John
In addition to the fact that they are overrated and really lackluster live…it would lead to a wildly annoying sing-along to "Young Kids."
Supporting Slot 2
Best Guess: Of Monsters and Men
I went above and beyond and did some research for this post, finding out that a band called "Of Monsters and Men" have the top song on the Current's chart show for the last few weeks.  I have no idea who they are or what they sound like, but they are my educated guess for this spot.
Dream: Peaking Lights
How awesome would Peaking Lights dubbed out pop bliss sound on a warm summer evening with a cold beer in hand?
Worst Case Scenario: Odd Future
If they decide to have a hip hop group, hopefully they don't have these talent deficient assholes.
Token Locals
Best Guess: Polica
Outside of it not working for their schedule, they seem like an obvious choice. They fit in the Bon Iver mold of how can you fawn over a band so much and not do everything possible to get them to your summer festival?
Dream: Food Pyrmaid
They put out my favorite local release of the year (Mango Sunrise) and would be a great way to start a chill on the grassy hill outside of the Walker.
Worst Case Scenario: Howler
Because no matter how much we all know they are a blip on the radar, they are the blip on the radar de jour, which means they would be a natural fit for the opening slot of RTG.

Jon Behm
Headliner
Best Guess: Bon Iver.
A few years after Justin Vernon's opening slot RTG debut I wouldn't be surprised to hear him invited back, though the organizers may choose to "rock things up" a little with a slightly more upbeat choice like the Black Keys.  Probably Bon Iver though, because it gives us a chance to speculate about the "Minneapolis Sound."
Dream: Tom Waits
You get Tom Waits and as far as I am concerned, you could fill all three slots with anyone and I am still coming.
Worst Case Scenario: Foo Fighters
One of the worst bands ever and yet, somehow still popular. I think they were my nightmare scenario last year too. If I had to choose someone new then my other perennial least-favorite-band, Death Cab For Cutie.  Or perhaps when the organizers pull the stage back out of storage, My Morning jacket will still be there jamming away on extended guitar solos. Just plug em back in and go, man.
Supporting Slot 1
Best Guess: Polica
If my other guess turns out to be right, I foresee a Justin Vernon/Polica cover duet that will be widely praised until it is the stuff of local legend, giving rise to "Bon Iver and Polica, 2012: I was there" tattoos.  Local media will throw the band member's names into the random content generator and then take a two month vacation as their stories will all be written for them.
Dream: Portishead
In my dreams I see the clouds suddenly blotting out the sun as Beth Gibbons takes the stage.  Children begin crying and mothers cover their ears as the band begins to pummel the audience with mirthlessly punishing tunes from Third.  Sips of Grain Belt turn to ash in drinker's mouths, but this is the least of their problems as ghosts have begun to rise from their graves and steal the souls of the living.  The previous flood of obnoxious tweets quickly dries to a trickle, ending with one final "OMG I'm totes dying #RTGtoolmysoul." After the show ends all that is left are a pile of empty "Life is Good" t-shirts, iphones, and hundreds of plastic cups.
Worst Case Scenario: Soul Coughing reunion
I have heard that in some antechamber deep underneath the Current studios Mike Doughty keeps the whole band in dry-storage.
Supporting Slot 2
Best Guess: Rodrigo Y Gabriela
Let's get some culture up in here! Get some of those wrinkled white butts shaking but in a "tasteful" way.  Actually, I am tempted to say Major Lazer just because I would love to see the look on people's faces when Skerrit Bwoy does his stepladder-vagina-dive.
Dream: Julia Holter
Even though she's an NPR favorite, I still think that Holter might be a too "difficult" choice for the beer-swilling environment of an outdoor music festival.  Still, like Julianna Barwick before her, I am convinced that eventually Holter will end up at the Walker in some capacity (most likely an intimate indoor show). If not Holter then how about Big Freedia? "Ass Everywhere" is totally ready for prime time exposure.
Worst Case Scenario: Some combination of the words "Britpop" and "internet sensation" or just one or the other on their own, really.
Token Locals
Best Guess: Trampled By Turtles
Bring a bike lock for your djembes folks – you gotta leave them at the door, maaan. Or Polica if they don't get the other slot. Seriously, is there any way that Polica ISN'T going to play this show?
Dream: Mother of Fire
Whichever souls slip away from the Portishead reaping will quickly be consumed by the elemental demons conjured by this trio.
Worst Case Scenario: Some attempt to capitalize on the Howler and 4onthefloor "controversy" by having both bands play. Omigod, will they fight each other?  Of course they won't.  But we could pit them against each other in local media beforehand and have all sorts of fun with snarky interviews and speculation and whatnot.  Actually, if this does happen it will just make the Portishead soul-stealing scenario (see above) all the more sweet.

Adam Bubolz
Headliner
Best Guess: Death Cab For Cutie.
While I sometimes think I'm a little out of touch what the masses of safe indie rock like, I think this is always a pretty safe bet.
Dream: Pulp
This is part of my "get Pulp within 10 hours of me" campaign for 2012. If that fails, I'd accept Radiohead.
Worst Case Scenario: Dawes
We're still into this boring rootsy rock here, right?
Supporting Slot 1
Best Guess: tUnE-yArDs
Here's where they throw in the curve ball of the hip new young and slightly weird band to try and prove they're still with it.
Dream: Suicide
Recent lineups have seemed to add a bit older "classic" artist to the lineup so what better than Martin Rev's keyboard echoing off the Walker Art Center for something classic?
Worst Case Scenario: tUnE-yArDs
Seriously though, people really like this?
Supporting Slot 2
Best Guess: Phoenix
Seems reasonable.
Dream: OFF!
There hasn't been a good shake up on the lineup since the first Rock The Garden's Sunship Sextet. I'd love to see the crowd handle 20 minutes of hardcore.
Worst Case Scenario: surprise me
Token Locals
Best Guess: Polica
They may have headlined one of the Current's birthday shows but Polica seems like an obvious choice for the local on the bill. They'd also big a pretty good improvement over anything else that could end up on this bill.
Dream: Brute Heart
We've been cheering on Brute Heart since we started here and it's about time they got even more recognition.
Worst Case Scenario: Howler doing a 4onthefloor cover set
The way to finally end this thing, right?