Amen Dunes: Ethio Covers Review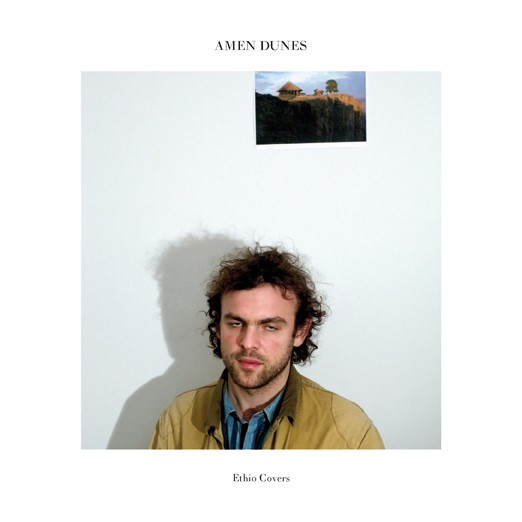 The self description of the Ethio Covers 7″ from the Amen Dunes website is that it is a "downer take on three Ethiopian tracks culled from unnamed tapes." Like the Dirty Projectors Rise Above project, which found that group covering the famous Black Flag material by memory, Ethio Covers is more of hazy manipulation of songs than defined "covers."  The story goes that Amen Dunes (Damon McMahon) heard these still unknown Ethiopian tracks through the walls of his apartment one hot summer and decided to try to recreate the material while adding his own personal touch. Fans of McMahon's music will know that meant slowing down the material and wrapping it in a layer of ambient fog. Anyone familiar with music from the Ethiopa knows that the pop music exported from the country is a often jubilant music that simmers with heat and high energy vocal arrangements.  These traits are not long for this world in the hands of McMahon.  He strips most the sun from these tracks and leaves a final product that is more detached than simmering. The three tracks, titled "Ethio Song I," "Ethio Song II" and "Ethio Song III," are sweetly meditative songs that do an excellent job of recreating the sweltering setting where McMahon first heard the originals.
The three tracks are foggy yet sensual, with the ambient nature of the songs allowing for empty spaces where the listener can imprint their own feelings into the song (as good ambient songs are known to do). "Ethio" is all reverb guitars and wobbly vocals, creating an eerie ambiance that is somehow both soothing and unsettling.  "Ethio II" is more muted and restrained, with a haunted organ riff that dances around a skeletal drum beat and some truly warped vocal styling.  The three song 7″ is wrapped up with "Ethio III," which splits the difference between the first two, with slightly more life than "Ethio" but more flesh and bone than "Ehthio II."  All three tracks allow the listener to fall into a dream like trance and be swept up into the ether created by McMahon.  The songs still capture the vibrancy of the original Ethiopian tracks, but are surrounded and engulfed by the sonic textures that McMahon is so deft at creating.  The 7″ flies by in a brisk 11 minutes, but the time is well spent and the songs are packed full of life, showing again that the best ideas can really come from the most surprising places, even through the walls of your apartment.