Miami Dolphins: Capri Sun Review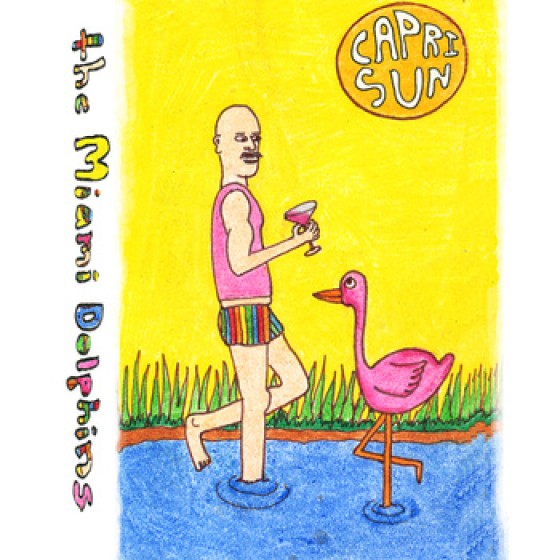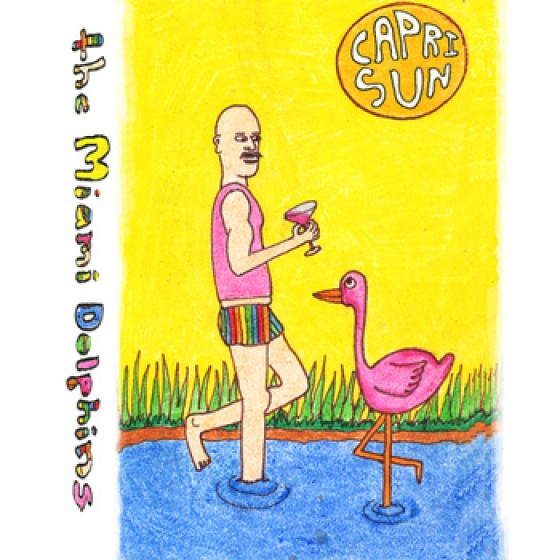 There is a quirky, jagged edge irreverence to the music of Miami Dolphins, who have been churning out self-released, spastic punk cassettes over the last 18 months.   Starting with the name, which will be met with a "cease and desist" from the football team if they ever made waves out of the local scene, the band seem hell bent on delivering a musical middle finger to any and all expectations you and your stupid rules may have.  Their hand drawn, day-glo album cover, with bright pinks and yellows, are an interesting visual juxtaposition with the music.  The songs are short, with the seven song cassette barely lasting more than eight minutes, and each one is bursting with Technicolor energy.
Lead singer Beth Bambery's tortured yelp fights tooth and nail with the angular, convulsive rhythms that the band spit out.   From the power chords driven strut into chaos of tape opener "Pink Bird" to the relatively structured art-punk of "Doodler," the record shows both a continuation of the frenzied bliss of their past work and a logical step forward from a band on their third release.
The spirit of Capri Sun is flippant without being unnecessarily sloppy.  The eight minutes flies by, but with the emotional intensity of the tracks, it doesn't feel like the listener is shortchanged. Just like "Pink Bird" starts off calmly and then enters into the turbulent haze that is Capri Sun, album closer "Chaste" does the opposite.  Bursting out of the gate with machine gun drumming and buzz saw vocals and guitar, the song winds down for the last half of the track, allowing the listeners blood pressure, which has skyrocketed during the previous six and a half songs, to start coming back to earth.  Even when they are "mellow," as they are to start and end the record, Miami Dolphins don't paint with generic brushes.  From their name to their songs to their method of releases, the band has proven adept, and quite talented, at exploring their jerky brand of punk music done without taking themselves too seriously.  Just don't let that fool you into thinking this isn't some great music.