Live Review: Legends of the Mic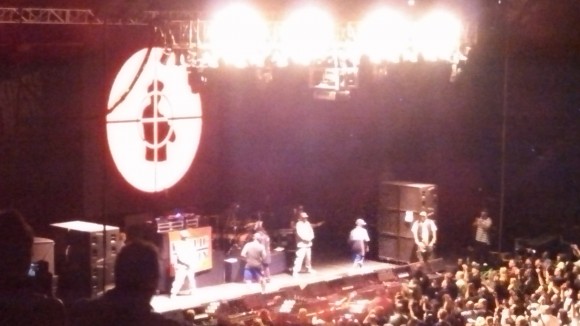 Whenever being inducted into the Rock and Roll Hall of Fame is mentioned at a show, you are reaching a dangerous juncture. Entry is only granted after a band or artist after they have been around for 25 years, so generally that means bands are well past their prime. For Hip-Hop, this distinction is started becoming a reality in recent years, and the Legends of the Mic tour was a chance to see four influential artists on one bill and see how time has treated them.
Despite being critical favorites and legends in their own right, Public Enemy and De La Soul both felt very much like openers for this show. Their stage setups were sparse (especially compared to Ice Cube and LL Cool J) and their sets had a feel of "something to prove." Their members also had a tendency to be wearing gym shorts while performing, as if their set interrupted a pickup basketball game. De La Soul felt a little washed out in the echo-y arena, their colorful textures getting lost in the legions of empty seats. I thought they just had the misfortune of performing before the crowd shuffled in, but it ended up that the show was incredibly undersold. Public Enemy were the highlight of the night, with Chuck D and Flavor Flav pulling together an energetic and commanding set of both classic PE songs and a few new tracks. Their live band fit best with the so-so sound, as their music is more about energy and power than finesse and beauty.
The last two performers of the night featured a more glossy production (video projections, not wearing gym shorts), but ultimately felt hollow, especially following the explosion that was Public Enemy. Ice Cube had sound problems and even during his biggest hits ("Today was a Good Day," "Straight Outta Compton," etc) he felt a step off. The crowd liked the hits, especially after two previous acts who were less driven by singles in their career and therefore were at a disadvantage in a round robin setting like this show, but it felt a mile wide and an inch deep. After seeing Ice Cube with the full bells and whistles on previous stops, this felt like an artist going through the motions. This was too bad because Cube has the songs at his disposal to really rock a crowd.
I am not a big LL Cool J fan, and his performance headlining this show did nothing to change that. Where to start? His silly swagger (tossing towels and roses to the crowd), his songs where the hook was playing more than he rapped, his on-screen projections that looked like a shitty screensaver? Outside of bringing out some guests to spark things, I would have to say the highlight of the set was when DJ Z-Trip spun a collage of classic rap tunes and P-Funk jams before LL came on to warm up the crowd (honestly, it might have been the most hyped the crowd was all night). So basically, the moments when LL Cool J wasn't front and center being a dumbass were the best times. It was a lackluster end to an otherwise strong night and, in my humble opinion, a clear indication that the "headliner" of this tour was the least talented of the group. He is without a doubt the best at self promotion and shitty acting (not to mention a partner to the crimes against humanity that was "Accidental Racist"), but even with all the pizzazz he could muster, he proved to be more sizzle than steak.
Hip-Hop is getting to the point of its life where the cream of the crop will tour arenas and the rest will scrape by at country fairs and casinos (who will be the REO Speedwagon of rap?), and I think the Legends of the Mics tour is a transition to that point. The sparse attendance at the show lead me to believe that we probably won't be seeing any of these four bands in a prominent role on a big arean tour again. For PE and De La Soul, that isn't a bad thing, as their sound and spirit would fit better in a club anyways. Ice Cube is right on the cusp and could cash out his "Hall of Fame" credentials with the right supporting acts. As for LL, let's hope he sticks to acting.