Scene Swap: Philly Under The Radar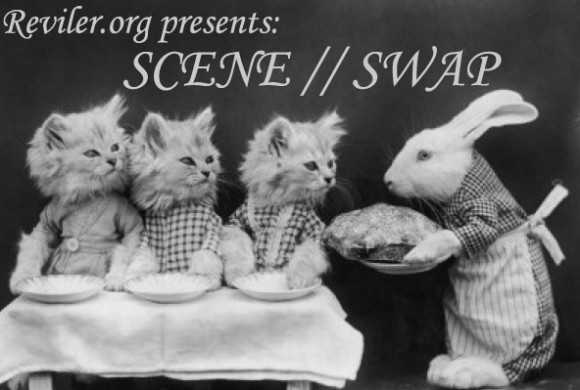 Scene Swap is an exciting new feature in which we partner with artists and fans across the country to exchange musical recommendations in order to shine the spotlight on those bands who haven't yet broken out beyond the confines of their own local scene.  In this installment Philly band Bleeding Rainbow give us the inside scoop on some talented new bands down in Philadelphia. Bleeding Rainbow will be performing at the 7th St. Entry on 9/1 with Strange Relations and Diver Dress.

Rob (Bleeding Rainbow): "We're really happy and proud to be part of the music scene in Philadelphia. There are a ton of bands with a very wide range of styles. Its really interesting because you can almost even split up the type of bands among the different regions of the city. South Philly has all the Punk and Hardcore bands. West Philly has all the Pop Punk and Sludgy Noise bands. Then in the NE part of Philly (where we live) there are a just a lot of weirdo bands.  The majority of the really good venues are in the NE, but West Philly wins the prize for the best DIY house venues.  Just like in New York, there are shows happening every night of the week.  Below are a couple of our fave bands.
We just recently played a show with a band called Hurry from West Philly.  Really good solid, 90s inspired pop, that at times sounded like if Dinosaur Jr was fronted by Ira Kaplan from Yo La Tengo.  I spoke with the singer/guitarist from the band after the show and found out that one of his heros was indeed Ira Kaplan. They are another excellent new band coming from Philly.
Another of our favorites is the band Spacin'.  These guys lock into a grove and just coast.  So hypnotic. So tasteful. So awesome. They just recently traveled through Spain and played a few festivals.  I'm sure more people will be hearing about them soon."
Check out these bands as well as Bleeding Rainbow in the playlist below, and don't forget: Bleeding Rainbow are playing at the Entry this Sunday night (9/1). Tickets here.

[soundcloud url="http://api.soundcloud.com/tracks/53158679″ params="" width=" 100%" height="166″ iframe="true" /]