Scene Swap: Diarrhea Planet On Music City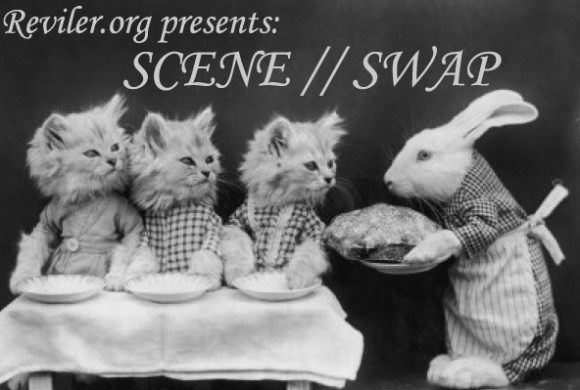 Scene Swap is an exciting new feature in which we partner with artists and fans across the country to exchange musical recommendations in order to shine the spotlight on those bands who haven't yet broken out beyond the confines of their own local scene.  In this installment Casey Weissbuch of Nashville Band Diarrhea Planet clues us in on what's currently going on down in Music City. Diarrhea Planet will be performing at the 7th St. Entry on 11/17, and by the sound of it they put on a hell of a show.
Casey Weissbuch: Any opportunity for me to talk about what's going on with music in Nashville is a good opportunity, but it is my duty to differentiate between what we have going on there and what's going on elsewhere.  Nashville is special, Nashville is solid, nothing is cooler than this place and it has become my home.  The idea of "community" here is so broad and expansive that it takes East, West, North, and South Nashville to encompass the entirety of the music scene.
I have to start by saying that none of us would probably be here doing what we're doing had it not been for the support we've had from Infinity Cat Records, Ben Todd (RIP), Jesse Baker, and all of the kids that have come to our shows at home.  It wouldn't even make sense without those people.  Next, it would be redundant for me to just give the story of the scene here, so instead I'll take this as an opportunity to give a little extra exposure to some bands that have been doing an incredible job of showing the diversity Nashville music has to offer.  Here we go…
Promised Land Sound – Currently working their butts off to get out of town and promote their new record that just came out on Paradise of Bachelors, this might be the most musically advanced bunch of dudes in our scene right now.  I've been telling them that they're the reincarnation of Poco since I first saw them but it's much more than that, they're just three beyond-talented guys that are breathing new life into organic rocknroll, americana, and roots songwriting.
Cy Barkley & The Way Outsiders – Also currently working their butts off to get out of town promote THEIR new record that recently came out on Southpaw Records.  I can't remember the last time a song like "Mutability" off their new record of the same name, gave me the chills the way first hearing Wipers did.  They aren't just rehashing things here though, Cy's take on that era of angular punk has a lot more sneer and attitude than his predecessors, it's something really special.
No Regrets Coyote – We're taking these dudes out on tour with us next month, that should say enough in itself in regards to what we think about them.  Currently working on having a to-be-announced (sooner than later) label put out their debut 7″, these guys take everything we love about all of our favorite bands and smash them into one giant singalong of a band.  This is definitely not a band you want to sleep on.
JP5 – Comprising all elements of classic rock and country that we love and putting them into a blender is exactly what Joey Plunket and his band of mad men, not to mention one of the most solid drummers going in the scene right now in Rachel Hortman, have been doing since they started roughly a year or so ago.  Having just hit CMJ and some dates along the east coast, I'm sure people will be digging into these tunes nationwide in no time.
That should give you a nice taste of bands to start delving into but they're not just delicious treats for your starving ears, they're also a nice introduction to what's been going on in our music scene lately.  Not a history lesson but a fresh perspective on what's happening in Nashville lately, so dig in and enjoy.
Once again, Diarrhea Planet will be performing on Sunday night, 11/17 at the 7th St. Entry (with The Lovely Bad Things). Check out some of their tunes below!