Blood Orange: Cupid Deluxe Review (Three Takes)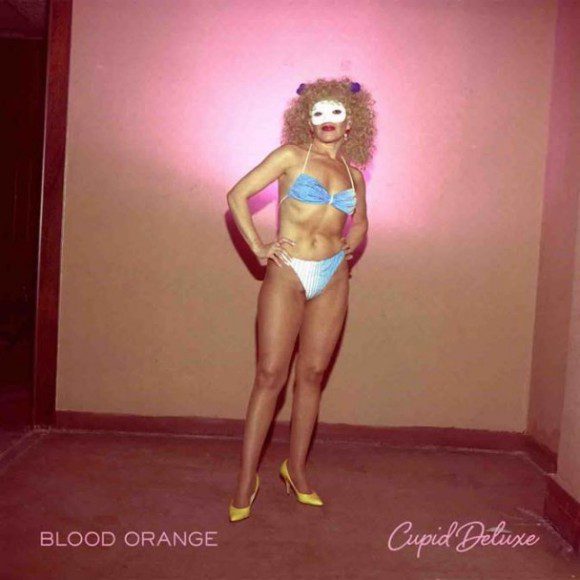 It can be difficult to gain a balanced perspective on an album after reading a single summary of the music. Bias can tilt a review, as can personal taste, history and just about everything else that is unique to the person writing it. So in an effort to offer an expanded perspective in such a medium, here are three reactions, three impressions, three takes on Cupid Deluxe by Blood Orange.

Atom Robinson, @atomrobinson
79/100
Friends of mine and I used to play a game over beers that tried to combine a producer's sound with a disparate genre of music:
"What if Steve Albini produced a soul album?"
"How about Mitchell Froom producing a metal album?
"What would it sound like if Rick Rubin produced a folk album?" (This was before "American Recordings" with Johnny Cash, and that one worked out pretty well, right?)
Cupid Deluxe, the latest album from Blood Orange (the brainchild of British wunderkind Dev Hynes) answers the question, "What if Justin Vernon produced a funk album?"
Vernon is not on this album, but his imprint is. Sometimes I wonder if it's possible to escape Vernon's influence on pop music. Dreamy falsettos, sparse drums, synth pads all over the place seem to be everywhere lately, and it seems his sound is being imitated and evolved on albums constantly.
Cupid Deluxe sounds like a tumbling mix Talking Heads and Frank Ocean but if anything, it shows the extent of the influence Vernon has had on pop music. There's a distinct Bon Iver-ification of these songs – what could be rigid and angular pop funk is sanded down to a smoother, dreamy-er finish. I'd almost say it's more akin to neo-soul with more reverb.
I say this, and it sounds like I didn't like this album. But I did. This is arty, groovy funk, and Dev Hynes shows his formidable chops as a songwriter, arranger and musician.
"Chamakay," the album's opener, features a delicate loop that sounds like a marimba and stunning vocals by Chairlift's Caroline Palochek. Overall, Hynes works amazingly well with his female vocalists – letting them shine and pull the songs forward (particularly, Samatha Urbini's soulful bridge on "No Right Thing" seems cut from the Prince/Sheena Easton cloth in the best possible way) while he grooves in the background. He also allows New York MC Despot (from El-P's Definitive Jux label) to star on "Chosen," giving him license to rhyme over the first half of the track.
Is Blood Orange the future of funk? I dunno. But if Cupid Deluxe is where funk is resting right now, that's okay by me.

Ali (Background Noise Crew, Egypto Knuckles)
82/100
Blood Orange's follow-up to 2011's "Coastal Grooves" has Devonte Hynes creating something that sounds like a low-key and lo-fi pop/R&B sound that emulates aspects of the Minneapolis sound, but listening to Cupid Deluxe, it seems more amplified than usual. Nevermind some of the high profile guests that grace their appearance on here such as Dave Longstreth of Dirty Projectors, or beatmaker Clams Casino, nor even rapper Despot. All of them clash in some shape or form on Cupid Deluxe, and the results make for a collage that pays homage to the pop/R&B soundclash of the 80s; boisterous sax solos such as the ones on "Chamakay," or tight bongos along with brooding basslines on "No Right Thing," the grooves keep flourishing, and Hynes keeps his vocals well within range to keep everything moving at a steady pace. It's definitely a well done follow-up.

Jon Jon Scott(Sound Verite)
80/100
Indie kids have long had some fascination with Beyonce. One such kid in Dev Hynes, originally from The U.K. He started making noise after a collaboration with Chemical Brothers in 2007, then made his claim as a noisy folk punk working with Test Icicles and as Lightspeed Champion. Hynes later moved stateside and hooked up with Bright Eyes' Mike Mogis and Animal Collective producer Ben Allen on his first Blood Orange record – that was way back in 2011. Now in a post-Frank Ocean, The Weeeknd atmosphere where black male sexuality can be ambiguous, Hynes has joined from a distance and made his version of a late night booty call or response to record.
So, I guess it makes sense that a kid who moved from The U.K. to Brooklyn would make a well received EP with Beyonce's little sister Solange, as well as write music for the likes of Florence and the Machine, Britney Spears and Sky Ferreira. Dev Hynes has now become a go-to producer for the next run of R&B girl singer/model/famous siblings.
On Cupid Deluxe, his second record as Blood Orange, Hynes moves away from indie boy and closer to modern R&B, although it's filtered through a indie lens with a hazy shade of psychedelics. With pop production now under his belt and with assist from friends Dirty Projectors, Caroline Polachek of Chairlift , Samantha Urbani of Friends and Clams Casino. In his current reincarnation he certainly has a fascination with early Prince, Sade, Talking Heads and Madonna – the 80's are celebrated throughout.
Now he's all polished and sounds like modern heartbroken lover, playing soft, playful R&B with clever turns here and there. The sexy opening track "Chamakay", light on the indie funk featuring Polachek, who does a lovely job playing like an innocent pairing of young loves. "You never could've been a good lover," as he takes aim at an ex on "You're Not Good Enough" with Samantha Urbani of Friends. This disco romp may be the record's catchiest song. "Is love just a game?" asked Longstreth, who sings lead on "No Right Thing", where both provide seductive, soulful vocals with production assistance from Clams Casino. A very nice moment also occurs on the self explanatory "It Is What It Is". A boy girl vocal trade-off as both parties recognize their chosen paths. There's a charming sentiment on "Always Let U Down" which is a cover of Brit pop's once off Mansun's "I Can Only Disappoint You", a minor U.K. Hit. Hynes changes gears a bit for "On The Line" with hints of Thundercat 's jazz/soul vibe.
There's a few great moments: "Chamakay", "You're Not Good Enough", "Always Let U Down" and "On The Line" all show Hynes in his latest direction. The question remains – how long will he be an R&B performer? – but who cares. Hynes has made an interesting record. Cupid Deluxe is drenched in melancholy, like a male Solange.