Ghostface Killah: 36 Seasons Review (3 Takes)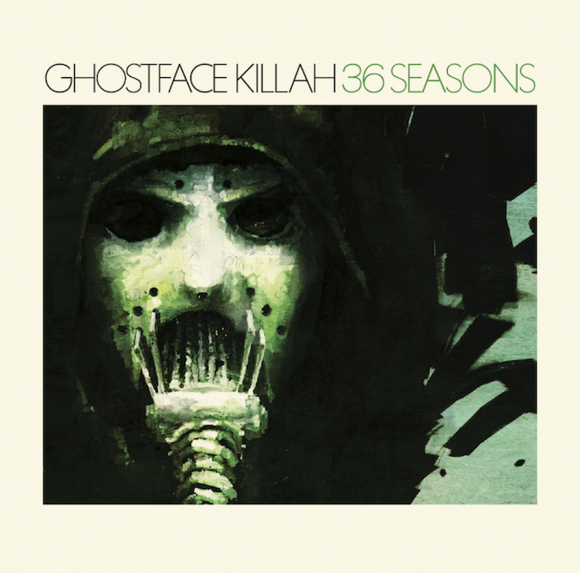 It can be difficult to gain a balanced perspective on an album after reading a single summary of the music. Bias can tilt a review, as can personal taste, history and just about everything else that is unique to the person writing it. So in an effort to offer an expanded perspective in such a medium, here are three reactions, three impressions, three takes on 36 Seasons by Ghostface Killah.

Ali, @egyptoknuckles

Many will tell you that Ghostface is easily the most consistent Wu-Tang member around. With the release of the rather drab A Better Tomorrow, a lot of people have a lot of high hopes for 36 Seasons, the eleventh studio album from Ghostface. What transpires is really no different than 12 Reasons To Die, an album that had Adrian Younge at the helm providing the soulful and dramatic backdrop for the return of Tony Starks. In a lot of ways, 36 Seasons plays out very similar in a story fashion, with a lot of highlighted and notable guest appearances from East Coast legends like Kool G Rap, AZ, and Pharoahe Monch, who contribute to multiple joints such as the stellar introduction "The Battlefield," "Loyalty," and the stellar highlight "Double Cross," as recurring characters, and old faces that should be familiar to many a Ghostface fan Shawn Wigs co-stars on "The Dogs of War," and "Homicide," respectively. In the end, 36 Seasons can moreso be seen as something to whet the appetites of many who will be salivating for Ghostface's next collaboration with BADBADNOTGOOD which should arrive in February, but nonetheless another awesomely executed effort from Ghostface.
Jon Jon Scott, @soundverite

Wu-Tang's mighty legacy has taken a few knocks to its armour with below standard releases.
With Wu-Tang's current reunion record A Better Tomorrow, almost didn't happen. That it came together in the end was a miracle. Ghostface Killah, however, stays in the game with 36 Seasons, following up the somewhat successful 2013 Twelve Reasons To Die, anchored by soul digging producer Adrain Younge.
36 Seasons is a "concept" record about love and revenge, which finds Ghostface Killlah teaming up with a few ace east coast veterans in AZ, Kool G Rap. As Bill Clinton once said "It's the economy". With Wu-Tang projects the concern is placed with the mantra "It's the production".
Opening with "Ayo, I'm back after nine years/ That's 36 seasons/ Shit is changed up for all types of reasons" before the rather fine "The Battlefield" with Kool G. Rap and AZ, as Ghostface looks back. This gets off to a nice start. Ghostface still delivers an occasional interesting narrative.
Easiest the strongest track here and perhaps the record's best moment, Ghostface recalls visiting an old lover 9 years later on "Love Don't Live Here Anymore". "Here I Go Again" is cool, "It's a Thin Line Between Love and Hate" is soaked in the retro soul of Ghostface's childhood. "Emergency Procedure" gets a nice assist and breath of fresh air from the lyrical wizard Pharoache Monch. However something doesn't quite fit. And oh how the dope game has changed on "Dogs of War".
He takes a look at police brutality on "Double Cross". The "Bamboo's Lament" interlude is sung by Kandace Springs. More in revenge mode on "Blood In The Streets" and a closing message from Ghost, in need of help you can still call on GFK in "Call My Name". It closes with the instrumental "I Love You For All Seasons", a soulful serenade by The Revelations.
Producer Younge can't save Ghostface here on 36 Seasons, a short record stacked with Kool G Rap & AZ appearances, there are only two tracks "The Battlefield" and "Love Don't Live Here Anymore" that truly carry the brand and quality once expected. For longtime fans there's always Supreme Clientele to hold onto. Ghostface seems to not make much of an effort here. Well if Ghostface Killah, one of the most celebrated Wu members don't seem to care, why should anyone else? Maybe he just wanted to let his friends Kool G Rap & AZ shine. Sometimes even the greats need inspiration, hopefully he'll find it on his next release.
Josh, Reviler

You would be hard pressed to find anyone who called the Wu Tang Clan boring, but there is something of a steady consistency when it comes to the group's best MC, Ghostface Killah. From Ironman to Fishscale, he was one of the best in the whole game, a bar he hasn't quite reached in the subsequent years. His latest effort, the concept LP 36 Seasons finds Tony Starks returning home after nine years away (aka 36 seasons) and dealing with the drama, violence and betrayal that he discovers. From the sugary smooth balladry of "Love Don't Live Here No More" & "Thin Line Between Love & Hate" to the grimy, Shaolin street storytelling of "Blood In The Streets," this isn't Ghost's best work, but it is still better than 90% of other rappers out there, including his Wu Tang partners.
The twinkling keys and soulful samples on songs like "Here I Go Again" & "Loyalty" provide the lush, colorful pallet that allows Ghost to do what he does best, which is spit out stream-of-conscious stories about the underbelly of our cities. Rap vets like Kool G. Rap, Pharoache Monch & AZ join the game, keeping Ghost on his toes and breathing life into spots where the albums feels weighed down.
36 Seasons is a fine album, and the production and storytelling harken to the classic Ghostface sound, but that spark seems to be missing. If Ghostface is the Tony Gwynn of rap, consistently one of the best in the business, even if he doesn't get the credit he deserves, 36 Seasons is him hitting for .305. Still better than most, but not his best work and one that, when compared to his previous work, feels a bit like a letdown.