We Went There: Gang of Four at the Varsity Theater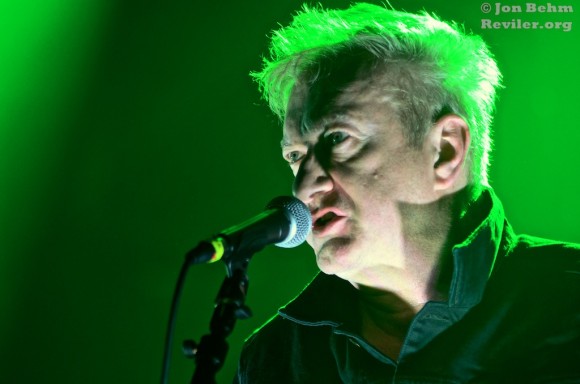 "A song from 'Entertainment!' was on every mix tape I made in the 90s," a friend of mine said while we were waiting for Brit post-punk icons Gang of Four to take the stage at the Varsity Theater on Thursday night.
Another friend told me that they were the among the most important bands in her life while she was growing up. I think most of the people in the sparse crowd were die-hard Gang of Four fans, even though I'm sure few had listened to many albums past 1983's Hard. Many of us left the show disappointed – not because of what Andy Gill and co. gave us, but what we expected and didn't get.
Maybe it was the combination of high expectations and low turnout that doomed this show. Nostalgia is a powerful drug – we want to see the band that affirmed who we are (political, diffident, angry, awkward), but guitarist Andy Gill's reformed and reformatted Gang of Four just isn't that band. What we remember is stolen moments with a record that spoke to us, and it felt like we saw a show that was a parody of the band we love(d).
Singer John Sterry preened his way through the set, draping his arms over his mic stand, staring vacantly (or pensively?) out over the heads of the audience. At one point, Gill leaned in behind him, posing for a cell phone photo as they both put on a "I AM A SERIOUS ROCK STAR" face. Jonny Finnegan is unquestionably a great drummer, but his pounding, punishing grooves don't match the off kilter funk of Gang of Four's tunes.
Even songs like Anthrax (a certified classic song) and Not Great Men felt slower and less powerful than they should have.
Maybe it was a question of effort – Gang of Four might've been vibing off the near-empty house. Friends told me they'd gotten ticket for free from the venue, from email lists, and it still seemed like no one came out. Perhaps Gill and his bandmates would've put in a deeper effort if more Minnesotans would've been there to see them. Maybe everyone was at the Viet Cong show at 7th Street entry; I imagine in the Venn diagram of "Gang of Four fans" and "Viet Cong fans" there's some pretty serious overlap.
But given the show I saw, I'm glad my fellow Gang of Four fans missed this one.
–Atom Robinson (@atomrobinson)
Photos from the show: http://www.reviler.org/2015/03/13/photos-gang-of-four-at-the-varsity-theater/