We Went There: Eaux Claires Festival (with Videos)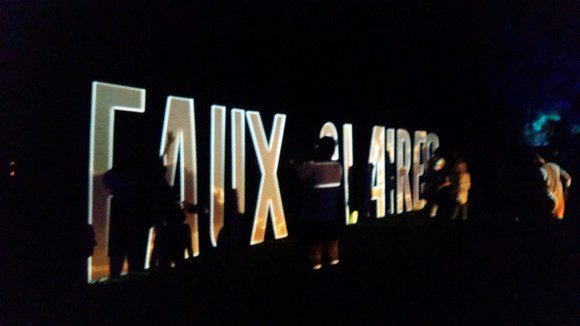 This weekend Justin Vernon of Bon Iver gathered together some of his friends for the inaugural Eaux Claires festival in Eau Claire, Wisconsin. Below are thoughts from the two day gathering.
The Best of the Bunch
Local MC's Allan Kingdom and Lizzo used their side-stage slots to not only wow the crowds (and get people moving), but gave a strong impression that their days not being on main stages will are numbered. They represented Minneapolis, and hip hop in general, incredibly well. Retribution Gospel Choir played a blazing set, both literally and figuratively, inside a poorly ventilated art dome. Their extended, fuzzed-out jams were the most fist-clenching moments of rock and roll revelry the weekend saw (Sparhawk's other band Low always played an amazing set on Friday, but to get to everything I leave it at "it was a Low set," which hopefully is all you need to hear to know it was great). Sufjan Stevens, despite playing songs about death and loss that would bring a harden criminal to their knees in a sobbing mess, showed a command that kept the 15,000+ strong crowd eating out of his fingers. Switching between his soft and serene ballads and his electronic tinkering, he proved that misery can love company. Liturgy were the loudest, most badass set of the weekend. A pedal steel guitar constituted a rebellious act in a large portion of the sets, which only served to make the band's mountainous slabs of metal/drone/rock feel even more commanding. When they locked in on a riff that extended for miles, there was no denying their power. Colin Stetson is a genius, but sometimes genius can be boring. Stetson's 40 minute set was as entertaining as it was mind-blowing. Creating wave after wave of melodies from his different saxes, he crafted songs more complex and nuanced than you could ever expect from such a stripped down affair. Found myself switching between slack-jawed disbelief and head-bobbing euphoria.
You Can't Argue with Good
Spoon, at this point, have what I would consider a "classic" catalog, and they flexed that muscle during their set under the scorching sun on Friday. They've never been a band I've considered to be earth-shattering live, but I couldn't help but enjoy a set filled with songs I've loved over the years. Marijuana Deathsquads brought the decaying underbelly of electronic music to a late night set Friday (before what I am sure was a solid set by electronic producer Boys Noize. I only lasted one song for that set as I was heading back to the campground to beat the oncoming storm apolcopyse). Using a visually arresting backdrop of provocative statements, they ended the night on a crushing, hypnotic note of crashing synths and slam dunks (see video below). Melt-Banana gave Liturgy a run for their money in being the loudest, most rollicking set, and they had a hell of time doing it. The punk duo gave a spastic, hyper energetic performance that, after the shock wore off, left smiles on most of the afternoon crowd gathered to see them. Charles Bradley is a soul survivor, and he wouldn't let a mid-day set in the blazing heat stop him (nor did it dissuade him from wearing his usually classy outfits, despite how hot that must have made him). The crowd seemed a bit perplexed, especially given the other artists around him that day (mostly lighter pop material), but it is virtually impossible to not get won over by well crafted soul and funk music with such an engaging frontman.
Can't Complain
Sylvan Esso clearly found a receptive audience for their electronic pop music, bringing the largest crowd of the weekend to the side stage up on the hill. While I still am not won over, their meticulous melodies and sharp delivery sounded sweet with beer and found in hand as the afternoon cooled to a level that allowed fears of heat stroke to recede. Blind Boys of Alabama are legends, and it was great seeing them again, but somewhat painful with all of the sound issues they were having. A parade of guests (including Justin Vernon) didn't seem to help settle the issues, although I heard they finally figured it out and finished strong after I left for another set. Corbin brought a full band to join him (which followed him and fellow The Stand4rd member Bobby Raps joining the end of Allan Kingdom to do a song by the group) for a mellow, introspective set that highlighted his dark, moody r&b. While it was solid, it was tough for me to full embrace it after the stirring set by Kingdom. The National played the headlining slot on Friday, and seemed to please the crowd with their mix of newer songs and classic tracks from their Alligator/Boxer heyday. I felt distance — both in terms of being a mile away from the stage and from the material coming from the speakers — which I attributed to a combination of fatigue and having seen the band multiple times. I felt the same feeling distance (for the same reasons) for the festival headlining set by Bon Iver. While this clearly was pinnacle moment for tens of thousands of people on the festival grounds, and it was a well orchestrated set that showcased the talents of Vernon, I felt a bit like the kid who didn't know why the joke was funny. It certainly was a solid set, but it wasn't a transcended moment for me like it seemed to be for others.
The Rest
In the spirit of not being an asshole, I've just say the rest of the lineup I either missed because of scheduling overlaps, the need to eat dinner/drink beer/find water or shade/etc or I did see them and found their sets underwhelming or worse. Instead of being a curmudgeon, I'll take this space to mention that the festival grounds were filled with cool artwork, the logistics once you got through the gates were pretty solid, the crowd were far and away comprised of people who were pretty chill and friendly, the weather was hot but manageable during the day and was downright beautiful at night and it was cool to have festival somewhat close to home.
Videos, of varying quality, below.