Introducing: Daniel Bonespur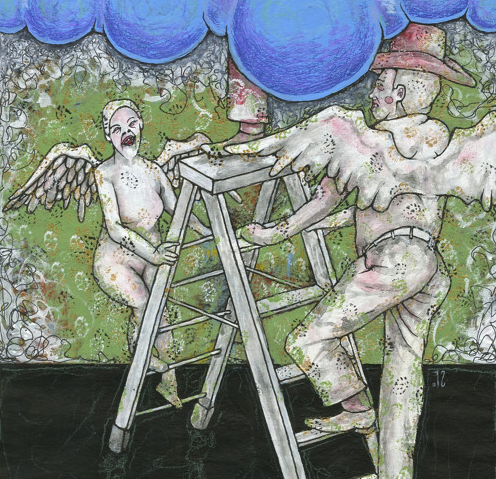 Daniel's In Love is the debut full length record from local artist Daniel Bonespur (the recording name of Daniel Dukich).  If the album title doesn't convince you of Dukich's emotional state, the songs certainly should.  In Love is full of sumptuously crafted orchestral pop that would appeal to the romantic in anyone.  To create his sound, Dukich has surrounded himself with a very long list of collaborators who make up an orchestra of woodwinds, strings, and percussion (arranged by Noah Ophoven-Baldwin) which carry the tunes through giddy highs and melancholy lows.  Dukich plays the piano and guitar, but most prominently sings in an exquisite baritone over the course of the record's eight tracks (reminiscent in some respects to Scott Walker).   While you might expect a lovesick singer's musings to all be variations on the same theme (i.e. "the object of my affections is just great") Dukich is wise to cloak his lyricism in obfuscation and metaphor, usually not revealing explicitly what it is his heart yearns for.  There are exceptions though, like "The Silver Duh" in which Dukich is more direct with his feelings (perhaps spurred by the angelic chorus that punctuates the tune).
As pretty as Dukich's songs tend to be, what really sets them apart is their unpredictable nature.  A song that starts out as a moony paean may quickly find itself in different territory.  "A Big Hole, Buried Once" undergoes several tempo shifts, mood variations, and tweaks over the course of its five plus minutes.   Similarly "Wooden Maria" abruptly shifts into high gear about halfway through, turning seamlessly from somber reflection into a jauntily bouncing pop song.  It should come as no surprise that Dukich is also a member of The Controversial New Skinny Pill, a band with a similar taste for musical lefthand turns (though CSP's sound is fairly different from Dukich's solo work).  Even after making four left turns Dukich somehow manages to never end up where he's started – at no point on  Daniel's In Love do you feel like you are exploring the same territory twice.  There is obviously a great deal of talent that went into the record – by Dukich himself as well as the whole cast that took part in recording it.  You can stream the whole record for yourself below. Unfortunately the release show has already come and gone but hopefully Bonespur will be scheduling some additional shows around the Cities soon.
— Jon