Benefit Show for Standing Rock (featuring Kill the Vultures, deM atlaS, and More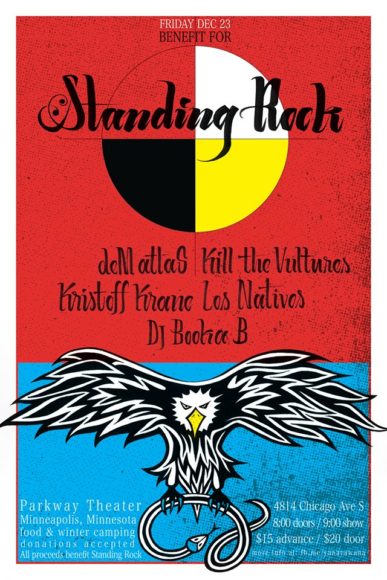 The fight for Standing Rock is not over! The recent victory of the Army Corps of Engineers denying a permit is good news but it's hardly a definitive victory. The corporations behind the Dakota Access Pipeline are still convinced that they'll be able to move ahead with their plans once Trump takes office. The protesters still need support and resources to make sure that doesn't happen. To that end we're happy to share with you the following benefit show featuring kill the Vulres, deM atlaS, Kristoff Krane, and Los Nativos. Should be a great night of musis for a great cause! Details below (from the event's facebook page):
21+, $15 adv/ $20 door
Tickets available at Electric Fetus & Electric Machete Studios or online: https://www.vitalculture.com/events/detail/3282
We are pleased to announce a benefit concert for Standing Rock, in order to show solidarity with their fight to protect the water, the land and the people from illegal, exploitative, invading forces.
Artists:
deM atlaS – http://www.rhymesayers.com/dematlas
Kill the Vultures – http://www.ftoitox.com/kill-the-vultures/
Kristoff Krane – http://www.ftoitox.com/kristoffkrane/
Los Nativos – http://www.rhymesayers.com/losnativos
Dj Booka B – http://www.bookab.net/
and video documentary screening by the Tomorrow's Ancestors Speak project. – http://www.tomorrowsancestorsspeak.org/
100% of proceeds from this event are being donated directly to the Sacred Stone Sicangu camp, with an immediate goal of proving support for woman and young children committed to camping through the winter. Donations will be hand-delivered immediately following the event, via instructions from the camp elders.
Parkway Theater will also serve as a donation drop site for Winter Camping Supplies, and select bulk food items.
(Note: the Camp has asked for no more canned or pre-packages foods, as trash and waste management is becoming a challenge)
An up to date donation list is available at: http://sacredstonecamp.org/supply-list/
****12/6/2016 Update:
The camp does NOT need any additional winter clothing, or shower supplies/junk that you don't want anymore. They are asking for:
-Firewood
-winter insulated tents
-Propane heaters/Propane tanks
-Money for propane refills/Tesoro Prepaid cards to cook with, and financial contributions to cover sanitary services. (Porta-potty expenses have exceeded $2k per day)
-ice traction cleats
-volunteers/helpers who can stay and help cut wood.
The leaders and tribal elders have shared that in light of the recent news that the Army Corps of Engineers has denied the easement, the fight is still not over, and there is more work to be done.