We Went There: Os Mutantes at Cedar Cultural Center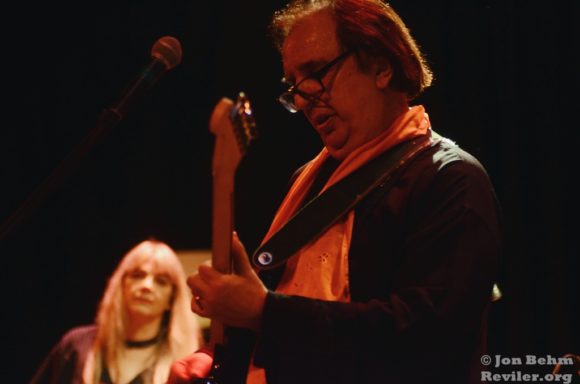 If I'm being honest, just hearing the sweet harmonies and fuzzy guitar lick of "A Minha Menina" was worth the price of admission for Os Mutantes Tuesday night at the Cedar. I learned long ago to have guarded expectations for bands who are 40+ years into their career, and I brought that caution to when seeing the legendary Tropicalia band who made a trip to Minnesota on an unusually warm February night. The wide-eyed kids who made the the classic pysch/samba/pop music that still sounds so exhilarating all these years later have mostly washed out from the band, and just Sérgio Dias was left standing from the original bunch. Yet even at 66, Dias and the latest incarnation of Os Mutantes played a fun and engaging show, highlighting their groundbreaking sound to a receptive and appreciative audience.
There were peaks and valleys in the show, as is to be expected, with the peaks being the classic materials from the late 60s, and the valleys being some of the more blues-rock sounding (and more than often English-language) material that made them sound more like a faded classic rock band than a cornerstone of a groundbreaking genre. The band backing Dias was simple but effective, with keys, bass and drums backing up Dias and the female singer who took on the Rita Lee parts. As is the case with the best legacy shows, the songs carried the day. Hearing the crackling, vibrant and colorful songs of the Os Mutantes catalog was an exciting experience, and Dias proved to be a commanding frontman and an entertaining guitar player who helped hold the material together. While it never will fully capture the spirit of the songs from the (frankly scary) times they were created, it was cool to see these timeless songs performed in the live setting by at least one of the people who helped birth them into the world. Grading on a curve or not, it was a great show.