Review: Chelsea Wolfe at the Turf Club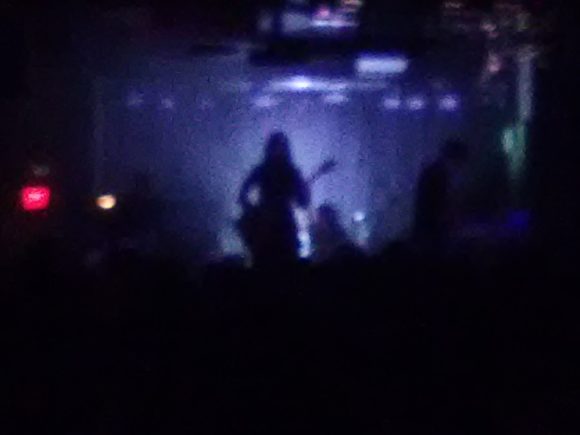 I came to the Turf Club in search of redemption; redemption for never managing to make any previous Chelsea Wolfe shows work, and for finding the newest album – Hiss Spun – a mostly dry and boring affair. It was a lot to put on a single performance, but I left feeling saved and forgiven.
The hour-long show played heavily on atmosphere. Bright backing lights, with minimal front lighting framed Wolfe and her supporting band as more shadowy silhouettes than performers. The transitions between songs were short and devoted to tuning and setting up pre-recorded electronic elements, with ambient soundscapes, and the rare, "thank you," replacing attempts to chat with the crowd. The thick and heavy mood being set conjured up the feeling of a classic noir-tinged horror film. At one point, I felt like the only thing keeping us from completely crossing over to Suspiria was the lack of a skylight. The visual component of this show felt so central to the concert that it felt almost performative. This isn't meant to detract from the incredible music that went along with it. These were clearly all deliberate choices that succeeded in enhancing what we hearing. "Spun" and "The Culling" are songs off of Hiss Spun that I just don't care for. Seeing them live in this atmosphere didn't transmute them into beloved ear worms, but they were more enjoyable. No small amount of credit belongs to the Turf Club's mixing. For most heavy bands, I'm happiest when the vocals are appropriately buried in the mix. However, when one of central sonic strengths of a performer is their vocal prowess, front and center is exactly where they belong.
The set list was a solid mix of mostly new material with a few choice older hits. The band opened with the first three tracks from Hiss Spun. "Carrion Flowers" and "After the Fall" from the previous Abyss carried the heavy energy to a fever pitch. This worked to set up "Tracks (Tall Bodies)" as the perfect tension breaker. What could have been a sharp drop in energy instead felt more like a chance for the audience to catch our collective breath, ferocious head banging exchanged for gentle swaying. The songs then jumped back to Hiss Spun, leaving only a few tracks from the new album unplayed. "Twin Fawn" was especially gratifying live. The song's interplay between quiet singing with almost parodic levels of reverb and sludge-tinged hardcore riffs hits a lot harder when the bass blasts onto your entire body.
After a brief round of everyone pretending that an encore was in doubt, Wolfe came back out and began to play "Halfsleeper" backed only by pillars of blood-red light. Eventually, the rest of the band rejoined her, trading the unadorned melancholy for her more contemporary sound. It felt a little heartbreaking to not even get a full song solo, but it's hard to be upset about a perfectly executed twist on an old favorite. "Scrape" closed out the evening, just as it does on Hiss Spun, and summed up the entire show neatly: everything Chelsea Wolfe is louder, more aggressive, and wonderful live.
Openers and tour mates, Youth Code, also deserve no small amount of praise for getting the show off to a fantastic start. After a few songs, singer Sara Taylor glared at the square yard of space she had to work with on the crowded Turf Club stage. Grumbling that there wasn't room to dance, she jumped down into the audience. If there is one constant to almost any show in the Twin Cities, it is that getting the audience to do more than nod appreciatively is a challenge. Sensing this proclivity to inaction, Taylor declared, "let's have fun," before the group unleashed another high tempo, noise-fueled track. Even the most stoic audience buckles when someone is dancing and screaming in its face, and the crowd continued moving and dancing for the rest of the set. Live electronics-minder Ryan George impressed me by keeping up his energetic performance even when the crowd's attention was locked on Taylor. I'm not too partial to their style of EBM Industrial throwback, but a big segment of the audience was clearly and deservedly there to see them. Even if you are like me and aren't excited by someone doing Tactical Neural Implant 25 years on, Youth Code knows how to put on a performance not to be missed. Taylor would later join Wolfe on stage for "Vex", delivering a blistering version of the part sung by Aaron Turner on the album.
All together, it was an incredible show. The next time Chelsea Wolfe brings her brand of witchcraft to town, it will hopefully be at a bigger venue that doesn't sell out quite so quickly.
— Thomas Kwong