We Went There: Bitchin Bajas, Magnetic Ghost & IE at the 7th St Entry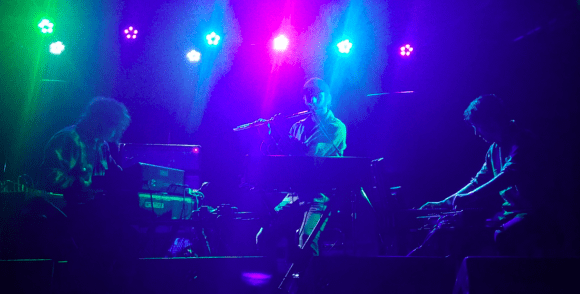 Playing a show with three ambient bands on a cold winter night that also happens to be Valentine's Day could easily turn into a bummer of a show, but luckily that wasn't the case at all Wednesday night at the 7th St. Entry when Bitchin Bajas made a long-awaited return to Minneapolis in support of their latest LP Bajas Fresh. With a strong assist from two burgeoning local bands, the Chicago electronic wanderers headlined a captivating and engaging night of music that was better than any expensive meal or hoppin club.
Bitchin Bajas are a trio who make massive –if gentle — sound, and they have the gear to prove it. Sitting behind tables of gear, the group got off to a rough start with some sound issues, but soon were on point and had the crowd wrapped around their key-pushing, flute-playing, knob-twisting fingers. With synths, percussions, woodwinds and more, they recreated their warm, spaced-out sound for the appreciative crowd, many of whom took a page out of Drone Not Drones and grabbed a seat on the floor. There isn't much in the way of describing a show where the three band members sit behind rigs and play world-class kosmische music, but for fans of the group's outstanding recorded output, it was a show that brought their fluid, nebulous sound to life in a really engaging, fun, beautiful set.
Opening the night were two local bands who continue to impress me when I catch them live. IE have grown in band members over the last year, adding in Crystal Myslajek (Brute Heart) and making a turn towards more fully composed songs compared with previous ambient droning. I really liked the old formation, so I would generally be skeptical of tweaks to members and sounds, but this change has brought out a really interesting sound in the band and I've enjoyed seeing their sets over the last few months. Keep an eye out for what hopefully will be future recordings as the band develops their sound.
Magnetic Ghosts were the middle band on the lineup, and they brought a powerful blend of post-rock to the show, creating the most dramatic soundscapes of the evening. A duo melding 12-string guitar and lap steel, they definitely take a different route to making their sound than lots of bands in their selected genre. Coming out of the ashes of some really cool bands, Magnetic Ghost are carving their path towards a sound that is really going in a cool direction.