We Went There: Yo La Tengo at First Ave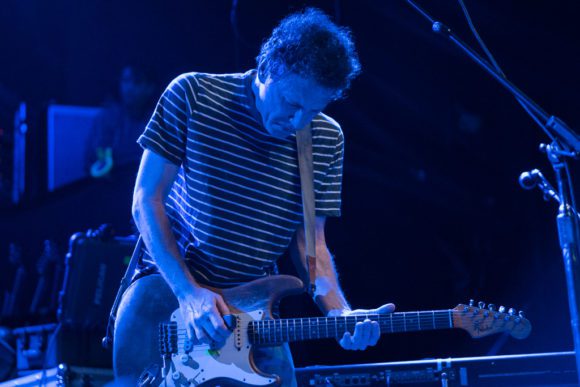 The first point that needs to be mentioned when writing about this Yo La Tengo show is that the initial set, of two sets split among their 90 minute performance, began at 8pm. That isn't doors, or opening act, but the trio kicking playing music. At 8pm. Nothing says "legacy act" like starting a rock and roll set when it is still light out. Maybe next time they can do a dinner show?
All joking aside, even having to rush to First Ave and it still being light outside didn't dampen the energy inside the mostly full First Avenue Mainroom for the two set performance from the band. Leaning on their great new LP ___, the band showed their staying power by melding their so-quiet-you-could-hear-a-pin-drop melodic material with their noisy, how-can-it-only-be-three-people chaos. It is always impressive seeing a band command a room without having to lean on "hits," and in Yo La Tengo's case they can even do abrupt stylistic changes and the crowd follows along diligently. While they don't have one song that defines the band, and their music seems to have always floated above simple genres or classifications, they did scratch a few itches over the course of the evening. From their new album the lead single "Shades of Blue" got an especially warm reception, and the band closed the 2nd set with the timeless "Sugarcube" and the classic "Pass the Hatchet, I Think I'm Goodkind." It was a good reminder that even in a massive, groundbreaking catalog, the band have shown that they have the chops to write massive songs that have, rightfully, made them so beloved.
For an encore, the kept their foot on the pedal with two covers (including a delightful take on "I'm So Lonesome I Could Cry") before asking for an audience request, which culminated in the band ending their outstanding set with a wrenching version of "Our Way to Fall." It was a captivating end to a great set, and it didn't matter that they waved goodbye to a widely appreciative audience at a time of the evening when most headliners would be casually strolling on stage. Yo La Tengo doesn't need your rules.
See a full photo set HERE.