Tape Tuesday: The off-kilter, sarcastic post-punk of Dairyland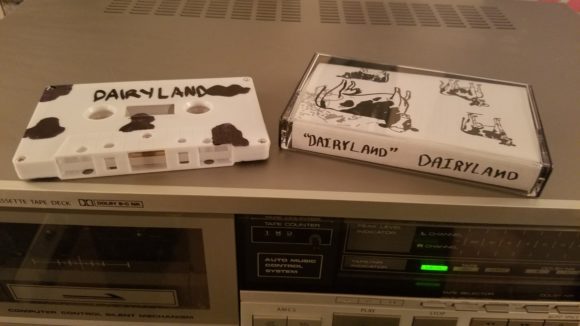 With song titles including "The Dumb Ass Face of History" and "Behind Our Backs They're Always Making Deal's," Minneapolis four-piece Dairyland are laying out clearly the level of seriousness you should expect from their self-titled debut CS. To be clear, just because something is off-kilter and doesn't take itself too seriously doesn't mean that it lacks quality, and this tape is case in point. Dairyland, which actually came out last year, falls neatly into the twitchy, don't-give-a-damn ethos that has percolated in the local scene via bands like Uranium Club and the Miami Dolphins, bands with direct connections to Dairyland.
The tape is all angular guitar lines, distracted drumming and sarcastic vocals. In other words, it's great and falls neatly into the Reviler wheelhouse. On song "In the Land of Idiots," they yell/sing out the title of the song and call out people who are idiots. On "I'm a Person," they follow the title by describing traits of the unnamed author of the song. It also contains a almost Weezer-esqe arpeggiated-guitar part with spoken vocals. Never a dull moment. Throughout the short release the band lead the listener down one path — sometimes funny, sometimes political, sometimes irreverent — before making an aggressive stylistic u-turn, often within the lifespan of just one song.
The CS is only five songs long, but it makes the most of it's limited real estate. Bursting with ideas and musical hijinks, it is a tape that if you missed when it dropped last year you should take the time to check out. You can stream and buy the CS below. The band used to play live shows quite a bit, but I haven't seen anything recently. Their live show is as compelling as their recorded output, so if you get a chance to see them in a dive bar near you, don't pass it up.