John Saint-Pelvyn: A Clerical Error in Shasta County Shouldn't Have to Ruin a Saturday Night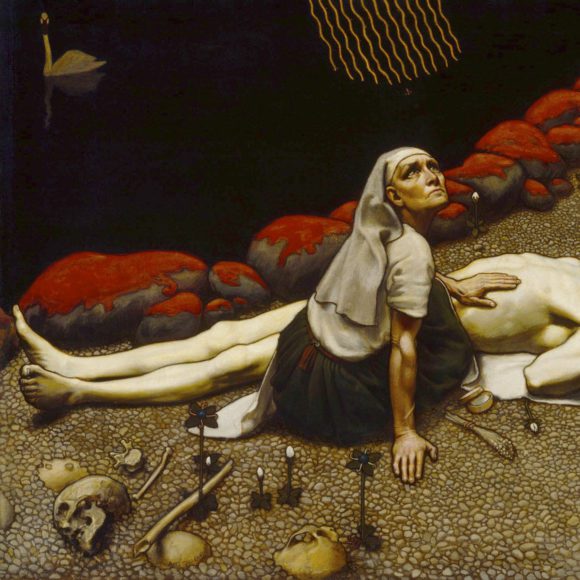 John Saint-Pelvyn does things with instruments (often multiple simultaneously) that I cannot begin to understand – let alone describe to you. He's a master of the American Primitive guitar style, an electronic tinkerer and theremin wizard, and he's also capable of truly unique and unsettling vocals. Often it's not entirely evident just which tool in his arsenal he's employing at any given time.
Saint-Pelvyn recently released a solo record, A Clerical Error in Shasta County Shouldn't Have to Ruin a Saturday Night. Not only is it a rarity in terms of Saint-Pelvyn's usual medium, the cassette, the object itself is practically a work of art and craftsmanship; it's a beautiful 10 inch double album on heavy-weight vinyl with some Caravaggio-esque cover art.
As is typical of Saint-Pelvyn's music, the new record doesn't follow the map in ways you might expect – it's difficult to chart the definite edges for instance where drone segues to fingerpicking, or from feedback tones to howled vocals. This isn't music about edges – Saint-Pelvyn often works from an improvisational method, so it's likely that even he can't see his final destination until he gets there. Accompanying him on this trip are Naomi Joy of Mother of Fire and Ka Baird of Spires That In The Sunset Rise, but it is Saint-Pelvyn alone who charts the course. And an amazing course it is and one well worth following – if you can manage the twists and turns.
You can stream
A Clerical Error
… below and/or purchase it from Seeland/Electro Motive
here
.
— Jon