Myrrh: "Untitled (track 8)"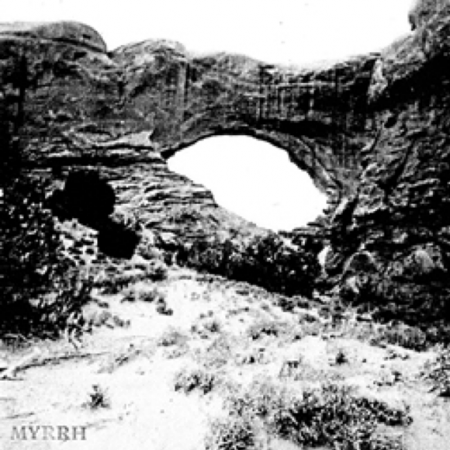 While Jackie Beckey and Andie Mazorol seem to keep pretty busy with their respective bands (Brute Heart and Mother of Fire) the pair also finds time for their joint project Myrrh.  They have been working together over the course of the last few years and self released their first record on cassette.  Unfortunately the original masters of their debut have been lost to the land of wind and ghosts.  Fortunately though, local label Soft Abuse recently righted the situation by agreeing to remaster and re-release the album, this time on vinyl. The record will be available on 8/21.
Have a listen to one of the tracks off of the new album below. Much like Brute Heart/Mother of Fire, Myrrh's sound traffics heavily in the world of doom-laden strings and heavy atmosphere.  However, the pair's repetitive, trancelike crush of noise is also something of a departure (especially from Brute Heart).
— Jon Behm

Myrrh "Untitled 1″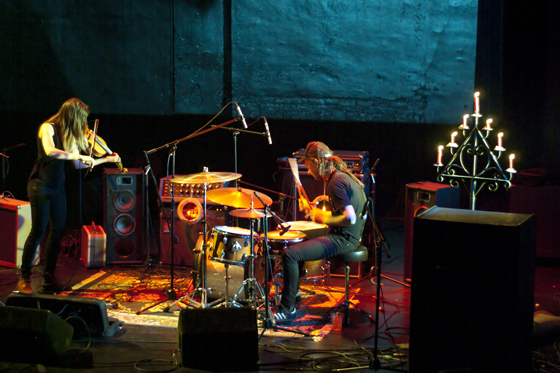 We haven't heard much from Myrrh since their self titled CS that they released last year, but word is the group are back with an LP for the local Soft Abuse label, due out later this year. Like a more demented Dirty Three (and only featuring two people) Myrrh take the hypnotic, squealing viola of Brute Heart and strip it of all pop pretense, moving it forward with restrained by pulsating drum work from Andie Mazorol, best known for his work with Mother of Fire.  Listen below to the spooky, warped instrumental track "Untitled 1″ for a sense of what they are all about.
-Josh
Myrrh: Myrrh CS Review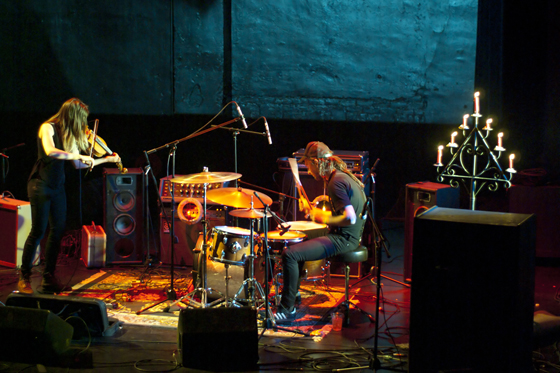 Any time you get together two members of other, well established bands, there is a generaly feeling that you will know what they are going to sound like. While it obviously isn't always the case, that theory works fairly well for the debut, self titled tape from local noise duo Myrrh, a newish group featuring Jackie Beckey and Andie Mazorol. Local fans will recognize Beckey from her work as viola player and singer of Brute Heart and Mazorol for his many roles, but most notably as drummer for Mother of Fire.
Local music fans (or well connected national/international fans) who have heard Brute Heart and Mother of Fire will probably be able to have a general impression of what these two sound like as a pair. The multi layered vocals that make Brute Heart so haunting are gone, with the melody left simply to the kraut driven rhythms of her plucked and distorted viola. Like his work with Mother of Fire, Mazorol does more than just keep the steady, hypnotic pace, often complimenting the noise and squalling with persuasive drums beats and challenging textures. The songs operate under a definite lo-fi haze, which was either placed their intentionally or reflects a budget and studio situation that doesn't allow for a crisper sound. No matter what the reason, the feel of the album is tense and claustrophobic, with the beat slowly marching forward, head bowed in solitary reflection, which Beckey's frenzied viola playing wraps the listener in to the dystopic noise.
The band, for now at least, seems relegated to being a side project for the two artists, which is too bad. The red eyed kraut jams are both heavy and poetic, feeling neither too druggy nor too orchestrated, walking that edge where it isn't too sloppy but it feels genuine and organic. The group obviously aren't putting too much effort into promotion (they also have some Christian rock competition in Minneapolis), but don't let that or the lo-fi nature of the release fool you into thinking this isn't another great entry into our bursting at the seems local scene.
-Josh