Plants and Animals Interview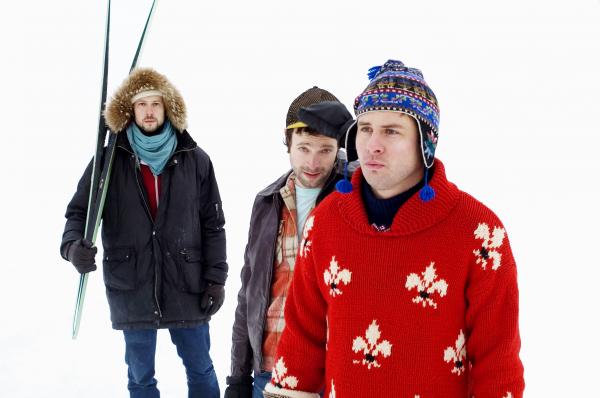 Reviler:Congratulations on the new album.  La La Land is a great follow up to Parc Avenue.  Can you talk about any big differences you found recording your second full length compared to your first?
Matthew Woodley: We definitely went into the studio with a lot more experience, having gone through the whole album-making process already. So the experience was more focused, unike Parc Avenue where we had spent so much time figuring out what our sound was. We were a lot more comfortable with playing and working in the studio, and it made it easier to get what we were looking for quickly – or even know what we were looking for in the first place.
Reviler: What are your expectations for this album? Parc Avenue received loads of critical praise, so what do you hope for or expect when La La Land is released on April 20th?
Matthew Woodley: I hope people find a connection to the music like so many seemed to with the last record. And I hope it compels people to come see us play because the record is written in stone now and the boat we're steering is the live show. Yeehaw.
Reviler: After seeing you a few years back in Minneapolis at the 7th Street Entry and then seeing you again at Pitchfork last year, I got the sense that the three of you had really sharpened and tightened your live show. Did you feel like the large amount of time spent touring behind Parc Avenue helped to shape your sound for La La Land?
Matthew Woodley: For sure it did. We're a three-piece, and Parc Avenue is a big, sprawling yard sale of sound that three people couldn't reproduce verbatim. The way we play the songs live, as a result, is a lot more electric and bolder. We carried that sound that we've been touring with right into the studio with us and kept going with it.
Reviler: With all your touring, what are your favorite and least favorite parts about being on the road?  Any favorite American cities or venues?
Matthew Woodley: I love playing with people, for people. And I love travelling – even the surface variety that touring affords. I'm really excited about going to New Orleans for the first time in a few weeks – even if it's for a night and a breakfast.
Reviler: The sound on your records is so expansive, has there ever been a temptation to add members to the group for your live performances?
Matthew Woodley: It's something we discussed a few months ago, as a way to support the new record. Ultimately, nobody fell on our band lap, and we didn't push the idea that hard. There's something special about the chemistry of three because it makes the music so volatile – like we're only as good as our weakest link, and that kind of risk can make a live show pretty exciting.
Reviler: Who are you bringing out on tour with you, if anyone?  Any great bands from Montreal that you want to tip us off to?
Matthew Woodley: We just played a few shows with our pals from Montreal The Barr Brothers. Andrew and Brad have been playing for years with The Slip, and this is their new project. They often play with a harpist and an organ player, and on stage that's one power cereal of good players. Every night they played to an audience of folks who, for the most part, had never heard of them, and every night they won that crowd over like the dark horse of thunder and rain. Humbling dudes.
Reviler: Any good memories from Minneapolis or Minnesota?  We practically are part of Canada, so we at least can mutually appreciate the weather.  Any favorite bands from the city or state?
Matthew Woodley: Actually, last time we played Minneapolis was in the dead of winter. Living in a cold climate is second nature, but I happened to be deathly ill at the time and I think we had three days off in the city. I spent most of it in a hotel room coughing, driving my bandmates crazy, and going for walks and solo meals to give them some peace from my incessant hacking. So I connected to the city in my own way during those miserable strolls. Funny way to remember it. We're on our way back now though, and I'm healthy like an olympic gymnast.
Reviler: It took two years between Parc Avenue and La La Land, should we expect much time before LP3?  Any projects currently in the works?
Matthew Woodley: We're all pretty keen on putting the next one out in a shorter time. We haven't done anything yet – it's touring season and all – but the spark is already there.
Reviler:Thank you for taking the time to chat and best of luck on your tour!
Matthew Woodley: Thanks Josh. Cheers.
Don't miss the band at their show with Zoo Animal tonight at the Varsity Theatre in Minneapolis.