Futurebirds: Hampton's Lullaby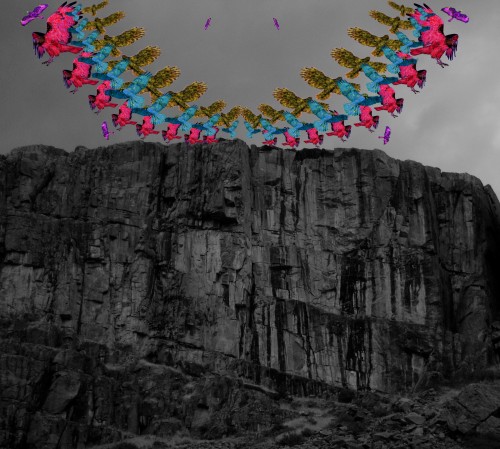 84/100
Futurebirds would like you to think that they are just a bunch of "unruly boys from Georgia."  They have back stories with folksy anecdotes that involve raising stray dogs, blowing up stink bombs, and generally "raising hell."  Their music tells a different story, however.  Though it certainly has some down home hard drinkin' sass, Futurebirds' sound is also painstakingly crafted and considerably dense.  Pedal steel laps up against banjo, piano, mandolin and psychedelic guitar – and the mile wide reverb blends everything into a weighty alt-country sound that evokes a meeting of early My Morning Jacket and Uncle Tupelo.   Though the boys seem to aspire a Waylon Jennings "outlaw country" ideal, their experimental leanings actually make for a more unique (and interesting) polyblend.  Their debut record, Hampton's Lullaby, is full of such nuance and bespeaks a promising start for the young band.
The record's first track, "Johnny Utah," is also its best – setting the record's eclectic tone as well as a high bar.  The tune starts out with some Eastern sounding strings before launching into a bittersweet melody that, if not for the delicate touch of pedal steel, would fit comfortably under the indie rock genre.  Labels don't sit easily on the band though as they navigate the front end of the record, seamlessly integrating gothic country, rock, and experimental folk.  Haunting vocal harmonies give "There is no Place for this to Go" a melancholy longing, while an undercurrent of honkytonk piano gets the toe tapping.  Guitar distortion cuts a swath through the center of "Sam Jones'" banjo plucking and effects pedals, making for one of the most unique tracks on the album.   And while "Battle For Rome's" Drive-By-Truckers style of hard kicking country is less ambiguous, it still makes for a great tune.
Hamptons' back end does suffer a bit though with a conventional sounding "Yur Not Ded" as well as the weirdly Bon Jovi-esque "Happy Animals" making for a somewhat unpleasant detour.  It is only a temporary setback though as the record finishes strong with the intense, suffering, lyricism of "Man With No Knees" as well as the dense, anthemic sound of "Ski Chalet" marking the record's cathartic climax.  If you haven't figured it out before this point you should know that Futurebirds are based in Athens, Georgia; the longstanding wellspring for creative talent that has produced the Elephant Six Collective as well as the aforementioned Drive By Truckers (both named as influences by the band).  Coming out of such an eclectic music scene it should be no surprise that Futurebirds' sound is as broad as the scene that spawned them.   And the band doesn't suffer even amongst such esteemed peers.  Hampton's Lullaby is one of the better debuts to come out of Athens in awhile – and Futurebirds one of its most promising new bands.
— Jon Behm
Hampton's Lullaby will be available July 13th via Autumn Tone Records.
Futurebirds:          Myspace