Fuck Knights: The Recorded By Gary Burger Of The Monks EP Review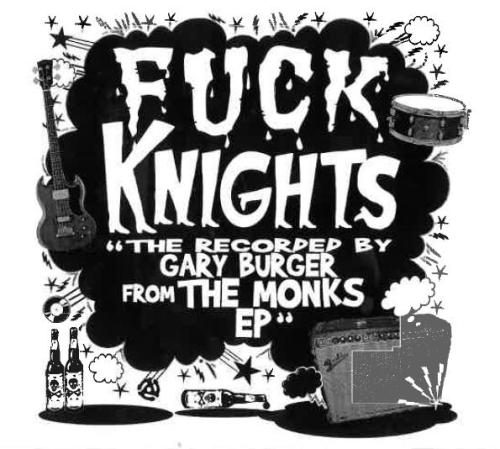 74/100
"Poor Boy Do," a track on Minneapolis rockers the Fuck Knights' new EP starts with the line: "I've heard this song before and so have you / everything's been written before, what can a poor boy do?" it's a comment that the group seems to have taken to heart with their sound.  And what I mean by that is that they aren't exactly trying to reinvent the fuzzbox here.  The Fuck Knights have a barebones garage/punk sound that has been around in various iterations since the sixties – and they aren't really messing with the formula a great deal.  Incidentally the new EP was recorded by one of the genre's pioneers, The Monks' Gary Burger, giving it the cheeky title The Recorded By Gary Burger of the Monks EP.
And while the Fuck Knights aren't doing anything incredibly innovative, they do happen to fill their garage parameters pretty nicely with some catchy, anthemic rockers.  "Baby Get Lost" flies by in a less-than-two-minute flurry of surfy guitar hot-dogging and lead vocalist Sir Gettsalottapus's screamy vocals.  "F.M. Eyes" breaches the two minute mark but not by much – and it too is a screaming bundle of raw, nervous energy set to distorted guitars and a strong rhythm.  While the Knights don't seem highly influenced by the Monks' more bizarre/experimental leanings – if they picked up anything from the legendary band it is a strong attention to rhythm.  The EP's stripped down drum patterns provide a solid base for the band to terrorize their instruments in other ways. 
The Fuck Knight's raw intensity continues unabated for all four songs of the brief EP, however it does pause notably in B-Side closer "Don't Exist" for a strange little psychedelic bridge that slows the song down before launching back into the chorus.  It's a small detail but one worth mentioning.  It's a tiny elaboration on the Fuck Knights' otherwise utilitarian style – and one I wouldn't mind hearing them explore further.  I admire the Fuck Knights' willingness to drop any sort of pretension in their music, but that also doesn't necessarily mean every track should be a straight shot from point A to point B.  I enjoy the band's straight, unfettered trips through rock n' roll, but I also don't mind the occasional detour.
     — Jon Behm
The new EP is available from Crustacean Records here
Fuck Knights:          Site
.