Mystery Jets: Serotonin Review (Four Takes)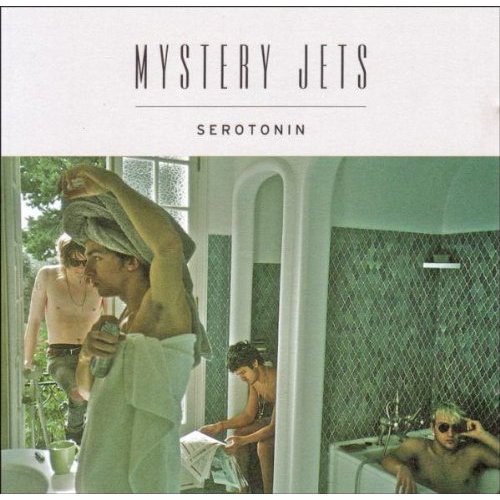 It can be difficult to gain a balanced perspective on an album after reading a single summary of the music. Bias can tilt a review, as can personal taste, history and just about everything else that is unique to the person writing it. So in an effort to offer an expanded perspective in such a medium, here are four reactions, four impressions, Four Takes on Serotonin by Mystery Jets.
Joey Ryan (Joey Ryan and the Inks)
Serotonin was my first encounter w/London based Mystery Jets, and it took me a few good listens to fully sink my teeth into its thick 80's synth coated shell.  But once I did, I came away with a genuine appreciation for the band and this collection of songs.
The record starts off strong with a spirited epic "Alice Springs" where lead singer Blaine Harrison roars a confession of love and devotion (an ongoing theme throughout the record) over a chugging landscape and a wave of haunting vocals reminiscent of something you'd hear on an Arcade Fire record. After a couple less notable tracks the record picks up again with "Flash your Hungry Smile" which showcases a nice arsenal of catchy hooks and rivals "Lady Grey" for the catchiest song on the record.  The song (Flash) travels from whistle hook to triumphant soaring chorus along the lines of Paul McCartney and Wings' "Jet" all glued together with an almost "Built To Spill" guitar tone and an immensely catchy vocal melody.
On the whole – I wish I could strip the album of some of its heavy 80's synth and dance beat layers, but there is certainly a wealth of memorable melodies that have since snuck their way into my set list of daily hums.
Jon Schober (Radio K)
50/100
Mystery Jets serves a distinct niche and that niche does not involve this reviewer. This type of music really doesn't interest me- it's a glammy brand of indie pop, halfway between French Kicks and a less sensitive Local Natives with some late British Sea Power thrown into the mix. That being said, they do this genre justice. The songs on 4th album Serotonin are tight as all hell, no execution flaws in sight, coupled with their nauseating, faux-80s wardrobe which makes lead singer Blaine Harrison and his haircut look like a hipsterized Edward Scissorhands. Take it or leave it, their songs have distinct merit, but it takes a bit of work to uncover it; after a few tracks, their sound begins to evolve into a punchier narrative, but alas those chimey synths alongside power-pop vox start to feel slightly nauseating.
Are you confused yet by my take? I sure am. I know this is a solid album to the right crowd, not to mention they are housed on esteemed Rough Trade which has seen releases from Sufjan Stevens, The Fiery Furnaces, Micachu, and so many others. I just find this totally mediocre compared to the rest of the label's roster, and to be honest, this band really isn't doing anything substantially unique that we haven't heard before. You can use that argument for many a genres (ie- any band putting out garage rock). Truth be told though, I adore garage rock and I cringe at ritzy pop. Thus my review score is on the fence.

Jon Behm (Reviler)
30/100
Serotonin is that stuff in your brain that makes you feel good, right?  Ironically Mystery Jets new record by that name does exactly the opposite for me.  It's definitely one of the more irritating releases I have heard this year so far, made so by the glammy Britpop -by-numbers arrangements and Blaine Harrison's banal songwriting, which doesn't consist of lyrics so much as it does a hodge-podge of lyrical clichés:  "I need to know what you're running from," "If love is just a race, I never seem to come in first place" etc.  The production is good, yes, and the band handles its instrumentation well, but to what end? Glossy synth pop that's as about as substantial and well thought out as the band's fashion choices.   "Flash A Hungry Smile" is the record's only saving grace, due to its irrepressibly catchy hook.  On the other hand though I can't even listen to that track without annoyance due to my belief that "hungry" smile isn't an adjective that was ever meant to be self-referential (sort of like saying "I look demure today," – it just isn't right).  So yeah, the one tune I could possibly like is ruined for me, leaving very little else to like about Serotonin.

Jen Paulson (tigerbeatpoet)
72/100
My first adventure on Four Takes with Reviler involves the third record from UK indie-pop band Mystery Jets, and I'm not going to lie – I didn't know shit about them to start with. The record is a bit disjointed for me. It's not necessarily cohesive as a whole, but that isn't a diss. As it opens with the present –day sounding "Alice Springs," it has a mild sweeping feeling similar to a lot of your modern day, moody yet talented British rock bands. But what the bones of the record lack logistically, it inevitably makes up with seventy percent of it being a transmission that headed out into space in 1982, and returned from the long bounce back as the band was creating what would become Seratonin. Dare I say the three or so songs that don't sound like they came out of the early 80's synth-pop/new wave for radio could be compared to few parts Keane trying to be Coldplay while not so secretly wishing they were Orchestral Manoeuvres in the Dark.  Most notably, with the track "The Girl is Gone," which tugs at my heartstrings in the way only OMD can. Another example of this successful eighties transmission is "Dreaming of Another World,"  its synth underlying a nostalgic bass line – it makes me wonder, could they have saved the less retro tracks for their next record and made this a genuinely lovely throwback record? Does the ADHD of the tracklisting get in the way of a successful record? I'll make this decision once the headache I got from this side ponytail goes away.
Mystery Jets – Flash A Hungry Smile
Mystery Jets:          Myspace
.