CoCoComa: Things Are Not Allright Review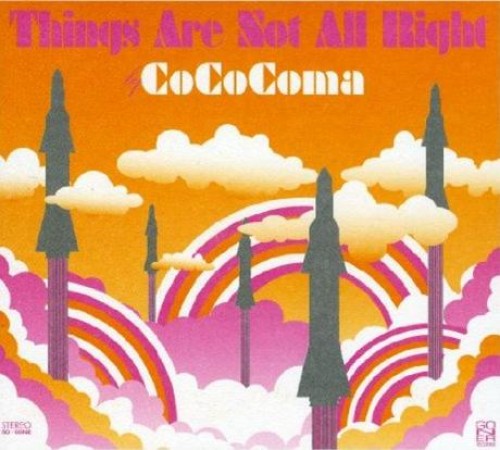 77/100
There isn't much new about Chicago quartet CoCoComa's sound.  Like any number of bands they play a mix of high energy, garage ballads that walk the line between punk and classic rock effortlessly.   Lacking originality, however, doesn't necessarily mean lacking talent (if it did there wouldn't be but one or two current bands worth talking about).  CoCoComa put together some pretty mean hooks, propping up anthemic Ramones-styled energy with the throwback classic rock guitar and organ pounding of Elvis Costello and the Attractions.  We were wowed a month or so back at the Turf Club by some of the cuts off of the band's sophomore effort Things Are Not Allright, and now that we have a copy we are prepared to tell you more.   
Things doesn't make any bones about trying to aspire to any sort of fancy experimentation, from start to finish it is ten tracks of unadulterated rock and roll. "You Better Beware" starts you down the path with chugging classic guitar riffs over vocal howling that isn't exactly harmonious as it is shouty and impassioned.  In "Enemies" lead singer Billy Roe pulls off a pretty damn good Elvis Costello impression over organ riffs, sounding for all intents and purposes like a lost This Year's Model B-side.  The Costello-isms continue in tracks like "Suspicious," "It's Too Hard," and elsewhere, but the punk influence never wanders far – showing up in guttural shouts and anthemic singalongs, invoking references from Tim Armstrong to the Misfits.   The record's back half is anchored by two standouts, the propulsive rock/surf ballad "Never Be True," as well as "Water Into Wine," an infectious anti-religious screed.   
Things Are Not Allright is a pleasure to listen to throughout, and it is refreshing to hear a punk/garage band that, doesn't over distort everything into a psychedelic haze.  Still, I can't help but feel that CoCoComa would have been better received had they formed fifteen to twenty years ago, when straightforward rock/punk bands still ruled the airwaves.  Nowadays if it isn't an over distorted mess (Wavves, No Age, Japandroids) the indie kids probably aren't going to get it.  Still, CoCoComa isn't exactly a bunch of hungry-eyed youngsters either – Billy Roe and guitarist Lisa are married to each other and the rest of the band seems to rotate around availability.  My guess is that the band is doing this because they love it – not because they ever see themselves on the couch with Letterman.  That love for simple, classic rock/punk is what shows up throughout Things.  And who knows, perhaps in the post distortion/experimentation backlash we will one day look again to straightforward rock and roll.  If that happens CoCoComa will be well positioned to receive their comeuppance.           
     — Jon Behm
Things Are Not Allright is available here via Goner Records
CoCoComa:          Myspace