Gay Beast: To Smithereens Review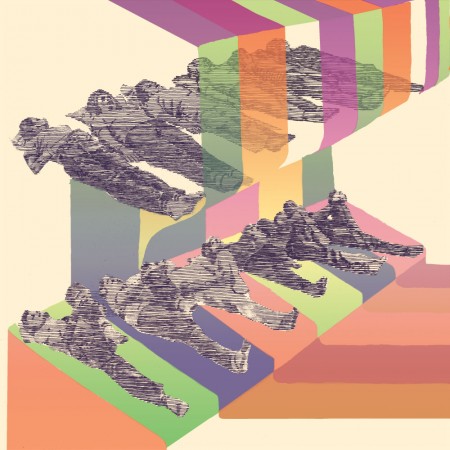 81/100
If Minneapolis trio Gay beast were a child, it would be one of those spastic, ADD-riddled terrors that can't sit still long enough to get a pair of socks on.  Their twitchy, propulsive electro-rock is packed with sonic twists and turns that are relentless in their energetic vigor.  They employ quick-tempo time signatures that are difficult to nail down, and where more conventional rock music occasionally slows or contains breaks, Gay Beast power through each tune with a maniacal intensity that's singular most consistent feature is its hyper pace.     
Despite what in some hands might be a feverish mess though, Gay Beast are methodical and talented enough musicians that their harried energy channels into a cohesive (albeit intricate) whole.   The band's new record, To Smithereens, contains eleven tracks, each which has the potential to surprise and enthrall, while at the same time defying easy categorization.  Lock onto traits like the crazy Middle-Eastern synth vibe of "Poverty Witch," or "Poly ASX's" deep baritone saxophone (which sounds ripped straight out of a Morphine song) and you risk missing the forest for the trees.  The tireless band rips through as diverse genres as jazz, electro-pop, and thrash – at times all in the space of a single track.  Trying to point out any single element and saying it defines the band's sound would be a bit like saying that the Odyssey is a book about some guys that get turned into pigs.  It just wouldn't quite encompass the whole picture.
Still, if there is anything that comes close to determining Gay Beast's multifaceted sound, it might be lead singer Daniel Luedtke's surprisingly saccharine vocals.  While thrash/experimental music often goes to extremes to defy conventional expectations of the human voice, Luetke's singing is actually on key and even, at times, pretty.  There are even instances when it sounds as if the band hijacked a pop singer (Brent Knopf comes to mind) to front their wild, eclectic machinations.  The effect is actually a good one – giving the band's bombastic agitation a welcome touch of melody (a touch that would also be welcome on the tracks with no vocals at all).
2010 was a banner year for twin Cities local music, and with Gay Beast's early 2011 offering, it seems that it's a streak that might just keep going.  To Smithereens is the first great local record of the year, and hopefully just one of many to come from our scene.  And I even made it through this entire review without saying that it will "smash your expectations…to smithereens." Whoops, fuck.
     — Jon Behm
You can purchase To Smithereens at Gay Beast's album release show which takes place tonight (January 21st) at the 7th St. Entry
Gay Beast:          Myspace
.