Live Review: Ariel Pinks Haunted Graffiti at 7th Street Entry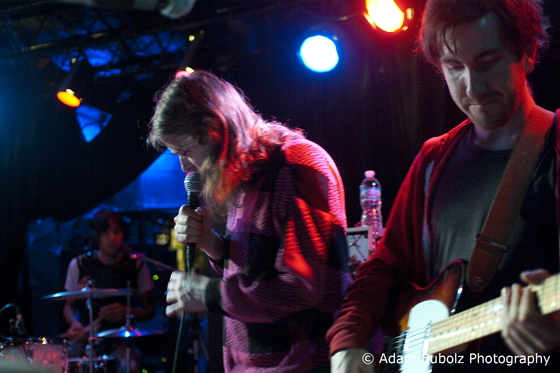 If there were any questions about whether Ariel Pink (along with his band Haunted Graffiti) were finally gaining some well deserved traction, you had to look no further than the bands sold out show Monday night at the 7thStreet Entry. Ariel Pink brought out the kids (both in the crowd and the youngins opening the show for him) for what turned out to be a really excellent evening featuring different strains of pop music. 
Starting off the night was the 60's pop of Magic Kids. Their take on pop was much more straight forward and richly melodic than Ariel Pink, but no less gripping. They sounded as if Girls wrote better songs that weren't eminently depressing. Their sweet, innocent songs were filled with multi part melodies and their songwriting was air-tight. The group has been getting a lot of buzz since signing with True Panther/Matador and seeing them live only made me believe that the hype is justified and that they will be a band we will be hearing a lot from in the near future.
 Up next was another buzz band, this time Puro Instinct (formerly known as Pearl Harbor). Their pop music was of the chillwave type, with dreamy guitars and effect laden vocals by their lead singer who looked to be about 12 (I think she is actually 17 or so). Their songs were interesting at first, but the haziness of their sound seemed to lose my interest part way through and their set as a whole didn't do a whole lot for me.  I don't doubt their sound will catch on and they will make it pretty big, but for one night at least it didn't really draw me in.
When Ariel Pink and crew finally came on, the crowd had worked itself into a pretty good lather. People were yelling, screaming and barking at the stage, with everyone seemingly trying to be weird because they were at a Ariel Pink show. For all the talk of him being a lo-fi godfather and this weirdo, outsider pop mystery man, his set was not as weird as one would expect. Anchored by guitar, bass, keyboards and drums, Ariel Pink was free to walk around stage and just sing and mess with his vocal effects. Playing both older material and stuff from his excellent, albeit more accessible, new album Before Today, the group really hit a groove and sounded great. Unfortunately for me, I was massively sleep deprived from a weekend at Pitchfork and was falling asleep standing up, so I had to take off before the set was over, but it was in no way because of the quality of the material.  If anything, for nearly any other band I wouldn't have even have left the house to go to the show. As I was walking out, I left hearing the great tangled pop songs of the group, safely knowing that the sold out crowd would give the band the love that they have worked towards all these years and are finally receiving.
     -Josh
Check out Adam's entire photo set HERE.
Magic Kids     Puro Instinct     Ariel Pink