Mt. St. Helens Vietnam Band: Where the Messengers Meet Review (Four Takes)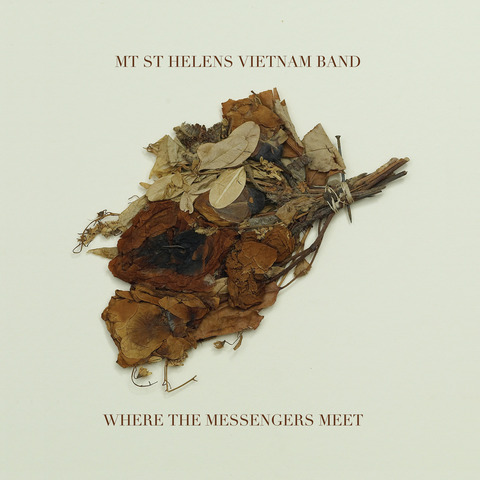 It can be difficult to gain a balanced perspective on an album after reading a single summary of the music. Bias can tilt a review, as can personal taste, history and just about everything else that is unique to the person writing it. So in an effort to offer an expanded perspective in such a medium, here are four reactions, four impressions, Four Takes on Where the Messengers Meet by Mt. St. Helens Vietnam Band.

Chris Polley (PRGHS)
76/100
There's no big backstory or convoluted setup needed for Mt. St. Helen's VIetnam Band or their sophomore album, really. They're a band and their debut was okay but promising because they liked to rock in odd yet not totally surprising ways. In a day where the terms "over sharing" and "musicians" go hand in hand, the simplicity of MSHVB's nature, despite their verbose band name, is refreshing. Likewise, the songs on Where The Messengers Meetare much more straightforward and to the point this time around. And it feels mostly great. "Leaving Trails" is one of the most rip-roaring genuine rock songs to come out of the nooks and crannies of the indiesphere this year, like a more taut and less discomforting Silver Mt. Zion or more steampunky and less synth-crazy Wolf Parade. This jawn and others like it ("Hurrah" and "In A Hole" are equally massive-sounding) also show that they're a band capable of bridging the gap between wild discordance and controlled chaos. The interplay between the playful guitars and the strings one second and a buried reverb-heavy piano the other is uniformly excellent while the album becomes most memorable when the vocals and percussion let loose just a little bit more than the others, creating an ecstatic confluence of instruments.
Then again, sometimes the band refuses to inject enough raw energy (the opposite of their debut) to hold the listener's attention and while the melodies and riffs are almost always strong, they can't quite carry entire songs ("The Roof" and "Bitter Cold" are two examples). It's a shame, because at any given point you could drop the needle on the record and hear a beautiful build with a carefully placed organ creating a delightfully creepy build with the other instruments, or you could hear a slippery vibrato on the vocals giving a track its human edge, but ultimately the admirable details aren't enough to save songs that are mostly just good at being pleasantly off-kilter on casual listens. MSHVB are a band still trying to figure out how to grab our attention, how to craft more than just a handful of songs that balance their sometimes impeccable ear for crushing melodies and mature instrumentation. Let's just hope they don't get lost in the shuffle because to the masses the only sound bite they currently have going for them is "they're a band with a long name."
John Grimley (Greenshoelace.com)
 
74/100
 
Mt. St. Helen Vietnam Band is one of the growing number of bands that refuses to stick to one convenient genre. Their latest album Where The Messengers Meet sees them dropping many of the pop pretenses that were on their first offering for a set of songs that are much more toned down and melancholy.
Songs like the ethereal "You Were/I Was" has the band gazing vacantly out into space like a true disciple of Pink Floyd, complete with alternating singing/chanting vocals and some truly deep-trance effects. There are a few songs that eschew the star-gazing for some playful melodies, such as "Hurrah" which would be right at home in a circus (meant in a good way).
However, the jubilance is far outweighed by more subdued fair, as if the band suddenly realized that they weren't going to live forever and it really bummed them out. Songs like "Gone Again" are quiet and introspective affairs with lead singer Brendan pleading to a long lost-love over gently strumming guitars and muffled drum beats.
Overall, the album feels like it is all build-up and no release. There are far too few explosions of sound to compliment the refined and restrained numbers. This is not saying that the album is bad, the band's musicianship is unquestionably talented and their willingness to experiment is awesome to see in the day of the all-mighty iTunes single. Messengers feels like part of some larger whole. It is an outer-worldly affair that doesn't remember to come back down to Earth once and a while.

Jon Jon Scott (Sound Verite)
Seattle was once home to grunge and all things flannel, but that's been awhile. Last year was the first time I heard Mt St Helens Vietnam Band, who create rambling, smart indie that is clearly influenced by that great neighbor to the North, Canada.
Mt St Helens is led by Benjamin Verdoes and keyboardist Traci Eggleston and their second long-player Where The Messengers Meet suggest a band who's real strength is making perfect rainy-day music, closer to The National than say The Cure. Lead singer/vocalist/ guitarist Verdoes is in truly fine form especially at the opening, with 3 of 4 great songs of the first four songs rock, "At Night" , "Leaving Trains" and "Hurrah". On the opening the "At Night" with the ferocious line "Fire only burns in yours eyes at night", and they're so right. They almost feel like a different band on the Pavement-like "Hurrah" , perhaps a bit too tender is "Not To Know". Another track is the surreal, pleasantly dark , brooding and contemplative "You Were/I Was", which is a winner. The slower moments in the middle bring the record down, "Gone Again" , "Bitter Cold" and "Cadence" all offer that "dark emotional space" which is fine if you want to fall asleep. That being said there's "In A Hole" , which is a nice little strummer-led two-step. The soaring "Messengers" is much more of the upbeat joy that the band is clearly capable of. MSTVB closes with the five-minute plus drag of "George Clark". Maybe Verdoes has some heavy shit on his mind and is simply shedding various demons. The band has been called "promising", and that's meant in a good way . Yeah they do sound like friends of Arcade Fire, but what would one expect,  Where The Messengers Meet comes out the same day as Arcade Fire's new opus The Suburbs. Do yourself a favor and buy both.
Josh (Reviler)
82/100
For some reason I slept on the self titled debut album of Seattle's Mt. St. Helens Vietnam Band, but they grabbed my attention quickly when I saw them opening for Japandroids at the Turf Club last year.  As soon as I saw the bands scatter shot avant pop live, I knew they were a band right up my alley.
Their latest album, their sophomore release Where the Messengers Meet, is another great example of their knotty art pop that they do so well.  The group sounds is a more convoluted, twisted version of Arcade Fire/Wolf Parade like indie rock.  The songs are highly melodic, but each feature that kind of wound up until it bursts sort of feel that really makes for engaging listening.  Things slow down in the middle, but the start ("At Night" and "Leaving Trails") and end ("Messengers") are raucous affairs and serve as the highlights of the album.  While the slightly slower material that makes up a good chunk of the record, I was much more inclined to hit repeated on the upbeat numbers. 
Despite their long name and somewhat involved songs, Mt. St. Helens Vietnam Band's second record is well worth checking out.  While 2010 has been crazy for all of its great new music, don't make the mistake I did with their first album and sleep on this underrated group.