Kanye West & Jay Z: Watch the Throne Review (Four Takes)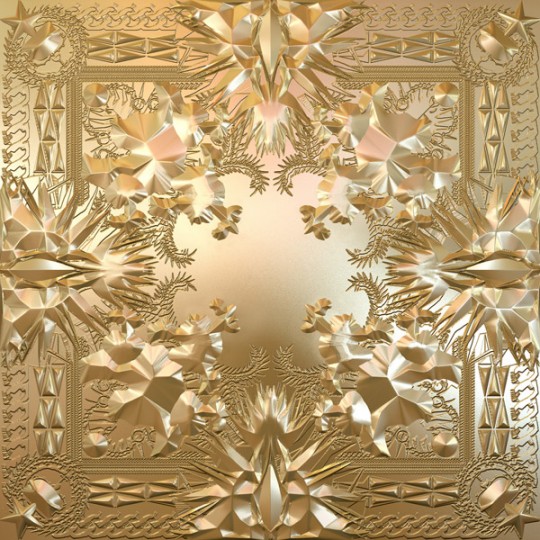 It can be difficult to gain a balanced perspective on an album after reading a single summary of the music. Bias can tilt a review, as can personal taste, history and just about everything else that is unique to the person writing it. So in an effort to offer an expanded perspective in such a medium, here are four reactions, four impressions, Four Takes on Watch the Throne by Kanye West and Jay Z.
Kyle Tran Myhre (Guante)
75/100
I'll be honest: the contrarian in me wanted to hate this album.  Both artists are incredibly talented and incredibly frustrating—two top-tier lyricists with access to the best production on the planet, a history of subject matter that's equal parts thought-provoking and thought-aborting, and a media chokehold that guarantees that the world will go nuts no matter how brilliant or boring their actual music is.  But while "Watch the Throne" certainly isn't any kind of revolutionary, game-changing hip hop manifesto, it more-or-less won me over.
The album is book-ended by a pair of great moments, the sinister, propulsive opening of "No Church in the Wild," and the back-and-forth rhyme pyrotechnics at the end of "Why I Love You."  Those tracks, along with the late-album highlight "Murder to Excellence," fulfill the promise of the collaboration, and everything in between is cool but nothing special (aside from the Beyonce-assisted "Lift Off," which is just awful).  The two MCs don't have a ton of chemistry (they definitely still sound like two solo acts), but each has a unique, engaging voice; while the overall message in most of these songs might be predictable ("it's so fun/hard being famous!"), the line-by-line content thankfully isn't.  The production is solid, with a few head-nodding outliers—mostly, it's just nice to know that pop rap is finally moving away from that Euro-club synth bullshit.
"Watch the Throne" is a great album is you like both artists but don't own a CD changer that can flip between "My Beautiful Dark Twisted Fantasy" and "The Black Album."  It definitely doesn't live up to the hype, but when the hype is bigger than the known universe, how could it?

Michael Herriges (Midwest Broadcast)
85/100
We first heard a sample from Jay-Z and Kanye West's Watch the Throne with the brash, if not obnoxious, single "H•a•m" The song hinted that the duo's long-awaited full-length collaboration album would be a quick and haphazardly thrown together project, offering little beyond a platform for the two rappers to discuss their greatness. After that, Jay and Ye made multiple returns to the studio — excuse me, luxury hotel — to rework the album into a more cohesive unit. The tinkering paid off and Watch the Throne is actually quite good.
The most distinctive aspect of the album is that it sounds epic, which is to be expected with what Jay and Kanye were working with. They broke the bank to sample Otis Redding, Nina Simone, James Brown (on four different songs) and Curtis Mayfield. The collection of producers working on Watch the Throne is astounding: The RZA, Q-Tip, The Neptunes, No I.D., Pete Rock, 88-Keys and more. Even with that all-star lineup, Kanye was the architect behind the album and his perfectionist touches are noticeable on each track. Kanye's been on an impeccable creative streak since MBDTF, and only he can successfully pull off the maximalist sonics present on songs like "Why I Love You" and "Who Gon Stop Me." The real key though, is he knows when to back off. While the album does not flow perfectly, the subtler songs like "No Church in the Wild" and "Made in America" provide a much-needed balance to the flashier moments.
Topically, the biggest complaint with Watch the Throne is the excessive stunting Jay and Kanye do. The two rap about private jets, Maybachs, priceless art, and designer clothes; that the album's release coincided with a stock market collapse does exactly not make it a sign of the times. But to their credit, at least the rapping is executed well. The album is chock full of double entendres from both rappers (especially the not-at-all-soulful but still fun bragfest "Otis") and subtle nods to early hip-hop. Jay-Z in particular sounds in better form on the Watch the Throne than he has recently. Sure, he raps about being ridiculously, ridiculously wealthy, but Jay has always rapped about that. On this album he also pens a verse to his unborn son ("New Day"), raps about his broken relationships with his former friends and labelmates ("Why I Love You"), and comments on inner-city crime and the lack of black men and women in powerful positions in America (on the fantastic centerpiece "Murder to Excellence"). To argue that Watch the Throne is a one-sided affair is to not give it a fair and in-depth listen; the album is more complex than that.
There are a few stinkers. The Beyoncé-featuring track "Lift Off" is awful, the trippy second half of "Who Gon Stop Me" almost ruins the song, and Swizz Beatz turned in a dud of a beat for "Welcome to the Jungle."  Jay-Z and Kanye have both rapped and produced better in the past. Watch the Throne isn't better than any of Kanye's solo albums or any of Jay's finer career moments (The Blueprint, The Black Album), but that isn't important. In spite of its shortcomings, Watch the Throne an interesting and very well-crafted album by the best duo hip-hop has seen in the past decade.
Ali Elabbady (Background Noise Crew, Egypto Knuckles)
87/100
This year, we've gotten a handful of dope side projects from teamups we either didn't expect or imagine; take for example Eminem & Royce Da 5'9″ reprising their persona as Bad Meets Evil, and so far the best one has been Random Axe with Sean Price, Black Milk and Guilty Simpson as the super group Random Axe. The only other project that comes close to being mentioned among these three is obvious: that Kanye West and Jay-Z dropped Watch The Throne on Monday. Now there has been a steady stream of critique and praise for this project. On the one hand, it's basically high-end rap in the sense that one listening to the album should have a healthy 401(k) and a multi-million dollar trust fund that reached maturity. And for the most part, it works; and the reason it works is that both are at the height of their braggadocio; and the production from such names as The Neptunes, Lex Luger, Pete Rock, Swizz Beatz, S1, The RZA and Kanye himself help provide the lush and rich soundscapes. Take for example "Otis," which reduces Otis Redding's "Try A Little Tenderness" to hellish grunts as the backdrop for Kanye and Jay's back-and-forth, or even "Murder To Excellence" which plays as a two-part track which decries black-on-black crime and the flipside celebrates the hope that both men want to see their fellow folks be like them and aspire for the big things. Or even on "New Day" which shows Kanye and Jay writing a letter to their unborn children, and to autotune a Nina Simone sample is a gutsy risk that pays off in making the RZA's backdrop sound a little more like Dilla. Both Kanye and Jay work best when they're just shooting the shit, such as on "That's My Bitch" with a little assistance from Justin Vernon of Bon Iver, or on the previously released "The Joy" produced by Pete Rock (which was released as part of the G.O.O.D. Music Fridays and comes as a form of one of four bonus tracks on the deluxe edition). The flipside comes on tracks such as "Lift Off" where Beyonce comes off as a Yoko Ono, while Kanye and Jay play Lennon, which is sort of imbalanced, but gets left alone due to great production. Other tracks share that similar drawback such as "Why I Love You" featuring Mr. Hudson. But overall, its a genuine project coming from a genuine place, which makes Watch The Throne all the more intriguing and awesome. Far from being top honors for album of the year (though that may change with a few more listens), its still entertaining to hear two titans making this type of a project.
Jon Jon Scott (Sound Verite)
90/100
Rap's royalty decides to go all in and introduces "Luxury Rap". The ever brass, cocky and mouthy, yet lovable Kayne West and hip-hop's reigning icon and statesman Jay-Z have teamed up to show rap and pop suckas whose' game this really is. While the first single "H.A.M." didn't set the world on fire, the second track "Otis" featuring an Otis Redding sample with no hooks and chorus.  Now they have my attention.
Opening salvo "No Church In The Wild" features the lo-fi vocal beauty of R&B "it" boy, newcomer Frank Ocean from Odd Future. Frank Oceans lays the background as Kanye & Jay-Z play verbal ping-pong. "Lift Off" with Beyonce is side dish for radio. On "Niggas In Paris" Jay-Z & Kanye basically "ball so hard" trading verses on the life of an elite baller. Kanye West proclaims "Sophisticated ignorance, I write my curses in cursive" on "Otis" as it rides a Otis Redding's 1966 classic "Try A Little Tenderness". The sinister brilliance of "Gotta Have It" where West kicks it off "Lolololo white America assassinate my character". Jay-Z wishes he could give you the feeling of "blinking on a million" as he reminisce of his earlier days "prior to this shit, moving freebase". Kanye West masterfully imagines the trails and tribulation on his unborn son "I'll never let my son have an ego. "He'll be nice to everyone wherever we go, I mean, I might even make him be Republican, So everybody know he love white people." That's just West part on "New Day" with moody production assist from the RZA and a Nina Simone sample "Feeling Good". Jay-Z responds "Sorry, junior,I already ruined ya', you ain't even alive, paparazzi pursuing ya.' ". The bouncy "That's My Bitch" is underwhelming, even with great production and Bon Iver on background vocals. Kanye West opens "This is something like the Holocaust, million of our people lost" on "Who Gon Stop Me" followed by Jay goes in "black cars, black cards, black on black, black broads…middle finger to my old life". The black daily life narrative of "Murder to Excellence" has Jay-Z inundated rhyming on wealth, celebration, crime and status. "It's a celebration of black excellence," he goes on "opulence, decadence, tuxes next to the president." Holy shit that's gangsta. West fires back "314 died in Iraq, 519 died in Chicago" on the American black hero salute "Murder to Excellence". The duo shouts out Betty Shabazz, Martin L. King, Malcolm X, Mary , Joseph on "Made It In America" as Frank Ocean lays the vocal "sweet baby Jesus, we made it in America". "Why I Love You" with Mr. Hudson addresses their haters, it's quite alright. The deluxe edition has 3 more tracks "H.A. M.", "Primetime" and the Curtis Mayfield looping of "Made In America" on "Joy" originally from West' Good Music Friday series.
With standout tracks like "Otis", "Gotta Have It", "New Day", "Who Gon Stop Me", "Murder to Excellence" and "Made It In America" Kanye & Jay-Z deliver with a record, full of excitement and graduer, despite the Beyonce assist on "Lift Off" and the unnecessary club jump "Is That My Bitch". While it doesn't have the orchestral elegance of West's My Beautiful Dark Twisted Fantasy or the rawest of Jay-Z's debut Reasonable Doubt it does capture moments of both artist at the head of the class. Watch The Throne is that black eloquence, black excellence, black decadence & black celebration of reaching the elite status so few if any American blacks have ever become a part of, Mazel tov.