"Underground" Hip Hop Reviews (Big K.R.I.T, Curren$y and Wiz Khalifa)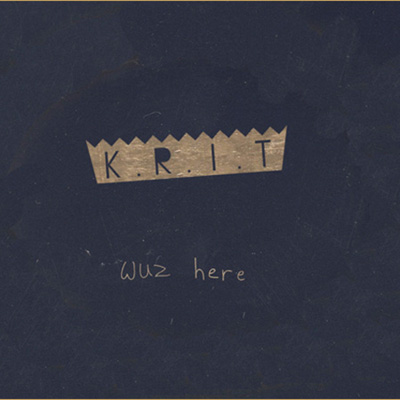 big krit = 95/100
curren$y = 87/100
wiz khalifa = 75/100
I've never been one to complain about mainstream hip hop.  I think a lot of suburban kids with a background in underground rock tend to assume that there's a similar divide in the rap world.  They might think Creed is to Sonic Youth as Jay-Z is to Aesop Rock.  It's on corporate radio, and therefore can't be good.  That's far from true.  Though lately, it would be harder than ever to refute their point.  Mainstream hip hop is in rough shape.  It's lost in a desert of flaccidity.  An urbanized version of pop for junior high girls has taken over.  It hasn't always been that way, even in the past decade, and hopefully it won't stay that way. 
It's not as though rap can't be good unless it feels like an appropriate soundtrack for a drive-by shooting.  But without a doubt, it loses luster when the shrubs are manicured one too many times.  No one wants to sit in the lobby of an office building and dump rubbing alcohol over their heads.  Yet B.o.B., a guy whose earlier mixtapes show that he is extremely talented, decided to go for that aesthetic when making his current hit album.  The result is too sterile to seriously hit anyone whose musical diet consists of more than whipped cream and cherries.      
Three albums have come out in 2010 from relatively new rappers that have been getting a lot of attention, but not at the level of Drake or Kid Cudi.  Which is unfortunate.  Big K.R.I.T., Curren$y and Wiz Khalifa all have the talent to pull rap up from the sparkling gutters of prom music.  The performance of all three on the excellent "Glass House," which appears on Khalifa's and K.R.I.T.'s albums, is proof enough of that.  But will it freak out the squares? That's been the problem for a number of lesser-known rappers with dedicated followings.  They're either too political, too brainy or deliver every verse like they're onstage at an open mic poetry slam.  Neither K.R.I.T., Curren$y or Khalifa fall into those traps.  Just as important, they all have good musical sensibilities.  The beats on the records are high quality, and all three understand how to put together a flow on top of them.  This seems to be the main reason these three have been grouped together by the press, the fans and even each other.  It must be a simple connection of doing an overall good job at making hot tracks without winning a Grammy, because the similarities don't last beyond the general "this guy knows what he's doing." 
"K.R.I.T. Wuz Here"  is astoundingly good in every respect.  K.R.I.T. makes all the beats himself, and he does it brilliantly.  His music evokes the summertime weather of his home state of Mississippi.  It's thick and humid, to the point that it can dominate you into a stupor.  He has a habit of using sampled vocals from old soul and blues records for melody, and he does it as well as anyone who's used the same trick before him.  And rather uniquely, he uses it to add to his Southern country feel, rather than the urban Northern vibe that usually springs from the technique when used by others.  And the man can rap up a storm on top of his beats.  It's an extremely rare skill, but if a rapper can pull off both the production and MC'ing, they're at a distinct advantage.  They understand the beat in the most intimate way possible, and K.R.I.T. is a great example of this.  The album runs over an hour with no skits or interludes, but there's enough quality to justify the length.  It's absolutely one of the year's best albums.
Curren$y's "Pilot Talk" is also the work of a Southern man, but one who's made the decision to go with a style from the other end of the country.  The beats are almost exclusively the work of Ski Beatz, the man responsible for some of the most memorable music from Jay-Z's debut, "Reasonable Doubt."  It turns out he has a lot of quality left.  The beats are all high caliber, and they're not wasted on Curren$y.  At no point does Ski's excellent work overshadow his rapping.  On "Glass House" he steals the show with a verse that steals the track from K.R.I.T. and Khalifa.  He's the only of three not to include the track on his album, but it's a country rap song which doesn't match the aesthetic of "Pilot Talk."  But it's evidence that he belongs in any conversation about who the most skilled young rapper today is.  While one could almost call "Pilot Talk" a 90's retro album, it wouldn't be entirely accurate.  There are a couple tracks that strive to be modern, and Curren$y has too much energy and swagger on the mic to think of the work as anything other than fresh.  "Pilot Talk" is short and concise like Nas' "Illmatic," and while it doesn't quite match that level of genius, it's well deserving of any and all praise it gets.       
Wiz Khalifa's "Kush and Orange Juice" may have gotten the most attention out of all three.  It might be known best for being the top trending topic on Twitter on the day of its online release, and maybe that's the ultimate sign of noteriety these days.  It might even beat getting a VMA.  And while it doesn't match the standard of "K.R.I.T. Wuz Here" and "Pilot Talk," it has plenty of tracks that make it worthwhile.  And maybe comparing a free mixtape up to two official albums isn't fair anyway.  It feels like a winter album, and that suits the lyrical content well.  Wiz is only concerned with smoking weed and holing up with a girl, preferrably your girlfriend, as he makes clear on what feels like every track.  The beats are the most technologically-aware of the three albums.  Unlike the other two, Wiz doesn't shy away from the big, sweeping synths that are in vogue in today's hip hop.  But only on rare occasion, like the radio friendly "We're Done," does it feel a commercially-aware decision.  Indeed, Wiz recently turned down an offer to tour with Drake.  But like K.R.I.T. and Curren$y, he's an extremely skillful rapper with huge potential.  "Kush and Orange Juice" stays interesting while remaining accessible and fun, and it mostly stands up to the viral hype its gotten.  He'll release his major label debut next year. 
     -Mike Watton (Haunted House)