Mogwai Announces New Record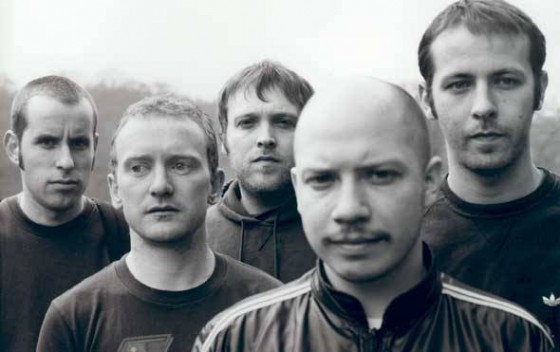 The dark post-rock group Mogwai has just announced a Valentine's Day release for their seventh studio album titled, Hardcore Will Never Die, But You Will. Known for their stripped down guitar laden and dynamic music, the Scottish band has been known for their dry and at times overly dark song and album titles. Hardcore…, recorded at The Castle of Doom studios in Glasgow doesn't disappoint, with promising titles such as "Death Rays" and "George Square Thatcher Death Party," as well as a 25-minute song called "The Singing Mountain." These song titles will fit in well with classics such as ""I Love You, I'm Going to Blow Up Your School", "Burn Girl Prom Queen," and my personal favorite, "Stupid Prick Gets Chased by the Police and Loses His Slut Girlfriend." Hardcore… is the follow-up to the mediocre The Hawk Is Howling but will be produced by Paul Savage who worked on the excellent 1997 album Young Team.
For the release of this latest album, Mogwai have switched from Matador Records to Sub Pop and have just released tour dates which will, unfortunately skip Minneapolis.
     — Zoe Prinds-Flash
Tour Dates
EUROPEAN DATES
Jan 26: Tolbooth, Stirling
Jan 27: Paisley Town Hall
Jan 28: Perth Theatre, Perth
Jan 29: The Lemon Tree, Aberdeen
Jan 30: Grand Ole Opry, Glasgow
Feb 2: Tokyo, Japan
Feb 13: Mandela Hall, Belfast
Feb 14: The Live Lounge, Galway
Feb 15: Olympia Theatre, Dublin
Feb 17: Bournemouth O2 Academy
Feb 18: Cardiff University
Feb 19: Bristol O2 Academy
Feb 20: Leeds O2 Academy
Feb 21: Edinburgh Picture House
Feb 23: The Regal, Oxford
Feb 24: Birmingham Institute
Feb 25: Brixton O2 Academy London
Feb 26: Manchester Academy
Feb 27: The Sage Gateshead
Mar 6: Mousonturm, Frankfurt, Germany
Mar 7: Backstage, Munich, Germany
Mar 8: WuK, Vienna, Austria
Mar 9: Estragon, Bologna, Italy
Mar 10: Alcatraz, Milan, Italy
Mar 11: Rote Fabrik, Zurich, Switzerland
Mar 13: Den Atelier, Luxemborg
Mar 14: Stollwerck, Cologne, Germany
Mar 15: Paradiso, Amsterdam, Holland
Mar 17: Trianon, Paris, France
Mar 18: Aeronef, Lille, France
Mar 19: La Laterie, Strasbourg, France
Mar 20: Transbordeur, Lyon, France
Mar 21: Theatre Lino Ventura, Nice, France
Mar 22: Le Bikini, Toulouse, France
Mar 24: Rockschool Barbey, Bordeaux, France
Mar 25: BBC, Caen, France
Mar 26: AB, Brussels, Belgium
Mar 28: Gruenspan, Hamburg, Germany
Mar 29: Postbahnhof, Berlin, Germany
Mar 30: Cpoenhagen, Denmark
Mar 31: Aarhus, Denmark
Apr 1: Tradgarn, Gothenburg, Sweden
Apr 2: Rockefeller, Oslo, Norway
Apr 3: Debaser Medis, Stockholm, Sweden
Apr 5: Tavastia, Helsinki, Finland
US DATES
Apr 19: 9.30 Club, Washington DC
Apr 20: Starlight Ballroom, Philadelphia
Apr 21: Webster Hall, New York
Apr 22: Webstar Hall, New York
Apr 23: Paradise Rock Club, Boston
Apr 25: Olympia Theater, Montreal
Apr 26: Phoenix Concert Theatre, Toronto
Apr 27: Mr. Smalls Theatre, Pittsburgh
Apr 28: St. Andrews Hall, Detroit
Apr 29: Metro, Chicago
Apr 30: Slowdown, Omaha
May 2: Bluebird Theater, Denver
May 3: In The Venue, Salt Lake City
May 5: Wonder Ballroom, Portland
May 6: Commodore Ballroom, Vancouver
May 7: Showbox at the Market, Seattle
May 9: Regency Ballroom, San Francisco
May 10: Mayan Theater, Los Angeles
May 11: Belly Up Tavern, Solana Beach
May 13: Sunshine Theatre, Albuquerque
May 15: Granada Theatre, Dallas
May 16: Stubbs Waller Creek, Austin
May 17: Warehouse Live, Houston
May 19: Workplay Theater, Birmingham
May 20: Center Stage, Atlanta
Mogwai:          Myspace
.