The Twin Cities' Best Concert Venue (Five Takes)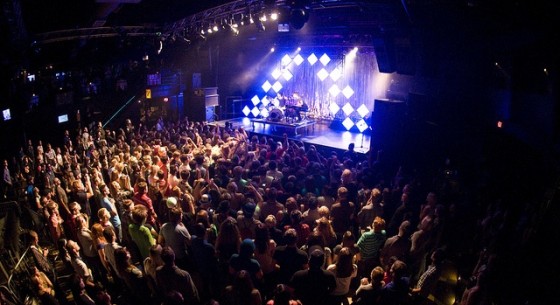 The Twin Cities has a vibrant music scene, which is supported by the wide variety of music clubs across town.  Which is the best overall venue though? To sort the wheat from the chaff we asked four contributor's to name which local venue they consider the "best." Here's their answers.

Zoe Prinds-Flash (Reviler)
Pick: The Cedar Cultural Center
Some may boast fancy editions, have serious musical history, or serve better beer than others, but when it comes to enjoying a musical experience to its fullest, the Cedar Cultural Center owns hands down. The furnishings aren't anything to write home about and the set-up of wooden chairs may put some people off (they are optional, friends) but what the Cedar does have to offer is an incredibly intimate concert experience. You can feel good about supporting a local non-profit venue where you have the chance to give your input and see some real changes– volunteering is encouraged–which is inspiring considering some pretty great artists stop by the Cedar on the regular. Not only does the Cedar offer high demand artists and bands, but they are great at connecting the community to local artists that are in need of support. Locals Lucy Michelle and the Velvet Lapelles  are Cedar veterans and have gone on to do much bigger things thanks in part to the Cedar. A personal favorite experience at the Cedar was seeing Beach House last April. The chairs were set out, but only a couple of songs in, lead singer Victoria Legrand whispered in the mic, "get rid of the chairs." So we did. The night quickly became my absolute favorite concert thus far. Next time I visited the Cedar was to see the great three piece afro-pop group The Very Best. The crowd was surprisingly small for such a large space but it gave everyone plenty of room to dance– something that I'd forgotten could happen at concerts. At one point in the show, The Very Best invited people to come dance on the stage, another thing that would be out of the question at any other venue. When seeing shows at the Cedar, you are reminded of what going to a concert really should be like. No bitching audience members rubbing shoulders or pushing too hard, no beefy security breathing down your neck, no guardrails, piss smell, or frou frou decorations. Just a simple room with a simple stage.

Chris (PRGRPHS)
Pick: The Southern Theater
A man can only stand so much, especially when he glides past that quarter century mark in age. A man can only pretend the incessant yammering and glass-clinking is just a newly manifested diegetic sound meshing with the music to create a uniquely live aesthetic for so long. A man can only chuckle softly and wryly appreciate the gritty, decaled, and knife-carved bathroom stalls so many times. No, sometimes I need the Southern Theater. Sure it's not dedicated to the scene, tevs that means, and is ostensibly more of a playhouse than a music venue, but when it has music it treats the experience like a trip to the goddamn gates of paradise.
Wine and cheese before showtime? Yes please. Plush stadium seating in an intimate setting? Eff yes. Beautiful exposed brick architecture with an expertly lit performance area? Don't mind if I do. Ending before 10pm so on a weeknight I can actually get eight hours for once in my life, or if it's on a weekend, allowing me to jump over to the Hex or Triple Rock to catch another show, now that I've rested my feet and have amassed enough energy to actually endure a few hours of standing and background noise? That's what I'm talking about.
And while, yes, the narrow spectrum of artists that are invited to play the Southern goads the critic to use the dreaded P-word that rhymes with "Shmretentious", I swear that every time I've gone to the Southern, I've walked away with a uniquely different but uniformly awesome feeling. Stars of the Lid couldn't find a classy enough planetarium in town, so they turned the place into a dark starry abyss of ambience. Dirty Three performed their VH1 Storytellers-esque set with reckless abandon as violinist/chatterbox Warren Ellis alternately thrashed violently at the stone walls and laid gently down on the concrete to create theatrical entertainment for the crowd. Even locals like Cepia and Tarlton have had a chance to transform the space into one-of-a-kind spotlights for their admittedly ostentatious but warmly inviting sounds. If you haven't gone yet, you best change it when Julianna Barwick arrives in February.

Jon Behm (Reviler)
Pick: The Turf Club
There aren't really any "perfect" venues in the Twin Cities.  To my mind, the closest we have though is St. Paul's only good venue, the Turf Club.  While I hate, hate, hate the fact that the bar still refuses to get a credit/debit card machine despite the fact that we're now in the 21st century, I otherwise love the Turf and hold it in esteem above all others.  On a checklist of things I find ideal in a rock club, the Turf would have a lot of positive marks.  1. Plentiful and easy access to cheap drinks (as well as good beer when you're feeling flush) 2. A stage that is approachable on three sides with good sightlines and an otherwise "intimate" feel  3. Decent sound for a club of its size (not to mention a soundboard operator who generally knows what he's doing). 4. Easy access to multiple(!) bathrooms. 5. An overall aesthetic that lends to the rock and roll vibe: there's plenty of grime on the floors, there's a poster of Zappa in the bathroom, giant retro light fixtures, as well as the legions of smokers perpetually standing outside the doors. This isn't your parents' rock club for sure.  For the record though your parents' rock club (The Cedar Cultural Center) is also my favorite so at best I would have to come down to a dead tie.
Jeremy Hovda (Reviler)
Pick: 7th St. Entry
The best music venue in the Twin Cities is Roy Wilkins Auditorium…  Wait!  No…  That's the worst.  A hockey arena with the acoustics of… well, a hockey arena, has ruined many an otherwise great concert.  Although it can't be as bad as the Whole Music Club, which requires you to pass through a metal detector and be frisked by a uniformed cop (in their defense, they've never had a successful terrorist attack carried out there), all to enter an alcohol-free basement apparently designed by the crew from Saved by the Bell.  Although, at least there you don't have to deal with the kind of douche-baggery increasingly associated with the First Ave Mainroom, where, apart from the small group of people actually there to see live music, the crowd can be pretty neatly divided between coked-up white guys smashing into people on the floor (yes, it's okay to get excited and jump around at a rock show, but this Cat Power), and people ostensibly only there to catch up with friends before heading out to party in the warehouse district.  It's hard to remember the last show at First Ave where I wasn't surrounded by people having conversations in their outside voices throughout the entire performance, often with their backs turned toward the stage. 
Anyway, as I was saying, the best venue in the Twin Cities is The Entry, followed by the Cedar.  The 400 Bar and the Turf Club get honorable mention, but their major bookings are scattered.  The Cedar is run by fantastic people, (mostly volunteers) who are genuinely interested in music performance as art, and this sets the vibe for the place.  Long live the Cedar!
Yet, at the end of the day, nothing competes with The Entry – Minneapolis's answer to CBGB.  The legend of the gritty, black, former Greyhound coatroom is too great to recite here.  But, from the days of Hüsker Dü and The Replacements up to the present, it has been the place to see soon-to-be-huge bands in a tiny – 250 person – venue.  Where else can you chat with Robin Pecknold in line for the bathroom, or buy Grizzly Bear merch directly from Daniel Rossen, or watch Beach House from one foot away?  The Entry is rock and roll as it's supposed to be – tight, dirty, dark, unpolished, and in your face.

Josh (Reviler)
Pick: The Hexagon
In the end, I could have put a few venues down as my "favorite," especially the Turf Club in St. Paul, but I am going with the local music scene nurturing Hexagon Club.  Located a little off the beaten path in South Minneapolis, the Hex has provided me with countless opportunities to see local up and coming bands (for free!) that no other venue this side of the river can beat. The Hex is an all around good bar doesn't have the best sound or beer selectionin the city and doesn't have awesome views of the barely existent stage (especially during crowded shows), but there is a something cool about not trying to be the Varsity.  The great lineups many weekends are also especially impressive, especially considering their "no cover for any show," which can be bad news, as anyone who has been to open mic nights at other venues or coffee shops can attest .  While there are smaller (less legal) venues now popping up around the city serving a similar scene, The Hexagon is still the very best place to see local bands sharing bills with underrated, smaller touring national bands, especially if you aren't interested in going into a hipster commune armpit and seeing shows that start at 4am. It would be easy to nitpick all the things you could change about the Hexagon, but I wouldn't change one thing.  I appreciate all of the amazing music I have discovered there and look forward to future exciting moments when you finally catch that band you have heard the buzz about.  No matter whether they turn out to be the next big thing or the next big bust, you can take comfort that you saw them for free, drinking cheap PBR under the watchful eye of the omnipresent staff, who deserve some sort of award for their dedication (honestly, don't they get nights off??).  Long live the Hex.
.
.