Orchard Thief: Coin Purse EP Review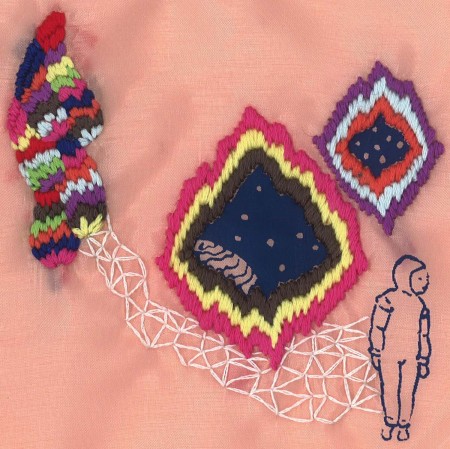 79/100
Orchard Thief is the one man band consisting of bedroom recording artist Sam Molstad, who also partners with Tim Krause in Coral Legs.  Despite temporarily setting his solo work aside to focus on collaborative projects, Molstad has also found time to record enough songs for a new EP.  While the Coin Purse EP contains a few tunes that we have already heard ("New Yellow Medicine,"  "Harmony Danger Swamp," and "Transparent Popscicle") it also fleshes out Molstad's portfolio with three previously unrecorded new tracks.
"Rhode Island" sets the EP's low-fi, minimalist tone in two minutes of shimmery guitar noodling that echoes through a fog of reverb.  Two previously recorded songs follow, and as before, both "New Yellow Medicine" and "Harmony Danger Swamp" sound terrific.  Moreso than the new tracks, all three of the older tunes sound fully fleshed out and full.  In contrast "Beaded Wings" sounds a bit like a demo – much like "Rhode Island" it relies on heavily muted guitar meandering that doesn't so much get anywhere as much as it just fades away.  Both "Quoffee" and "Transparent Popsicle," however are stronger, with beats, vocals, and other noise to fill out the sound.  The latter (originally on the Melt Day EP) particulalry shines with its strong rhythm complementing the distorted vocals and ethereal finger picking.
While Coin Purse's more stripped down arrangements may not be as strong, they do represent Molstad's willingness to experiment outside of his oeuvre with a more austere, primitive sound.  I applaud the effort, and even if they might not be perfect both "Rhode Island" and "Beaded Wings" show a lot of promise.  Molstad has a good ear for coaxing great melodies from limited, basement studio resources.  A full length record is rumored to be in the works and I am intrigued to hear how the new material comes together.  
    — Jon Behm
You can stream the songs from Coin Purse on Orchard Thief's bandcamp page.
The Coin Purse EP is available for purchase at Fire Talk.
Cover art by Britta Anderson
.