Live Review: Superchunk + Times New Viking at First Avenue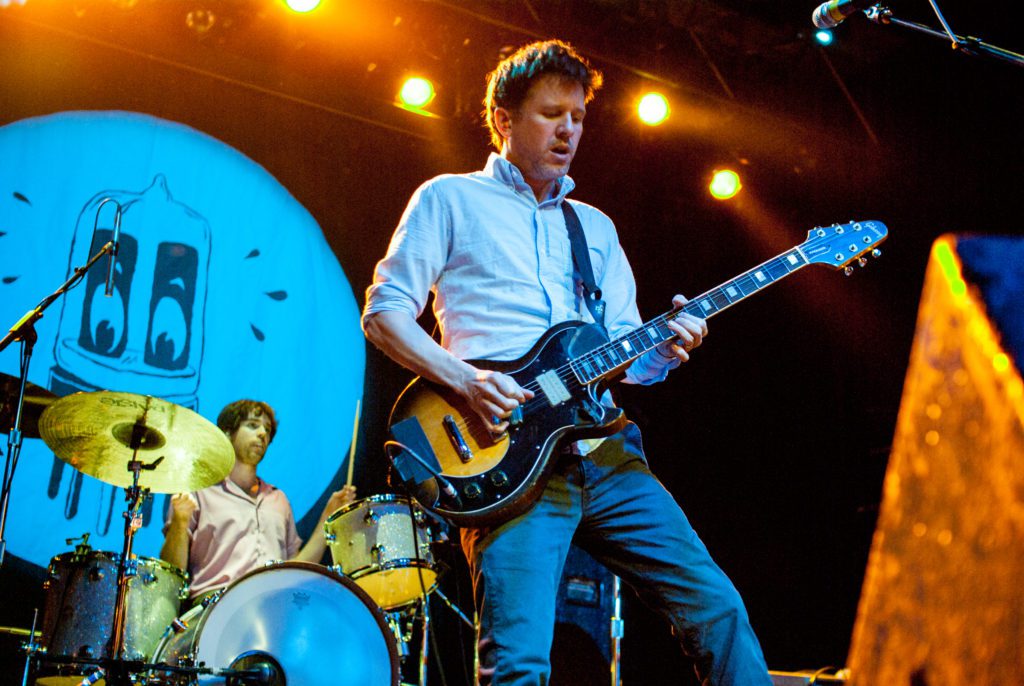 Although Superchunk released their first record in nine years with this summer's Majesty Shredding, they never really out of sight or mind. Aside from a few small releases here and there for Adult Swim specials and a couple EPs in the past few years, front man Mac McCaughan and bassist Laura Ballance have been plenty busy running one of the most prominent indie rock labels, Merge Records – home to the likes of Arcade Fire, Neutral Milk Hotel, Dinosaur Jr., Spoon, The Clientele and Destroyer. But the release of Majesty Shedding this summer showed one of the greatest indie rock bands aging beautifully. And coming off 2001's Here's To Shutting Up, Majesty Shredding proved Chunk had many more, and better, tunes to offer.
But in all honesty, especially after their first show at First Avenue in nearly ten years, I can say that I am behind the ball when it comes to Superchunk. I had only really gotten acquainted with them a couple years ago after picking up Come Pick Me Up– which is now one of my favorite albums. Surrounded by a crowd 10-years my senior I began to understand the indie rock legacy of Superchunk. This is a band that was and still is held in a special place in many people's hearts – mine included. The set overall was steeped in Chunk nostalgia, with the band playing songs off nearly every record in their catalog including fan favorites old and new.
When they took the stage, Mac and Jim both commented on how First Avenue remains one of the only venues in the country that still holds the same "vibe" and charm it had 20 years ago. There was constant chatter in the crowd both before and during the set about how they were dearly missed. The whole thing seemed like a gathering of old friends. Not surprisingly, the set showcased the band's newest album, but not heavily. They opened with "Silverleaf & Snowy Tears," the first and only track off the band's 1995 album Here's Where The Strings Come in. They also blazed through the first three tracks off their second studio album No Pocket For Kitty: "Skip Step 1&3," "Seed Toss," and "Cast Iron." It's great to hear these songs so crisp live as most of the records were sub-par recordings when they were first released. Balanced between their new songs, the old tunes seem fresh and full of life. Other old favorites included "Hello Hawk" from Come Pick Me Up and "Driveway To Driveway," "The First Part" and "Like A Fool" all from 1994's Foolish.
It was an exuberant set. Mac and Laura were bouncing around with just as much energy and kick as their early records, while Jim stayed cool riffing off and Jon banged away with precision on the kit. When they came out to begin their encore, someone in the audience yelled "Hyper Enough" and Mac just starred into the and said, "Hey, come on, we're doing the best we can. We're all old you know." He also said that it wasn't a point in the night that they played old favorites, even though he was very flattered by the recommendations for "the old cut." That was until they ended by playing Husker Du's "Something I Learned Today" right into one of their most beloved songs, "Slack Mother Fucker."
I feel honored to have seen such a terrific band in such a historic venue. This is definitely one of the bands on my music bucket list and I must say they didn't let me down. Hopefully next time we won't have to wait another ten years to be graced with new tunes and their presence.
-Matt Linden
Setlist:
Silverleaf & Snowy Tears
Iron On
My Gap Feels Weird
Crossed Wires
Question Is How Fast
Skip Steps 1&3
Like A Fool
Learned To Surf
Hello Hawk
Mower
Digging For Something
Driveway To Driveway
The First Part
Cast Iron
Everything At Once
Encore:
Seed Toss
Something I Learned Today (Husker Du)
Slack Motherfucker
See Adam's whole photospread HERE