Saigon: The Greatest Story Never Told Review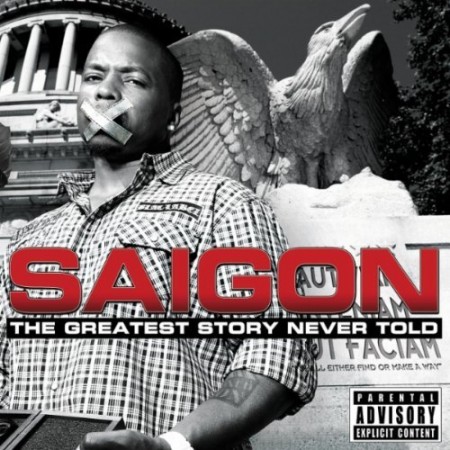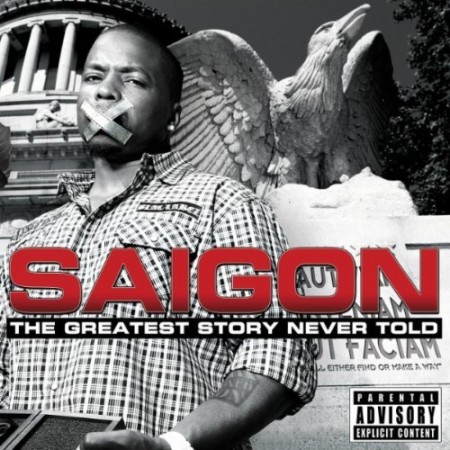 95/100
I want to preface this review by saying that I haven't had a record hit me quite like this in a long time. It's a damn shame that The Greatest Story Never Told almost never saw the light of day, especially considering how truly remarkable this album is. I'm going to take it one step further and say that this is one of the best front to back albums I've heard in a long time. Saigon has walked the harrowing hallway known as the music industry with a great deal of major label setbacks, and after one listen I'm convinced that the trials and tribulations that Sai Giddy had to go through make this album even more incredible. The liquid smooth stanzas put forth by the Yardfather are exactly what any fan of Hip-Hop wants to hear: thought provoking lyrics that skew a great deal of real-life topics over pristine production by Just Blaze and other great producers like Buckwild, Scram Jones and Kanye West.
The album's intro, "Station Identification" finds Just Blaze visiting Saigon in prison and giving him the alarm clock that The Greatest Story Never Told is broadcast through, and it also kicks things off the right way with the soulful strings and hard hitting drums that Just Blaze is known for. Just Blaze seamlessly fades the album's intro into the magnificent masterpiece that is "The Invitation", and this is where it becomes evident that this album is going to be packed with hardcore political lyricism, "The party is in the penn, and the government is promotin' it/that's the reason I don't be believin' in all of this votin' shit/they bring the coke in this bitch/ain't no poppy seeds in the P/please, it's nothin' but a whole lot of hopelessness". Just when the listener thinks that it can't get much better, "Come On Baby" blasts through the speakers with the force of a Desert Eagle, and Sai Giddy spits audio heroin alongside Jay-Z over an incredible Just Blaze beat; what makes this track so impressive (besides one of the best examples of sample utilization in years) is that Saigon walks perfectly in stride along one of the greatest emcees of all-time with no hindrances.
DJ Corbett keeps the record moving fluidly, and he provides the perfect soul and punk infused backdrop on "Bring Me Down Pt. 2" for Saigon to spit his vicious bars full of venom and angst: "I dare somebody to jump out the window and try to stop me/I wait for niggas and shoot em' like I was a paparazzi/that Just Blaze knock in the Maserati/I'll jump out the back and turn your block into Nagasaki". On the album's title track, Just Blaze lays down a smattering of horns, symphonic strings, and perfectly placed scratches for Saigon to spit "The greatest story never told/chapter one, verse one, the Genesis of his scrolls".
The apex of The Greatest Story Never Told comes on the gospel influenced track "Clap"; Just Blaze's incredible beat combines heavenly horns, organic organ keys and upbeat strings. Saigon's poignantly penned lyrics provide words of inspiration for those who live in the inner city and want a better life, "Do away with the clubs and the drug spots/do away with the judge and the mug shots/like we do away with the day when the sun drops/clap your hands if you're tired of hearing gunshots/or hearing news about who got popped/by another black man, or if not then a white cop". Faith Evans even lends her angelic voice to the beautiful hook on this already perfect song.
All in all, The Greatest Story Never Told is one of the finest pieces of lyricism and production I've had the pleasure of hearing in a long time. The fact that this album has essentially been shelved for the last five years is outstanding; all of the music on this album has withstood the test of time, and it is still completely relevant. This album further solidifies Just Blaze's name among the greatest producers of our time. The Greatest Story Never Told also shows listeners that Saigon isn't just some actor you know from Entourage; he's a top tier lyricist who has overcome many obstacles just so his story could see the light of day.
— Tim Althaus
Saigon: Site