Kurt Vile: Smoke Ring For My Halo Review (Four Takes)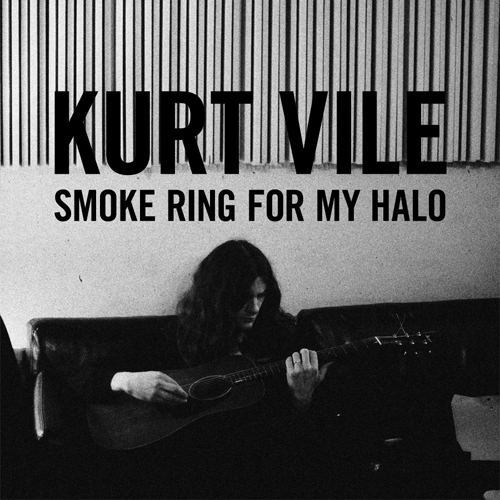 It can be difficult to gain a balanced perspective on an album after reading a single summary of the music. Bias can tilt a review, as can personal taste, history and just about everything else that is unique to the person writing it. So in an effort to offer an expanded perspective in such a medium, here are four reactions, four impressions, Four Takes on Smoke Ring For My Halo by Kurt Vile.

Josh (Reviler)
72/100
When I heard the first single, "In My Time," off of the new Kurt Vile LP Smoke Ring For My Halo, I enjoyed the track quite a bit.  The song is concise and clear, highlighting Vile's timeless songwriting (which is good) while distancing himself from the usual fuzz and dissonence of his older records (which isn't so  good).  I was hoping the song going to be an outlier, a stand alone single that was pulled from a record that otherwise continued his tradition of making just weird enough fuzz-folk that always seemed to knock me out.  Unfortunately, it was pretty much a crystal clear indication of what the album would sound like.  The record is over the top polished, starting from the opening seconds with the gentle, mildly sleep inducing "Baby's Arms" through the classic rock on ambien "Puppet to the Man" to the dark and paranoid "Society is My Friend."  While the record is still good (I think Vile is too talented to write a bad album), it lacks much of the edge that has made Vile one of my favorite artists of the last few years.  I hope this was more of an experiment in trying out something new (sharper production, more straightforward songwriting) than a wholesale shift in musical style.  If this review is your first exsposure to Vile, check out his older records, especially Consistant Hitmaker and Childish Prodigy, and see what all of the fuss is about, because Smoke Ring For My Halo is far from his best work.

Kyle Matteson (Solace)
88/100
Philadelphia's Kurt Vile hasn't exactly changed drastically over the course his 4 albums and 2 EP's, but the one thing that is quickly evident upon hearing his latest album 'Smoke Ring For My Halo', is that his lo-fi sound & production has been cleaned up every so slightly. As a result, it has opened up his sometimes cold and dark melodies a bit more. Not to say the album is exactly upbeat and happy, but his Thurston Moore-ish vocal melodies are more alluring and welcoming. The album sort of reminds me of all of the gorgeous dreamlike qualities I loved about the last Deerhunter record and is definitely one of my favorite releases of the year so far. It's hard to not feel like this record will garner Vile quite a bit more attention than his previous records, and rightfully so.

Jon Behm (Reviler)
82/100
Kurt Vile may have entered the scene as a skuzzy, low-fi rocker, but considering the arc of his career he may end up leaving it something far different.  With his newest release, Smoke Ring For My Halo, Vile has found an even cleaner, more melodic sound that at times even borders on folk rock.  Still, in contrast Vile is a much better guitarist than your average folkie and he packs his tunes with chords and picking that are far from mundane.  And despite the folksiness he also touches on some classic rock touchstones like the Grateful Dead-sounding bounce of "Jesus Fever," or "Puppet To The Man," which seems to echo Mark Knopfler.  But the best work on Halo is in Vile's dense, acoustic-led folk jams.  Incidentally they are also where Vile's nihilistic songwriting sounds the most genuine.  In this bent, the block of "On Tour," "Society Is My Friend," and "Runner Ups," make for a solid center to the record, and outliers like dream-pop infused "Baby's Arms," and "In My Time" sound pretty damn good too.
Vile has the ability to write some terrific lyrics, even if they at times seem cynical to the extreme.  Though I personally gravitate towards dark, pessimistic songwriting, Vile occasionally seems like a borderline misanthrope, the kind of guy who would show up at your wedding just to tell you how fucking pointless life is.  It can be hard to believe in a guy who doesn't seem to believe in anything ("Baby's Arms" is sort of an exception).  It doesn't take away a lot, but lack of vulnerability doesn't always make for the most honest songwriting.  And vulnerability isn't something Vile seems comfortable with.  Vile sounds like he could probably write some absolutely amazing stuff.  Smoke Ring For My Halo though is really only just good.

85/100
In the year since his first Matador record Childish Prodigy, Kurt Vile has put down the fuzzy vocals and lo-fi recordings that made up his early records and has piled on layers and layers of rich guitar to make an amazingly lush sounding record. Smoke Ring For My Halo starts off slow and hazy with the opener "Baby's Arms", which sets a pretty good tone for the rest of the record. Things pick up a bit a little bit more uptempo after that with the pair of "Jesus Fever" and "Puppet to the Man" which hint a little more at his more Lou Reed style vocals that punctuated more of his early lo-fi rockers. "Society Is My Friend" appears to be Kurt's answer to Sonic Youth's "Society Is A Hole". "Society is my friend / It makes me lie down in a cool bloodbath" he sings over much calmer guitar lines than Sonic Youth's song. The last half of the record contains a few other great songs, notably "Runners Up", a great folky song to a departed friend. The album closes out with a short but wonderful instrumental "(shell blues)", an almost John Fahey-esque acoustic guitar piece with the sound of distant church bells accenting it. Smoke Ring For My Halo is a beautifully lush sounding record and a big step forward for Vile in terms of both songwriting and sound. I can only hope he keeps on going up from here.