Blind Shake & Michael Yonkers Documentary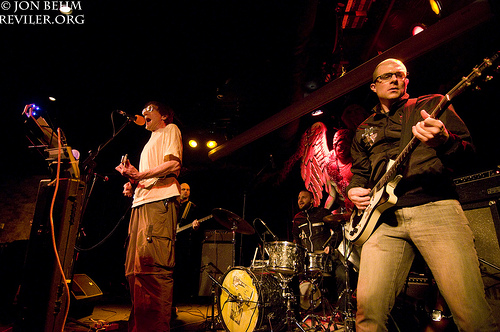 Local noisemakers the Blind Shake recently collaborated with psychedelic legend Michael Yonkers for their Cold Town/Soft Zodiac LP and will be teaming back up again for a forthcoming record this Spring.   A filmmaker from Oakland, Colin Frangos, has decided to make a documentary about the collaboration and will begin filming the artists together on tour this Summer.  They need your help though in order to raise the fund to make the film a reality.  Donate now via their kickstarter account and help put together a really terrific sounding project for a group of some of the most talented new and old artists the Twin Cities has seen.  Can you get on board with that? I know I can.
— Jon Behm
From the kickstarter page:
About this project
The Blind Shake is a trio of detuned, garage-stomp noisemakers from Minneapolis, MN. Live, they are an explosive force and certainly one of the most exciting live bands currently going. They've put in the miles to establish this reputation, delivering the same high voltage charge in bars and basements across the country.
Michael Yonkers often gets portrayed as an obscure lost genius from the 60s, only rediscovered with Sub-pop's release of his seminal Microminiature Love in 2003. But the truth is that he was never lost: He kept making music, even if there wasn't an audience outside of his circle of friends. Just because nobody else was paying attention to what he was doing doesn't mean he wasn't hard at work. The range of his recordings is remarkable, with everything from raw electronic noise to emotive acoustic meanderings to straight up rock and roll. As disparate as these recordings seem, they are part of a cohesive body of work.
In 2006, The Blind Shake and Michael Yonkers met and began collaborating. They've released 2 albums worth of material and are about to start on a third. The records they've made together are not examples of a younger band propping up one of their washed-up heroes, nor are they nostalgic trips back to the 60's or desperate attempts by an older artist to connect with the young crowd. They are vital and exciting. These collaborations are clearly the work of peers, regardless of the fact that the members of The Blind Shake were not even born in 1969, when Microminature Love was recorded.
This feature-length documentary will be about this collaboration. It will include the recording sessions for the next record, as well as live footage and interviews. It will be about the different paths the participants have taken to get to where they are, and where they're headed.
Most importantly, it will be about rock and roll as an American art form, and how it can be the common ground for musicians across generations. It will illustrate this point with lots of rocking out.
The Blind Shake:          Site
Michael Yonkers:          Site
.