Do Look Back: Death …For The Whole World To See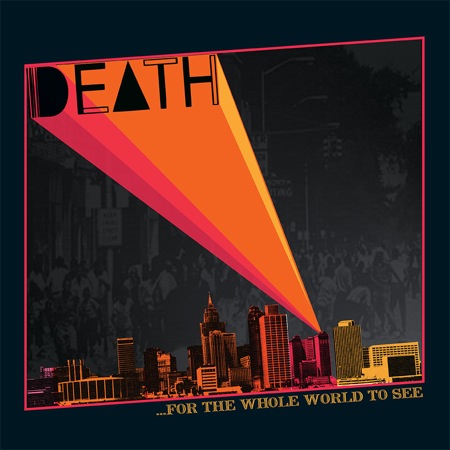 91/100
Our Do Look Back series is meant to highlight albums lost in the dustbin of history that we feel should be getting more attention and acclaim and hoping to turn a few people on to their awesomeness.  With this post, I am probably slightly breaking that rule as the record …For The Whole Word To See, by Detroit proto-punk revolutionaries Death, already has received attention in the form of a re-issues last year, but it still is a album that was criminally missed by too many people and deserves any and all accolades it is now getting, 30+ years after it was initially recorded.
Hearing music out of context of the time it is created can dampen the true impact, but I think that even by 2011 standards …For The Whole World to See is a pretty amazing mish mash of a plethora of genres.   From the Stones gone punk of album opener "Keep on Knocking" to the proto metal of "Rock-N-Roll Victim," you hear right out to the gate that this is a commanding and diverse album.  The drums that Bill Ward fans can appreciate mix with the Ron Asheton esqe guitars and the manic, soulful, thoughtful and authoritative vocals all mesh into something that I can't imagine being created in the early 70's. The first song I heard from the band was the album closer "Politician In My Eyes," which seems to capture the bands social message wrapped in powerful, before its time punk as good as anything on the record. 
The fact that this amazing record sat unnoticed for so many years is a crime, and even with the band reuniting and playing shows, it doesn't seem like they are getting the attention a record the quality of …For The Whole World To See deserves.  Unfortunately the group disbanded shortly after the album, really missing a chance to build on the amazing work they put together on this LP.  They recently released another collection of songs from the era, titled Spiritual, Mental, Physical, but it was such a disappointment (mainly in the horribly poor quality of the recordings) that it provoked me to look back at this album, which blew me away as much on returning to it as it did a few years back when I first heard it.  Even without the context, ….For The Whole World to See is an amazing album that deserves all the accolades it has gotten so far, and much, much more.
     -Josh