STNNNG 2011 Spring Tour Diary: Days 6 – 8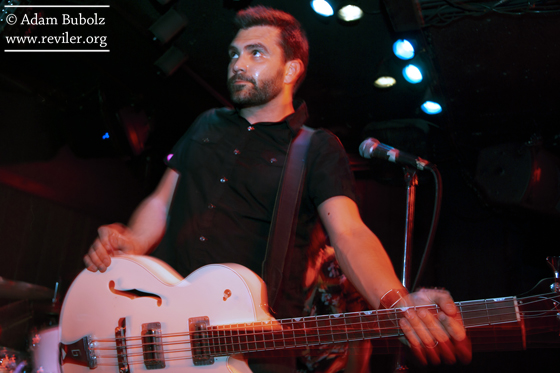 Day 6: Indianapolis, STILL and also all the foreshadowing pays off.
We get rolling late the next day but, since it's only an hour to Bloomington no big deal.  Hit a co-op in a kind of sketchy part of town.  We ask the guy at register if he knows a good place close by where we can get our tire looked at and he directs us to a place just a few blocks up the street.  Perfect.
The tire place is janky to put it mildly.  A young, fidgety dude in greasy overalls comes hustling out to help us and I experience a strange moment as he starts to check the tires because this whole scene is unfolding in a very similar manner to a passage from the book I'm reading that takes place at a tire shop.  Also note a hand made sign reading "Beware of guard dog" that is full of misspellings and another appearance of the lower case "g".  Plus the guard dog turns out to be the least threatening guard dog ever, a big lumbering dope looking for the best place to sun himself.  Today is also our first experience this tour of semi-decent weather, which in hindsight should have been like a siren going off in my head.
He shows us the tire we thought had a slow leak was actually just about to fall apart and recommends we get another replaced as well for 50 bucks.  Total.  For both tires, 50 bucks.  This seems like a great deal until we are two blocks away and the van is totally fucked.
At first it we think maybe its just one of the replaced tires is loose.  Drive back to the tire shop and nope that isn't the problem.  They take a look underneath and tell us the "idle-on" is busted, they can't fix it but there's another actual mechanic shop a mile away we can take it to and they should be able to do the repair.  The drive is treacherous, every time we hit 25 miles a hour the van starts pulling hard like we have a flat.
This place is a slightly less run-down then the tire place.  We pull up and as instructed ask for "Mike".
"Big Fat Mike?"
"Uh…yeah I guess"
"He's in the office."
I have to say that Big Fat Mike is less big and fat then I hoped.  He looks vaguely like movie bad guy John Quade.  He is sitting in an office that's a mess even by car repair shop standards.  A mountain of debris covers the desk.  We try to explain the problem in that awkward way that always happens when you talk to a mechanic, but it seems we get the point across and Big Fat Mike calls out for "Moose" to get working on it.  There is a prosthetic leg with no obvious owner next to a file cabinet.
Moose appears: he is tall, skinny and weathered with a little hat on his head and a constant cigarette dangling from his lip.  In fact everyone here other then Big Fat Mike always seems to have a freshly lit cig between their lips.
There is no where to sit and wait while the van is being worked on.  Adam and I stand in the parking lot keeping an eye on the trailer while the other guys go off in search of food.  I am incredibly happy I brought more then one book.  As the day wears on more and more strange dudes start appearing, including a hugely bearded weirdo with a beagle/Chihuahua mix who seems like the sort of guy who knows how to make wine from lawn clippings.  It's never really clear if any of these dudes actually work at this shop or if they are just hanging out or what.
When the van is finally fixed we are felling pretty good that we took care of this problem now instead in the middle of the night somewhere even though the repair is expensive and this day has been shot.
Right as we are about to reattach the trailer Ben makes the point we should probably drive the van around to block just be on the safe side.  And of course it is still pulling.  It pulls in exactly the same way it did before, almost as if the problem hasn't been fixed at all!  Now Big Fat Mike comes out to drive the van a few times, then its up on the lift and everybody is out looking at this thing or that, everyone voicing their opinion as to what is the cause.  Forty-five minutes later and the verdict is busted rear axle, probably caused by the first tire place putting on mis-matched tires.  It won't be fixed until tomorrow at the earliest.  They start working on it while we start trying to figure what the hell we are going to do.  Big Fat Mike's patter has the ring of a speech he's repeated many times over the years but these guys seem basically straight up and I never get the sense they are sticking it to us for as much as they could.  Once they found out we are a stranded band we get plenty of offers of rides or places to spend the night or "fat girls", to quote Big Fat Mike, if we want.   We politely decline.
Nate and I are on our respective phones trying to figure out transportation to Bloomington.  We have to get down there since Child Bite is borrowing our gear.  After a couple of hours its decided my brother-in-law is going to haul the trailer and some people down with his car, the rest of the band will try and get a ride from Child Bite.
Its now long after the shop has closed and the neighborhood is starting to get a little funkier.  We are standing in the parking lot with our bags next to the unhitched trailer feeling at just about as low and screwed and up-the-creek-without-a-paddle as it is possible to feel when a 15 passenger van pulls up.
"You guys need a van?"
The incredibly fine gent who hops out turns out to be one Derek Black of the band Phoenix Bodies.  Derek just happened to catch the show last night; he just happened to be driving home from work and just happened to see us standing around in front of the mechanic's shop and put two and two together.  He also happens to own a van, this very van in fact and he rents it out to bands.  The terms he offers are impossibly fair; return it with a full tank of gas.  In a split-second we go from wondering how we are going to cram our gear into various cars to having more room then we know what to do with.  An amazing tour moment that makes all of this nonsense worthwhile.
We stow the trailer in my brother-in-law's backyard and high-tail it down to Bloomington.  Takes about an hour and we are at the club loading the gear right on to the stage, we are playing in thirty minutes and I couldn't be happier (well I could be actually; this place could have some party liquor instead of just beer).  I am exhausted and the last thing I want is stand around waiting for the show to start.
It's a complete relief to be playing.  The show itself is a blur; I wade all the way out to the sound board, writhe around on the floor, get in everyone's face and develop some weird rash on my stomach.  You know all the normal stuff.
The infamous Slutbanger plays and seem pretty good, but I have a hard time focusing after the day we've had, luckily we are playing with them tomorrow night.
Child Bite spits hot fire tonight, so bummed this is already the last show with them.  Shawn presents us an excellent collage inspired by my recent stage rants about big-legged women.  They close with "My War" and I get up there and go forth it, I screw up the words in the same spots, but I don't think anyone cares.  A fun night that gets even better when we hit a party that the Slutbanger guys are throwing.
Frozen pizzas, boxed-wine drunk from ice cube trays, party liquor (finally!) and a shirtless/barefoot violinist playing death metal tunes loudly in the corner of a crowded room, obviously it's just another night on the road for STNNNG.  Bloomington really knows how to throw down on a Monday night.  I'd hate to see what Fridays are like around this place.  Back at Rob from Slutbanger's pad I pass out on what I thought was a couch but the next morning I realize is the middle seat from a van.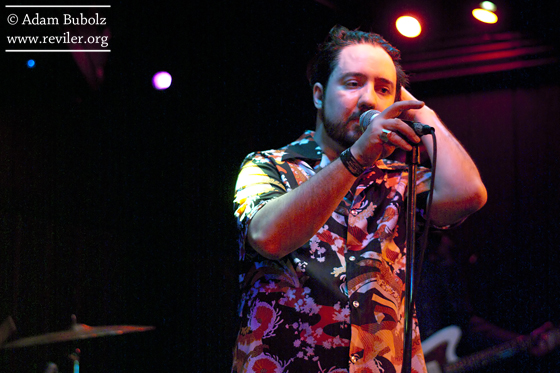 Day 7: The Return to Indianapolis & the "Nuclear Option"
Do I even need to mention where we go for breakfast at this point?  The girls working the counter at Starbucks correctly recognize that five dudes traveling together and looking like they've slept in the same clothes for at least three days are a band and give us the same "y'all a band?" spiel we've heard half a dozen times at this point.
We still don't know when or even if the van is going to be fixed and again I can sense that black dog starting to nose around again.  We chow today at a sandwich place that was on "Diners, Drive-Ins and Dives" which is a fact I know because there are about twenty posters of Guy Fietti proclaiming it from every corner.  The food is okay.
After eating we start discussing what are our options: Cancel shows?  Rent another van?  Rent the van from Derek Black?  As we are pondering all this Nate's phone rings, it's the shop, they've found the part and the van will be fixed in about an hour.  Success!  Relief!  Dread at what the cost is going to be! I hope someone has a credit card!
It doesn't take nearly as long to pick-up the van as I think it would.  Not sure why, probably just due to all the waiting and delays yesterday but I was convinced that getting the van was going to be some arduous task, but it is not.  It is certainly expensive though.  But very quickly we are on the road to Louisville and it is drizzling, just as it should.  Derek Black was still working when we were leaving so he just had us park the van in front of his place and drop the keys in the mailbox; seriously the man is a saint.
Crossing the river into Kentucky I think about one my favorite novels, Suttree by Cormac McCarthy which is actually set in Knoxville but much of the action takes place in a city by the river like this one.  I've never been to Louisville before, but it is a place that looms large in my imagination.
Tonight's gig was hastily scheduled at the last minute and it's hard for me to get through for various reasons.  The sound onstage is terrible, a sonic vacuum, I'm less then three feet from Jesse's giant bass cabs and I cannot hear them, which causes me to get lost a few times and generally defeats my attempts to get a good flow going.  Plus, I'm having one of my infamous philosophical attacks where I find myself questioning why the hell exactly we are doing this.  The bartender is a junky, a ghostly pale insectoid, so the service is terrible, but when he does get around to you he pours an impossibly stiff drink.  Thank goodness for small favors.
Get to really watch Slutbanger tonight, they are sort of a dual duo, bass player and drummer pummeling in one direction while two girls (one big and one small) shriek and scream and stalk the stage (always in opposing directions) and flip the bird like they are getting paid to do it pummel in the other.  "I Need Meat" is the hit tune I think.
Afterward I'm out in the alley taking pulls from a bottle of bourbon (which in hindsight seems like a perfectly Kentuckian thing to do) and I recall something Bill Adams had asked me back in Iowa City while we were recording with Luke, which already seems like a lifetime ago.  Did I ever question what I was doing and I answered "yes, constantly".  Tonight is just one of those nights for me.  We decide to get a motel.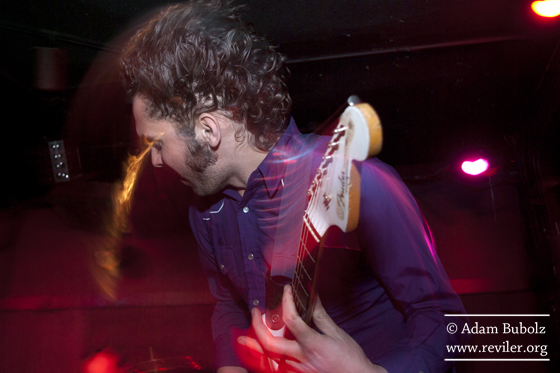 Day 8: St. Louis…The Gateway to revived good feelings and the curse continues, but at least it's not ours.
At this point I feel I should address the weather that occurs on STNNNG tours.  Its never exactly bad weather, but it almost constantly that gray/drab/cold/soul-sucking type that follows us around like a cloud, like a black cloud.  I step outside of the motel room in Louisville to make a phone call and am slapped in the face by cold, pissing drizzle.  It is windy so the rain is coming down almost sideways.  Bummer weather, just like normal.
Another day, another Starbucks, this one in the lobby of a fancy downtown hotel.  It's four or so hours to St.Louis and I spend the trip listening to more of Marc Maron's WTF podcasts and getting some reading done.
In St. Louis we stop and get some decent bbq before heading over to a radio station for a studio session and interview.  It could be the culminative affect of the all the days with short sleep or it could be that I just ate a pound of meat but as we arrive at the station I can hardly keep my eyes open.  My mouth won't work, people this is serious!  The guy who set up the session sits down to chat with me but my answers are incoherent at best.  I manage to get enough energy together to power through playing four songs, the three new ones plus "Howling Man".  I'm punchy as hell during the interview which turns out pretty funny.
Tonight we are playing with our old compatriots the Conformists in the basement of an artsy junk shop called Cranky Yellow.  It's a relief to see the Conformists guys, even though I'm worried about this as well because they are notorious givers-of-shit and I don't have anything like my A game ready.  I go to give their guitarist Chris a hug but he pushes me back.  "I'm sick".  And he isn't fooling; he looks like he can barely stand.  Right before they play he is up in the bathroom puking his guts out.  This is maybe the tenth time we've played with these guys and every time they have something go wrong.  But Chris works through it like a champ and they play one of the best sets I've seen.  They have a new drummer who I was skeptical about, because playing drums in the Conformists is about as hard a job as I can imagine, but he fits perfectly.  Such an amazing band.
The basement is of course insanely hot (wasn't I just freezing this morning?), but there is a great crowd, good local bands as always, we play great and people seem very responsive.  Overall it's a huge spirit boost.  Adam sits down next to me at some point after the show and says "Shows like this make it feel like it's a good idea to do this every so often".  Couldn't have put it better myself.
— Chris Besinger
STNNNG:          Site
.