Food Pyramid: III Review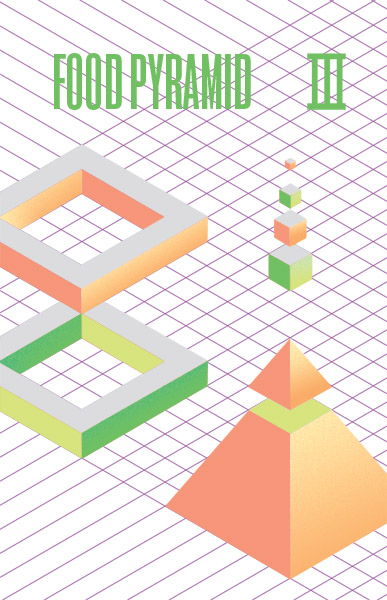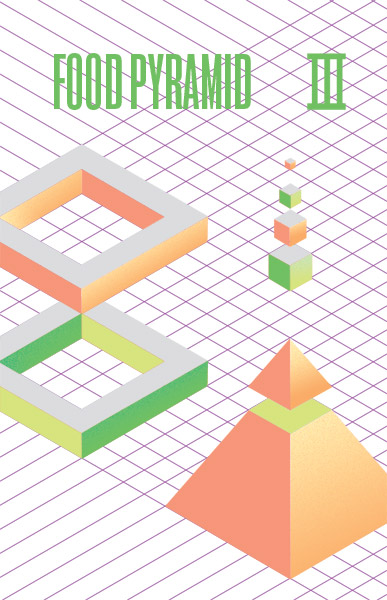 86/100
With the third tape in their Moon Glyph trilogy, Food Pyramid have created a comprehensive and commanding release that builds upon the great material of their first two tapes and shows that the band are continuing to evolve, which is exciting news for a band that has taken the local scene by storm over the last year.
The general theme of the first two tapes, kraut inspired electronic soundscapes, equally dreamy and trippy, is taken to the max on III.  Adding to the swirling synths and cool, steely rhythms are a wide spectrum of instruments on III that help to expand the groups sound.  Live guitars and even sax solos pepper the release, which feels slightly less centered in the solar system and more in a  controlled celestial world where at least some of the sounds are originating with human beings.  Opener"E-Harmony" is a extended trip that stretches out over 8 minutes of electronic grooves before giving way to a record that soars at moments, while producing spectral, naval gazing haze at others.  "Cycloscope" and "Last Shuttle to the Red Planet" are upbeat tracks that widen the bands sound, while album closer "Eulogy for Lee Marvin/Another Round on The Outer Rings" is a sleezy groove of beeps and hisses, held down by a commanding beat.  The other two tracks, "Last Light" and "The Soul of the Gila Monster," are more introspective tracks that find the band gazing inward, losing themselves in the aurora of the twinkling synths and ambient haze.
With III, the group has apparently reached the end of this chapter of their recording life, and they go out with a bang.  Adding to the spectrum of sounds that made I and II so great, III feels like a jumping off point for some really amazing stuff.  The group recently have been on tour with fellow synth explorers Deep Earth, a trip that surely will expand their pallet and give them ample motivation for their next sonic journey, whatever that may be.  The group has a forthcoming split 7″ with Deep Earth amongst other projects, and have recently had a compilation released in Japan(?!) of material from their first three releases.  Catch the band tonight at Nick and Eddies celebrating the release of 2012, the new ambient project from Grant Cutler.