Nyteowl: Tokyo EP Review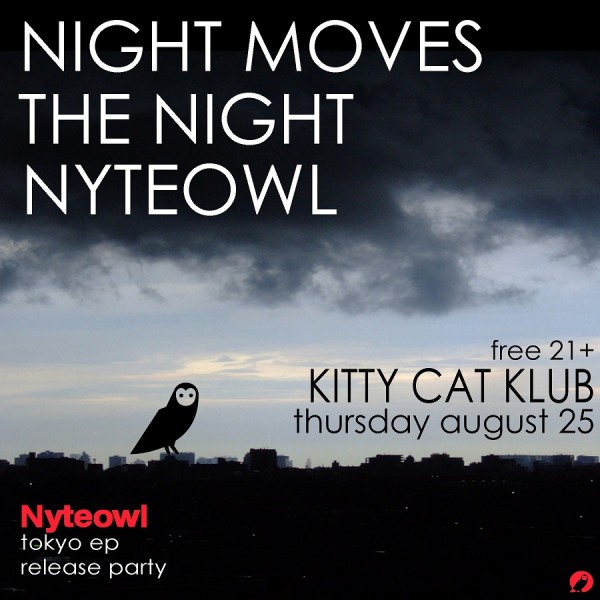 As we have talked about before, Nyteowl are a local group that waste little time putting all of their chips on the table. Their sound resides in a spectrum that doesn't skew far from the lush, synth driven pop sounds first laid down in the 1980's, but I suppose when you are good at something why mess around, right? While that sound has made something of a resurgence in the last few years, Nyteowl have proven effective at not only cultivating the smokey club sounds of electronic pop and house music, but staking a claim as an artist who really has the chops to pull this type of music off.
Their new EP, titled Tokyo, is a dark, calculated batch of songs woven together around deep bass grooves and lush synth flourishes that fans of the group have come to expect. The vocals are subdued and the whole package leaves the listener with a strong desire to take the music out for a late night ride. The five song collection has two tracks, "The Light of Youth" and "Sleepwalking," that are represented both in their original form and as "Alix III instrumental mixes." The vocals on the original "Sleepwalking" almost add a ray of hope to the forlorn dubstep track, where the instrumental feels even more engulfing. The poppy vocals that glide over the buoyant bass of "The Light of Youth" give it that nostalgic feel that has propelled bands like Ford and Lopatin into greater exposure in recent months. Tracks like "The Light of Youth" show Nyteowl's ability to borrow heavily from genres that influence him while still creating a sound and song that stand on its own two feet. The lone track on the album that doesn't get a instrumental version is the wistful yet soulful "Tokyo Time," which brings the vocals up a notch in the mix and is as close to a "pop" song as you will find on the record.
Tokyo is undoubtedly a late night record, with the dark undertones that often creep into Nyteowl's music really being brought to the forefront of the album. The EP is short (essentially three songs) but spirited, a group of tracks that you can leave on repeat and allow to fade into the night.  While I have never been to Tokyo so I can't say whether these tracks would actually serve as a functioning soundtrack to a visit to the city, they sound pretty good with windows down on a cool summer night here in Minneapolis.  Check out Nyteowl along with Night Moves and The Night tomorrow night (Thur, August 25th) for a show to celebrate the EP.
-Josh