Do Look Back | The Dirty Three: "Whatever You Love, You Are"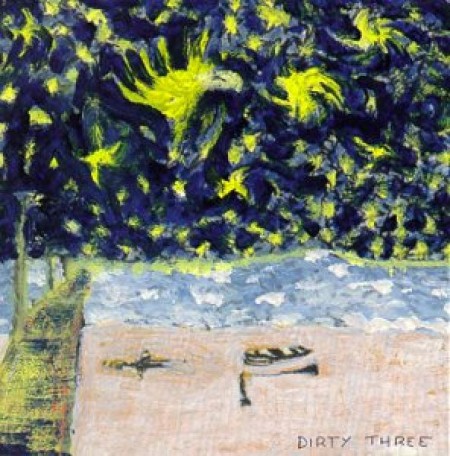 While The Dirty Three's Whatever You Are, You Love is neither as old nor as obscure as many of the titles we cover in our Do Look Back series, it has a special place in my heart that will keep me recommending it to further generations for years and years.  It is one of my favorite all-time albums, as well as I think, the greatest accomplishment of the Nick Cave & The Bad Seeds' diaspora of side projects (violinist Warren Ellis being a Bad Seed and frequent Cave collaborator).
The Dirty Three consist of Ellis, Mick Turner, and Jim White, all of whom are Australian and have performed in dozens of different bands throughout the years.  While the group has a long discography that includes entries as recent as 2007, for me none has come close to touching 2000's Whatever You Are, You Love in terms of quality (though 1998's Ocean Songs comes close).  Whatever is a knock out of a record, a completely instrumental work of moody epics that somehow still packs more emotional punch than most lyricists are able to conjure with words.  You can call it "post rock," but "doom folk" might be a more apt descriptor – Ellis, Turner and White together form a sound that is largely defined by Ellis's seesawing violin but also contains elements of rock and psychedelia.  The most notable element that draws the sound together is the sound's dual provocation of extreme beauty with extreme dread.  Listening to the Dirty Three is sonically akin to being engulfed by the most voluptuous of fiery flames.    
Whatever itself consists of six instrumental tunes that range in length from six minutes to thirteen.  The latter offering is "I Offered It Up to the Stars & the Night Sky," an epic orchestration that, mainly via Ellis's angular violin layers and Turner's hauntingly picked guitar, manages to seemingly impart a tragic story all without ever stating a sentence.  The words are in the sheer mood conveyed by the instruments, from utter melancholy to swelling hope and finally the madness of the song's squalling white noise finale.
And "Offered" is just one of many delights packed into an album that in its entirety, only spans  around three quarters of an hour.  "Some Summers They Drop Like Flies," leads the record off with Ellis's mesmerizing violin dirge played over minimal guitar and tambourine, echoing like a funereal march of Celtic origins.  Turner (on guitar) and White (on drums) play more obvious roles in "I Really Should've Gone Out Last Night," though again the show is stolen by Ellis whose finger-picked as well as bowed violin parts make up the song's most soul-tugging moments.  While each member of the band plays an important part, most of Whatever is structured around Ellis's violin similarly – hence the folk part of "doom folk."  White's marching drum beats, however, and Turner's ethereal guitar should not be discounted completely though, as though minimalist in bent, each musician makes up an integral part of the trio's sound.
"Something I Just Don't Want to Know" and "Stellar" round off the back end of the record in a similar vein with each artist's instrumentation supporting the violin scores in increasingly exquisite ways.  The gem that tops Whatever off in the end though is final tune "Lullabye for Christie," a gentle murmur of a melody that's the calm morning after the vivid dreamscape of the preceding record.  "Lullabye," it would seem, ends Whatever's story on a happy note, if anything in this record could truly go by that descriptor.  Whatever You Are, You Love is an incredibly tumultuous and, at times, agonizingly disconsolate listen.  Often, however, the world's most intense beauty if often provoked by similarly intense situations, and being that's the case, the Dirty Three's record is like a diamond born out of extreme pressure.     
     — Jon Behm
Buy Whatever You Love, You Are (vinyl)
The Dirty Three:          Site
.