Oneohtrix Point Never: Replica Review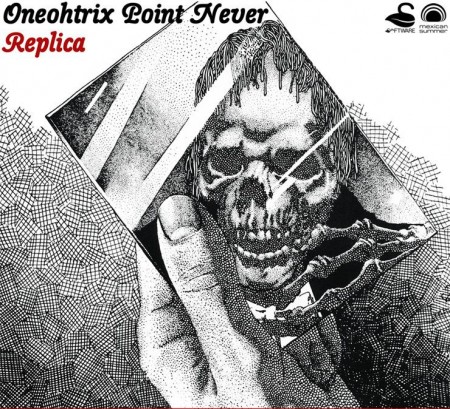 I was a late comer to the Oneohtrix Point Never camp, not really finding out about the subtle electronic soundscapes of Daniel Lopatin until after the release of his excellent Returnal LP. Going back and digging into his older work (particular Rifts, a 3xLP collection of his earlier material) it became obvious how much of a chameleon OPN architect Daniel Lopatin (also of Games/Ford and Lopatin) really is. Ranging from harsh soundscapes to gentle ambient passages and back again, Lopatin is a sonic wizard that uses his commanding talents to really brig the listener on a roller coaster ride. His latest LP, Replica, switches gears again and is a more sample focused, meditative journey that features less of the jagged edges of his previous work and is the most instantly accessible and rewarding album of his career.
Replica is a 10 song collection of buzzing noise based tracks that are similar to what has been found on Lopatin's previous work in the form of hazy synth soundscapes, but he has stretched his pallet into new territories. The two tracks released prior to the album's release, the curiously dark "Sleep Dealer" which juxtaposes twinkling synths and dark twisted lyrics, and the hypnotic piano hymn "Replica," both work from the same template as his previous work while sounding fresh and experimental. Lopatin really gets sample friendly on the bubbly, effervescent "Nassau," which is a shining highlight in the middle of the LP. Things really pick up with the last portion of the record. Starting with the hushed beauty of "Submersible" and leading into the raucous (for Lopatin) and freewheeling "Up" and then "Child Solider," which find Lopatin really broadening the OPN sound. The record closes out with the gentle but forceful seven minute rumination "Explain," which nicely encapsulates the records breadth and experimentation into seven dazzling minutes.
One wouldn't expect someone who creates the kind of buzzing, avant-noise music that Oneohtrix Point avant Never does to rest on their laurels. It wouldn't seem right, or in line with the spirit of the music, for Replica to sound like Returnal 2. With the challenging and adventurous work on his previous records in his back pocket, Lopatin brings the listener along for his latest journey, this time chopping and screwing samples and really creating a warmer texture and auroa while still unleashing his tapestry of noise.  When I say Replica is OPN's most "accessible" recored yet, don't be fooled into thinking he made a Washed Out record.  While the sounds on Replica are warmer and find Lopatin pulling back a few layers of the haze, you shouldn't worry that he created a Washed Out album as he still maintains the noisy dissonence that has made him such a central figure to the noise scene over the last few years. Replica is the latest, and possibly best, example of how far Lopatin can strech this genre and shows again why he is held in such high regard.
Oneohtrix Point Never – Replica by Mexican Summer
-Josh