Poliça: Give You The Ghost Review (Three Takes)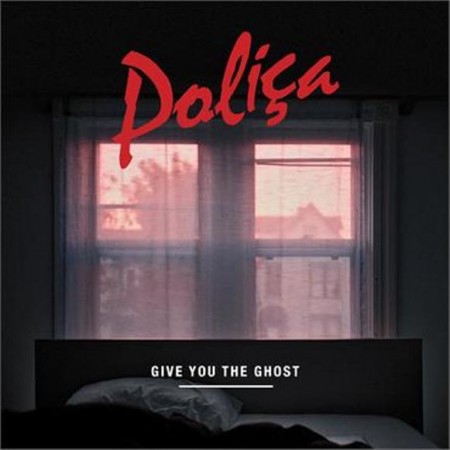 It can be difficult to gain a balanced perspective on an album after reading a single summary of the music. Bias can tilt a review, as can personal taste, history and just about everything else that is unique to the person writing it. So in an effort to offer an expanded perspective in such a medium, here are Four reactions, Four impressions, Four Takes on Give You The Ghost by Poliça.
Jon Behm, Reviler
80/100
The Twin Cities hype machine is a pretty strange beast, but at least lately I gotta say that I am not at odds with it nearly as much as I like to pretend to be. I mean, I am of the opinion that the various current local kings and queens of The Scene are, in most cases, deserving of their crowns. Bands like The Cloak Ox and Doomtree for instance, two bands that had very good years in 2011. Sure, we still overlook bands (Brute Heart, Food Pyramid, Lighted, Skoal Kodiak, etc., etc.), but at least most of the bands we have been honing in on lately aren't completely terrible (with notable exceptions like Howler). And with the current most-hyped local darling, Polica, I also gotta say that I think we got another one right.  While the contrarian in me wants to tell Poliça's sold out crowds that there are plenty of other great local bands they should also line up to see, the other part of me is lining up right there with them.
Now, with me at least, Poliça did have an unfair advantage, because I have always been a big fan of Channy's vocals. Whether folk, country, or new wave—Channy always manages to make it sound both amazing and effortless. While the vocal effects on the band's new record warp and distort her voice into a colder, more distant warble, Channy's talent is still evident in the richness of tone and pitch that the computer cannot mask. The effects don't always work—in "The Maker" the reverb leaves the vocals a bit harried and directionless—as if the tracks were pinging around in a well. Mostly though, they are completely on point. The vocals carry the otherwise unremarkable "Form" completely. And in great tracks like "Amongster" and "Wandering Star," the auto-tune and echo effects seem like a perfect combination. They also serve to muddle-up the lyrics and make them a bit harder to understand—which is a plus because there isn't anything incredibly profound being said. I don't think the lyrics are meant to be profound—Channy's words seem to come from a dark inner place and, though sung, they almost seem to be more like the mutterings of a tormented person.
But let's not solely consider Channy's contribution. Poliça also features a very strong cast of musicians who are every bit as integral to the sound. Ryan Olsen's production sounds quite a bit similar to what he did with Gayngs: smooth, silky tones and reverb that cushion everything in a barbiturate cloud. The Dual drummers Ben Ivanscu and Drew Christopherson are highly in-tune with each other's vibes, and in tunes like "Amongster" it's interesting just to listen to the two of them roll across the scope of the song like a violent hailstorm. Bassist Chris Bierden stands out the most in "Leading to Death," where his nimble fingers give the rhythm a much-needed slice of funk. Guest Mike Noyce's impression isn't as noticeable—he only contributes (vocals?) to two tracks ("Wandering Star" and "Lay Your Cards Out").
What's remarkable about Poliça as a group is how finely in-tune with each other they appear to be, which seems unusual for such a new project. However each of these band members is a local music veteran, and many of them have been collaborating on other projects for years (Gayngs, Marijuana Deathsquads). It should be no surprise that they sound as good as they do. And they do sound good: every single ticket holder who sold out the band's upcoming First Avenue performance is right about that much. They are one of many great bands that make up our local scene—and I think all the hype being sent their way is pretty well deserved.

Will Wlizlo, Reviler, @willwlizlo
40/100
Channy Leaneagh has come a long way from busking fiddle at farmers markets. Having won over the collective, sentimental heart of the Twin Cities as the lead female vocalist of folky ensemble Roma di Luna, Channy and her former partner Alexie Casselle pulled the plug on the project after more than half a decade. The two have moved on to pursue other projects. Alexie is returning much of his focus to his twin hip-hop projects, Kill the Vultures and Crescent Moon is in Big Trouble. Channy, as you might have heard if you've had half as much sensory capacity as Joe Bonham in Johnny Got His Gun, has started a little band called Poliça.
Poliça is an aesthetic about-face for Channy, who dropped the neo-rustic roots rock and songbird vocals of Roma di Luna for synthesizer riffs and an auto-tuner. She's backed up by a trio of local vets: Ben Ivascu of STNNNG on drums; Vampire Hands' Chris Bierden on bass; and every-other-Minneapolis-band's honorary member Drew Christopherson, also on drums and electronics. Bon Iver member Mike Noyce appears on a pair of tracks. On top of all that, Give You the Ghost was produced by Gayngs-kingpin Ryan Olsen and one of the dudes from Spoon. From a sheer-firepower perspective, Poliça is a juggernaut.
From a finished-product perspective, though, the band leaves plenty to be desired. This is not meant as a snipe-job, but the element of GYTG I'm least impressed by is Channy's vocal work. What made her performances with Roma di Luna so memorable was a sort of delicateness—that she could so finely manipulate her intonation and delivery to evoke a wide range of emotions and switch between styles. Auto-tune and delay effects, unfortunately, steamroll her naturally robust, intricate voice. As she belts out repetitive lyrics, Channy sounds caged by the digital manipulation—her wings clipped. On tracks like "Amongster" and "Leading to Death," the melodies lack human emotion, like they're anonymous samples from a '90s trance compilation.
As the vocals suffer, so do the lyrics. Many of Channy's lines seem like she lifted them off the angsty pages of her high-school diary. Here are a few offending groaners. On "I See My Mother," she sings with a young Conor Oberst-esque kicked-puppy sentiment, "I swallow whiskey, I take to powder, drink the flowers, but I am still so so sad, and that makes you feel bad." Feeling like a gothling that no one understands? Listen to "Form," on which Channy sings "Wish you would kick me in my face, I'm the victim I did it." "I need some time to think about my life without you," she croons on another song. I think Lisa Loeb just filed a suit for identity theft.
Lyrics don't always need to be literary—in certain circumstances, the more vapid the better—but when vocals are front-and-center, they should at least break away from cliché. Channy is one of few artists legitimately experimenting with the artistic limits auto-tune, and for that she deserves credit. But I want a little harder push. Votel is another local group working in this vein (And, surprise!, also features Drew Christopherson.) But in my opinion, Votel does it more successfully and less predictably.
Not to be a complete crank, I admit there are some standout excellent moments on GYTG. Poliça have a great sense for balance and flow. The album's mix masterfully juxtaposes the low, jammy grooves of the band and Channy's rocketing voice. "Lay Your Cards Out" and "Fist Teeth Money" are positively immersive, dunking the listener in a cold, electronic ocean. "Dark Star" is my favorite track; it starts with a wonky disco beat and becomes increasingly complex and surprising as the song wears on. What's more, Channy overcomes the clipping limitations imposed by the vocal effects. Live, I'm sure I'd have to fight tooth-and-nail to avoid embarrassing myself on the dance floor.
There's a sense of drive on the debut album, but a type of drive more akin to a pack of teenagers doing donuts in a high school parking lot at 3 a.m. The songs are circular, and it seems like the only way they can coax an emotional response out of me is by increasing the tempo and volume. That could mean I'm a cold-hearted bastard; it could also mean that something positively fundamental is missing.
Poliça draw elements from Portishead, the Eurthymics, and, weirdly, Fleetwood Mac. But as far as the band aesthetically distances itself from Roma di Luna, the corpse of Channy's former group will still bang on the floor like a Minnesotan Tell-Tale Heart. Going forward, the best way for Poliça to give up their history's ghost might be to reason with it—and honor its memory.

Josh, Reviler 
78/100
I fully expected that the debut album from Minneapolis (super) group Poliça would be something I wouldn't like, a record destined for the dust pile because of its relation to the Gayngs/Bon Iver/"effect laden vocals and chilled out pop" sound that permeates the scene surrounding those two bands. I am happy to say that I went in with an open mind and left impressed with Give You the Ghost, the group's debut record (out now digitally and dropping on wax on local label Totally Gross National Product on Feb 14th).
Fronted by the ethereal vocal stylings of Channy Leaneagh (Roma di Luna) and put together by local sound-wizard Ryan Olsen, the record is a moody slab of buzzing electronic pop music. It's all held together by the dual drums of Drew Christopherson and Ben Ivascu and the rich bass lines of Chris Bierden (he of Vampire Hands fame). Despite having pipes that most of us in the local scene have come to recognize as something special, Leaneagh's vocals are no more than a layer in the sound, so warped with effects that they simply become another cog in the machine. Which is disappointing. Despite the fact that what should be the highlight of the record is in fact buried under a tsunami of effects, the record still finds a way to succeed in a cool way.
Highlights on the 11 song, 45-minute effort include the thumping "I See My Mother," the galloping space funk of "Dark Star," and the soulful, neo-R&B of "Lay Your Cards Right." The formula gets tired at points, namely the overdone and faux dramatic slush of "The Maker," but it's a well-produced record (the songs mesh together excellently) and is brimming with talent—even if it isn't always used in the way I would have thought best. Despite my reservations that the record was going to be a hollow Gayngs/Bon Iver retread, it actually finds a way to feel less formulaic and needlessly overdone as the latest records from those two bands. More than likely it's going to find the group some big time success.