Andrew Broder Talks Garfield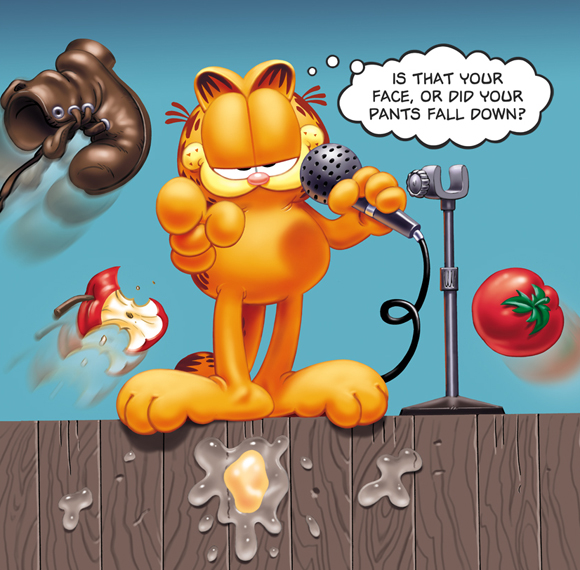 Let's talk real for a minute. Reviler is really a blog about cats. We just write about music when we're inspired. In the run-up to our two-year anniversary extravaganza, we asked the four bands playing to share something about their favorite cats.
Andrew Broder took the time to answer a few questions over e-mail about one of the laziest, hungriest, most black-humored cats alive. That's right, Garfield.
1. Although you don't describe yourself as a "cat person," you are a fan of the famous comic-strip feline Garfield. What do you like about Garfield?
Mainly his expressions. How he rests his stubby little arm on the counter when talking to Jon. The fact that, when he drinks his coffee, he has lips, which cats don't have. His sardonic asides.
2. Garfield has an insatiable appetite, one that often leads him to steal meals and consume them in secret, hoard foodstuffs, and eat in unhealthy quantities—sometimes as much as an entire pan of lasagna in one sitting. Is Garfield a bad dietary role model for our country's youth?
He is, sure. I think I read an interview with Jim Davis once where he said that Garfield represents our collective id—we all want to eat as much as we want, sleep all the time, be lazy, but our realities dictate that we cannot. So there is Garfield.
3. Garfield's owner, Jon Arbuckle, is something of a nihilist. What do you think he would have to say about the current political climate in America?
Maybe his hair would simply stand up on end, revealing his weird, bald egg-head. He might do a spit-take.
4. What would you say is Garfield's biggest influence on your music? (Or perhaps Odie, Nermal, Pooky, or Dr. Liz Wilson is your muse . . .?)
Really, it's more an admiration for the guy that draws him—the dedication and vision that Jim Davis (or any cartoonist with that kind of longevity) must have is incredible.
5. If you had to summarize, what is the most important life lesson to take away from Garfield?
Be yourself.
The Reviler two-year anniversary concert is at the Turf Club on Friday, January 13. Andrew Broder is playing alongside Food Pyramid, Is/Is, and Fire in the Northern Firs. Tickets are $5. More information here.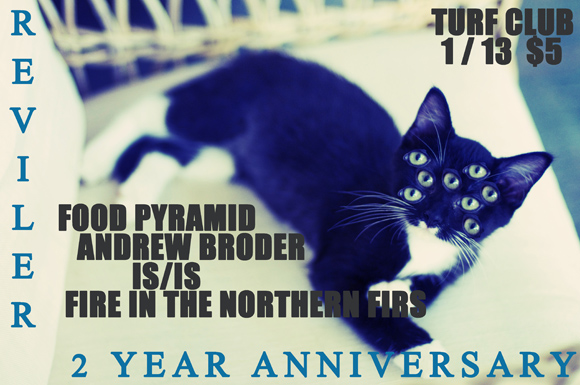 —interview by Will Wlizlo (@willwlizlo)