I Self Divine: LA State of Mind EP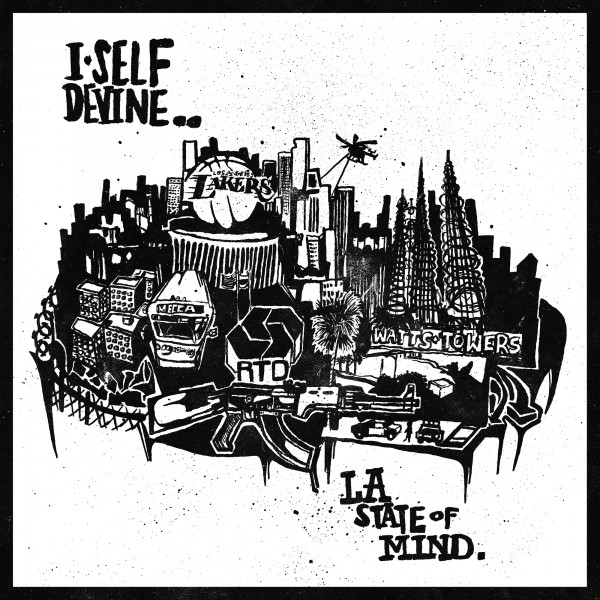 Veteran MC, activist, community organizer, muralist, and b-boy I Self Devine is a "hip-hop architect, marked for death, lost in the marketing"—true statement. All that will change, however, with the release of his sophomore record, the highly anticipated The Sound Of Low Class America, on Rhymesayers. The former Micranots MC has a rich history; he was around for the first wave of indie hip-hop and part of the pre-Rawkus era generation—he and the Micranots released Obelisk Movements in 2000 on Big Juss (of Company Flow's imprint Sub Verse Music). The Micranots returned from Atlanta to Minneapolis and released The Emperor & The Assassin on Rhymesayers in 2003. After several 12-inches, cassettes, and records, the Micranots took a pause, and I Self Devine released his critically acclaimed solo debut, 2005's Self Destruction on Rhymesayers.
LA State Of Mind is the first in a quartet of EPs slated to be released in advance of The Sounds Of Low Class America. It captures the essence of his early years growing up in South Central Los Angeles during the post-civil rights era, at the crossroads of The Black Panthers pro-black movements and the gang culture that followed.
The opening track, the brooding Gang Starr-inspired "Dream Crusher", scores with Benzilla's hard drums as I Self keeps it classic. "Cali was Iraq," offers I Self, describing the urban landscape's similarity to a war field. "I was raised by gangsters, pimps, and activists." On the reflective "Zero To 5ive," I Self warmly reminisces over lovely horns with echoes of Pete Rock. "Death In The Air" is aided by chopped samples of early classics. The bouncy "Diamond Movement," produced by Oh No (of Black Starr and brother of Madlib) strikes a exuberant chord. Then there's the hard-hitting jewel produced by The Alchemist (Eminem, Mobb Deep), "Thingz." I Self welcomes the darkness: "A black cat crossed my path, it's good luck today, I woke screaming I don't give a fuck today, money falling out the sky like it's Paid In Full, I'm Wood Harris, I'm Tiger Woods." LA State Of Mind is the shining center-point. The elegant boom-bap of "Justice," produced by Benzilla and I Self, shines light on those who are caught in the struggle and strive for love despite their surroundings. "Survive the hood, no congratulations." The thunder of "Sweat Equity" takes a hyper-charged beat and paints the view of daily urban life. The revolutionary inner-hood narrative "Bastards Of The Party," is another stunner produced by Benzilla and I Self that paints the streets of his youth with tales of drug raids, police violence towards the youth, and graphic urban reality-based stories. It closes with "Mecca" where I Self surveys his former stomping grounds with joy.
I Self Devine's relationship to hip-hop is a thorough, dark, often complex view of the struggle (as related to growing up in a political environment) and informed by the birth of hip-hop. LA State Of Mind wins with tracks such as "Dream Crusher," "Death In The Air," "Diamond Movement," "Bastards Of The Party," and the emotional "Justice," which all capture the essence of I Self's journey. Strong production—mainly from Benzilla and I Self, alongside Oh No, Alchemist and Emazin—serves as a soundtrack to the to golden era. Like KRS-One, I Self's goal is to inform and educate by dropping musical jewels. Righteous music that speaks to the minds those searching for the truth. This is "conscious" hip-hop for fans of Micranots, Immortal Technique, Mos Def, dead prez, Brand Nubian, Brother Ali, and Public Enemy. I Self Devine proves there are still those who treat their craft with great respect. As KRS One says, "Knowledge reigns supreme over nearly everybody."
 —Jon Jon Scott
I Self Devine – LA State Of Mind (Free Mixtape) by rhymesayers
I Self Devine LA State Of Mind ep release show
Brother Ali
Muja Messiah
Alicia Steele & The Endeavors
DJ Kool Akiem, King Otto & Just 9.
7th St. Entry
Sun. Jan. 22nd