Heliotrope 9 Lineup Announced!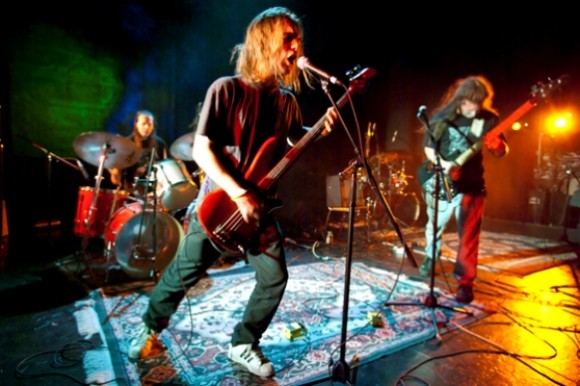 Scaphe at Heliotrope 8
While everyone is busy arguing about the annual Rock The Garden lineup and whatever else, the lineup for our favorite local festival of the summer has been announced. Now in it's 9th year, Heliotrope has brought together some of the most interesting and unique bands in town (and a few from out of town) together every Memorial Day weekend. The biggest news is the moving from last year's home at the now closed Loring Theater to the Lab Theater. A bunch of our favorites are there (Brute Heart, Thunderbolt Pagoda) as well as plenty of new acts and even another reunion of TVBC. Schedules and plenty more coverage will be in the coming weeks but for now here's the lineup and press release:
Flaneur Productions are once again proud to be presenting Heliotrope, an annual three-day festival featuring some of the area's most interesting and exciting underground music, for the ninth year running. Last year's stint at the beautiful Loring Theatre brought a wonderful change of venue, and while the closing of the Loring naturally saddens us, this situation gave Heliotrope an opportunity to move things to the warehouse district and take advantage of the posh confines of The Lab theatre on North First Street. Not only will this change allow the musicians to experience a new theatre, but the long-suffering merchandise table crew will finally get a chance to be inside the theatre on the mezzanine, rather than out in the lobby the entire time. We are very excited to be working with the fine people at The Lab.

This year's event will naturally see the return of some perennial mainstays (International Novelty Gamelan, Milo Fine, Thunderbolt Pagoda and Take Acre, to name a few), but will also feature a very large portion of new acts including the debut performance of Test Weapon (Jesse Petersen and Tim Glenn) black metal act Maledicere, minimal synth/coldwave acts CLAPS and The Night, industrial percussion merchants Prostate and a much-anticipated performance by the seminal St Paul power trio TVBC, featuring Paul Metzger on guitar, Freddy Votel of Skoal Kodiak on drums and the inhumanly skilled Adam Linz on bass. Full lineup information to come soon!
Admission is $12.00 per day or $24.00 for a three-day pass. All ages welcome.
Thursday/Friday/Saturday, 24-26 May 2012, 6:00PM-12:00 midnight each day.
Lab Theatre
700 N 1st St Minneapolis, MN
The lineup in alphabetical order for now:
Arp of the Covenant
ASSEMBLAGE (HORN CHORALE) + DRUM SET & VOICE – (Milo Fine/Scott Newell/John O'Brien/Viv Corringham/
Philip Mann/Ryan Reber/Rick Ness/Elaine Evans/Erkki Huovinen)
Bellow
Brute Heart
Claps
Dreamland Faces
Eclectic Ensemble
Flavor Crystals
Food Pyramid
Fortified Five
The Funeral and the Twilight
Hasps
International Novelty Gamelan
Mahngüs
Maledicere
Rana May
The Night
Noise Quean Ant
Prostate
Scaphe
Squid Fist with George Cartwright
Take Acre
Test Weapon
Thunderbolt Pagoda
Tips For Twat
TVBC
Unhappy Virgin Damage
-Adam
Writer / photographer / Reviler co-founder