Flashback Friday: "Lee Hazlewood: Singles, Nudes, & Backsides"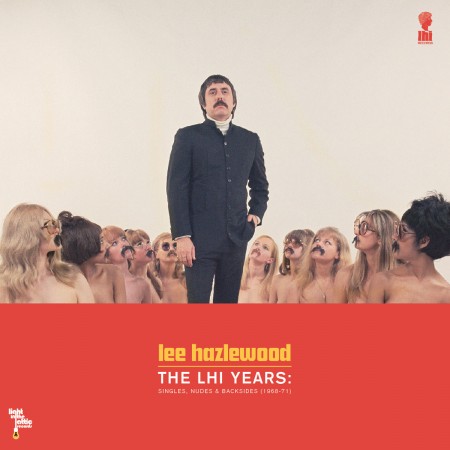 There are probably quite a few interesting record promotions going on this Saturday for the yearly madness that is Record Store Day.  However for me there is only one truly worth seeking out: Light in the Attic's issuing of Lee Hazlewood compilation Singles, Nudes & Backsides, which collects some of the best of Hazlewood's solo work and duets from his time at the LHI Record label (which he founded: LHI = Lee Hazlewood Industries).
If you aren't familiar with Hazlewood's work explicitly you have probably at least heard Nancy Sinatra's solo version of "These Boots Were Made For Walkin'" which he wrote.  In addition to that timeless addition to pop music's canon, Hazlewood wrote a large volume of country and folk-tinged tunes throughout the sixties and seventies that were extremely popular at the time.  And like many of that era's pop stars, Hazlewood was actually incredibly talented – he took an experimental approach to mixing genres and his influence today is widely heard if not recognized.
For Hazlewood fans, the immediate draw for Singles, Nudes & Backsides is the fact that it features a large number of tunes from the somewhat rare 1970 album Cowboy in Sweden (which featured vocal accompaniment from Nina Lizell and Suzi Jane Hokom) notably standout "Leather & Lace."  Singles also features two other Suzi Jane Hokum duet singles, "Califia (Stone Rider)" and "Nobody Like You."  Additionally the record packs a healthy contingent of Hazlewood's work with Swedish actress Ann Marget, including singles "Chico" and "Sleep in the Grass" as well as Cowboy and the Lady's "Victims of the Night."  In fact "Sleep in the Grass" is worth hearing simply for Margret's hippie dippy line, "Sadness. It sure is a bummer," which cracks me up every time I hear it.
But while Hazlewood's work may occasionally recall some of the lighter, lampoon-able aspects of the sixties and early seventies, there is definitely a serious side as well.  In fact while Hazlewood often dueted with pop-oriented female vocalists (most famously Nancy Sinatra) his own parts often evoke the other end of the spectrum:  melancholy and longing.  Whether he's deriding "the man" or bemoaning lost loves, Hazlewood's rich baritone and "straight man" attitude make for the ideal balancing act with his chipper leading ladies.
So it stands to reason that when Hazlewood performs solo, the lighter side of the mood disappears.  The singer's solo tunes are often darker and more brooding – occasionally to the point of bitterness.  Failed relationships are often the subject matter and from the weariness that his tone evokes you would think Hazlewood had a thousand of them.  Of this category Singles most notably includes "I Just Learned to Run" a bittersweet ode to a careless mate which has never before been released in any format.  Also notably included are Requiem For an Almost Lady's "If It's a Monday Morning" and "Won't You Tell Me Your Dreams," the latter of which is undoubtedly one of Hazlewood's best.
While most of the tunes on Singles, Nudes & Backsides have already been available in one format or another for years, the compilation is still a fantastic way to get the best of them in a single place.  It should also be noted that Hazlewood's imprint, LHI, is also legendary in and of itself, since the artist used it to record and produce a wide array of unique and talented artists of the day, including The International Submarine Band where Gram Parsons first started experimenting with mixing rock and country.  If nothing more, Singles, Nudes & Backsides is an artifact of a pivotal time for popular music's development – a document that demonstrates the link between sixties pop, traditional country, and the ubiquitous alt country you hear today.
— Jon Behm
Singles, Nudes & Backsides will be available tomorrow (4/21) via Light in the Attic Records.  A random selection of fifty lucky orderers will also receive an LHI patch.
.