Sonny & The Sunsets: Longtime Companion Review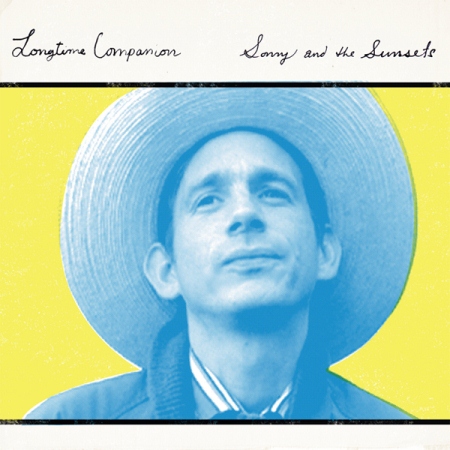 San Franciscan psych-pop outfit Sonny & The Sunsets scared us briefly last year when they announced their breakup.  Luckily, before the news even had time to truly set in, the band somehow got back together and announced their intention to release a third record.  Unfortunately for lead singer Sonny Smith, however, a breakup of another kind was in the works.  After ten years with the same girlfriend he and his longtime companion split.  And the third album, fittingly titled Longtime Companion, is resultantly a breakup album, and a country one to boot.
Despite country's limitless potential for torrential tear-jerkers, in his own fashion Smith doesn't really lay on the sad violins.  While a few tunes sound undoubtedly heartbroken (notably "Children of the Beehive") Smith tempers his melancholy with even portions of his trademark wit and weirdness.  The result is very much a Sonny & the Sunsets "sound," though with the added accoutrement of the country genre.  It almost could have been titled "Sonny & the Sunsets: Play Country!" (to be followed subsequently by "…the Blues," "…Ragtime Dixie" etc – Get the whole set!).  For their part both Smith and the Sunsets manage the genre flawlessly.  The record's production makes Smith and his accompaniment (featuring heavy doses of pedal steel and flute) sound velvety and smooth.
It can be so smooth in fact that it can be easy to forget that it's a breakup album at all.  In past albums Smith's sadness seems to come from a place of hard-earned life experience.  He's the wizened old romantic, imparting wisdom with a wink as well as a tear ("Too Young to Burn" comes to mind).  However with Longtime Companion the effect isn't quite as hard-hitting.  Smith sounds somewhat unconvincingly blasé some of the time – like he's trying to pull his whole kinda funny/kinda sad routine but it's not really sticking.  Songs like "Year of the Cock" seem a bit flippant – as if Smith is using the country framework (a genre known for its tear-jerkers) to emote in a way that he himself doesn't seem to be able to. Still, its Smith's business just how much bleary-eyed pathos he wishes to impart.  Most of these songs (including "Year of the Cock") are still great without it.           
      — Jon Behm
Longtime Companion is currently available via Polyvinyl Records
.