Twin Cities Music Media: Are We A Liability To Local Bands?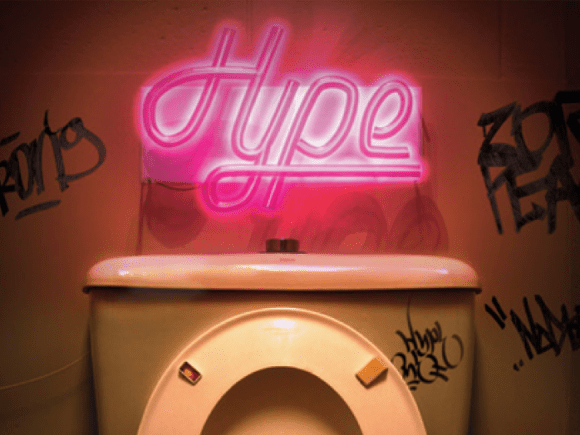 We will soon be confronted by the blessing/curse that is City Pages' annual Picked To Click Poll. It's the vaguely defined "local" music competition in which members of the music community vote for their favorite new and new-ish bands from the previous year of concerts and record reviews. Every year the poll stirs up a fair amount of argument, but it also undeniably puts the spotlight on a few local bands, if only temporarily. A "Picked to Click Bump" if you will.  But what does this bump mean for a local artist's chances for ever really "making it big"? It's entirely possible that P2C, as well as other local music coverage (such as our own), could actually hurt an artist's national profile more than it helps it.
I have been looking through the annals of past P2C winners, and have found that the contest, while boosting the profile of certain bands in the local arena, isn't a very good predictor of which bands will achieve national recognition. And I don't mean this to be a critique of the P2C Poll. In fact, this article isn't really about P2C at all. The contest is just a good example of a deeper problem of hype.
"Hype," at least as I understand it, is tricky. While on some level we can define it as a broad appreciation of art (or whatever) across multiple communities, it's never consistent. For instance: the Picked to Click Poll. When you take the aggregated opinions of the most plugged-in local music listeners, you might assume that they would reflect—at least to a certain extent—future successful breakout bands.  If it plays well here, it should play well in Omaha, Dallas, Brooklyn, etc, right? Why, then, do bands that consistently achieve the national spotlight seem to rarely come out on top of the poll? Sure, you could say, look at Low (who came in 2nd in '94), Semisonic (2nd in '96). Those bands achieved national recognition. This is true, however these bands achieved recognition in the '90s. Since then Internet-based media has dramatically changed the nature of hype. Ever since the '90s, P2C has gotten worse and worse at predicting national success. Brother Ali only placed fourth in '03. Tapes N' Tapes didn't place at all ('06). Doomtree appears to be an outlier, placing second in '04 and then going on to acclaim after almost a decade of hard work. Same thing with STNNNG ('05), whose big break seems to be finally happening seven years after placing. But the overall statistics do not paint a very good picture: P2C winners and placers in the 21st century overwhelmingly do not go on to bigger and better things. Many, in fact, fall victim to the infamous P2C curse in which contest winners disband within a year of winning.
And "success" itself can be an equally squirmy beast to pin down. For some, it means units sold. For others, critical acclaim. For most, though, success means recognition, whether you're a mega-selling teen heartthrob or uber-underground it-band. Not everyone wants to be famous, but most artists do seek validation of some kind. When I say success, I'm defining it as reaching and resonating with the targeted audience. Hype is often what bridges the gap between artist and audience, because it sifts through the overwhelming noise and directs particular audiences toward particular interests.
Is Minnesota really bad at predicting what local bands will be successful? I don't think that's necessarily the case. While the scene has undoubtedly had a few lackluster years, and the poll itself is fundamentally flawed in many ways, I still think that we have had (and continue to have) a number of talented bands ready for greater national acclaim, including some that have placed in the contest. The main reason they haven't found it yet may have more to do with the twisted nature of hype than the bands themselves.
Everyone reading this is familiar with the caricature of the music blogger/music critic/music nerd.  The I-listen-bands-that-don't-exist-yet guy or gal in hipster frames, scribbling furiously in a Moleskine. In our increasingly inter-connected world, these people play a much larger part in the creation of hype than ever before. These folks love nothing better than being the initial "discoverer" of a band. The recognition process for artists has been sped up to such extent that everyone is frantic to get in on the ground floor, if only a few precious seconds before a band's seemingly instantaneous "blow up." Artists are given record deals without ever having played a show, entire fortunes made on the strength of a single song. Such fame is fickle: An artist can find themselves in the national spotlight with almost no musical catalogue (Purity Ring) and lose it all just as quickly (Lana Del Rey).
The rapid speed in which hype is accumulated has contributed to a fierce competition between finders of the next big thing. Part of this is due to the way search engines work: The earlier one can get their post about Band X on the internet, the better it will do in search engine rankings, bringing the site more hits. The other part is bragging rights. This issue isn't anything new, and it isn't really my point.  My worry relates to this state of hype as it applies to our local music scene. We are supportive of local arts and give local music a fair amount of real estate in local blogs, bi-weeklies, media outlets, etc., including contests like P2C. This leaves a sizable Internet footprint for many local bands, often before they are unleashed on the world at large. In an age when anything already posted on the internet is deemed old news, could this coverage taint bands in the eyes of the wider critical blogosphere?
When hype is your currency and said currency is created by the discovery of new bands, it's the bands that achieve Internet coverage in the "wrong" kinds of media are actually at a disadvantage when it comes to breaking into the national hype outlets.
So what are the wrong kind of media outlets? Well, let me start with the opposite. If you are a young, hungry band and you want to achieve critical success, the hype kingmaker is undoubtedly Pitchfork. And now that Pitchfork is  an established presence, it no longer is in the business of discovery. It doesn't have to be. Pitchfork relies on a network of music blogs to funnel a small set of bands that have been weeded out from the masses upwards. For a long time, blogs like these remained unacknowledged in their niche cultural clout . . . that is, until the almighty Pitchfork invited a number of them to their blog-within-a-blog, Altered Zones (which has since gone defunct, and one can assume P4K is back to the old way of doing things). These aren't the only blogs that can make or break a band, but they certainly can help pave the way. And unlike Pitchfork, these blogs are still interested in being the great "discoverers" of the best in new music, a premise that ironically has become a self-fulfilling prophecy. Ironic because the music blogosphere was initially supposed to be a realm where every band gets an equal chance to be heard, the great democratic answer to the ivory towers of print music criticism. Now the top music blogs are exactly like their maligned print peers: a gateway to critical success that only bands that meet specific requirements can approach. And one of those requirements (perhaps the most important) is that bands aren't sullied by an already healthy amount of Internet coverage.
Which brings me to the wrong kind of coverage. If you are a media outlet outside of the elite circle, then it's entirely possible that your coverage of fledgling bands could do more to hurt them than help. Let's take a look at the local bands that have achieved the greatest critical acclaim over the past few years. At the head of the pack is undoubtedly Polica, a very talented band who neatly circumvented local music media and directly courted the elite tastemaking scene. While Polica's first show was in Minneapolis, the next four or so were all East Coast. Their first singles were distributed (with exclusivity) by East Coast blogs, including Jay-Z's Life + Times blog. It's difficult to say whether this was a deliberate strategy—by the band or their PR—or if was luck. Likely some combination of both. But by the time local media had begun their (enthusiastic) support of the band, Polica was already well on their rapid trip to success.
Another example: Elite Gymnastics is undoubtedly a Pitchfork darling, thanks to blogs and influential critics outside of Minnesota discovering them (now "him") first. The duo didn't receive much in the way of local coverage or praise until their blowup, largely, I believe, because not that many people here even knew that they existed. And Elite Gymnastics certainly didn't seem to make much of an attempt to break out here. (Their contempt for the local music scene is well documented.) It's impossible to say whether Elite Gymnastics would have gone on to critical acclaim if they had local support or not, but one has to wonder if the critical blogosphere would have been as quick to champion Elite Gymnastics if they had already achieved a great deal of local coverage. (Winning the P2C Poll, for example.) Looking at the trend, the numbers seem to say no. The proportion of P2C winners that have subsequently been embraced by the critical blogosphere is negligible.
This might seem like wacky conspiracy theory, but it's hard to ignore the fact that most of our critically acclaimed local bands have been first embraced by outlets outside of the Twin Cities.  The most recent addition to that canon is metal band False, who—despite having caught on with influential metal critics across the country—have yet to really pierce the veil of local media. Hell, we can't even take credit for finding Owl City (even if we wanted to), because by the time we noticed Adam Young he was already kind of a big deal.
Insert whatever argument about talent in here: that the most talented bands will naturally rise to the top, that Elite Gymnastics' success was circumstantial. The flip of that line of thinking, then, is that local bands who haven't made it simply lack the talent to break out on their own. Take the Velvet Davenport, for example. The Moon Glyph psych-rock band found an early champion in influential blog Gorilla Vs. Bear, which got the exclusive right to offer the first single from the band's debut record. Big fans of Velvet Davenport already, we requested (and got) the exclusive release the second single here on Reviler. After we posted our own exclusive Velvet Davenport song, Gorilla Vs. Bear more or less dropped coverage of the band. Moon Glyph was profiled on Altered Zones about a year ago, but coverage of its releases hasn't really ever been the same.
Are we singlehandedly responsible for arresting Velvet Davenport's rise to fame by covering them? I highly doubt it.  However, it's still hard to ignore the anecdotal evidence. If we were to analyze different factors in our music scene along the lines of association with successful or non-successful bands, I don't doubt that heavy local media coverage would be a factor that resulted in statistically significant negative correlation.
By this rationale you might think that local bands would avoid local media entirely, try and hack it on the national stage and return either triumphant or humbled. The Polica-model certainly seems to support this mode of thinking. In an alternate universe I'd love to set up an experiment where Polica went about things the opposite way—local first—to see if they would have ended up in a similar position. Regrettably, this isn't possible.
And though it certainly might serve specific bands' interests to take the Polica route, my feeling is that the net effect of such a mindset would be harmful to the vibrant Twin Cities music community. If everyone is focused solely outward, Minneapolis and St. Paul is at risk of becoming an artistic backwater. If we enter into an environment where cultivating a homegrown following is considered a liability, it's not hard to imagine the music community here being driven further apart.
A chance remains, of course, that this is precisely where we are headed. If Reviler, a local media outlet, perceives its own coverage of a band as potentially harmful to its career, is it our duty then to cease coverage? I don't think this is a viable solution, yet considering hype's influence in our worldwide arts appreciation, it's also an argument that is impossible to ignore completely.
There are notably exceptions to my entire premise: bands like Night Moves, who had a recent single in Pitchfork despite a great deal of local press; or Marijuana Deathsquads, who seem to be getting some time in the limelight, despite an extensive internet footprint. These are small exceptions, however, to what seems to be the greater rule.
It's tempting to dismiss this issue as an "it's not us, it's them" problem and place the blame squarely on the hype makers in national media. As consumers of music, though, we aren't entirely removed from the system. We could, perhaps, try to avoid rewarding the hype-dependent state of affairs by spending money, time, or effort on whatever the "next big thing" happens to be. In short, we could become more conservative in our listening: rewarding flashes in the pan like Fun's "We Are Young," but rather on bands that have actually earned our trust and appreciation through hard work, consistency, and creativity.
It's fun to imagine a world where this could happen. But let's be honest: it's never been this way and it unlikely to ever be.
Perhaps a more realistic expectation is that we could try to set an example in our own arts media—an example of anti-hype, if you will. In-depth, knowledgeable, and constructive coverage, not just blandly positive coverage of local music. Music criticism that's the antithesis of the hype-centric eye of national media. By doing this we might not defeat the monster of, but we could at least provide an alternative. Perhaps the reason bands increasingly look to outside media for validation is because they see local media looking for its own validation. Maybe the solution lies in not buying into the hype and forging our own path.
We have another Picked To Click Poll coming out soon, and this year's crop of "best new bands" will get a spot in the local spotlight for a short period of time.  What will be the lasting results of the poll?
— Jon Behm