Hysterics: "Outside In"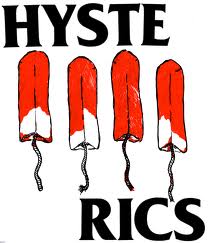 Wow. If you are in the mood for one of those tracks that you can barely understand but just comes at you and comes at you until you are either A. Screaming and breaking things or B. Cowering in the corner then look no further than Olympia's newest hardcore quartet Hysterics.  The band has a new 7" EP coming out soon on M'Ladys Records, and it is fronted by the relentlessly thrashy single "Outside In." The tune is a minute plus long spasm of vitriolic outrage that if you listen closely enough, mainly seems directed at the shortcomings of the status quo.  It's really tough to understand though because lead singer Stephie Crist is the kind of singer who doesn't use spaces between words.  Really, more than any description the band's logo really pretty much sums up their sound. Highly recommended.
— Jon
Pre-order the EP from M'Ladys Records here.